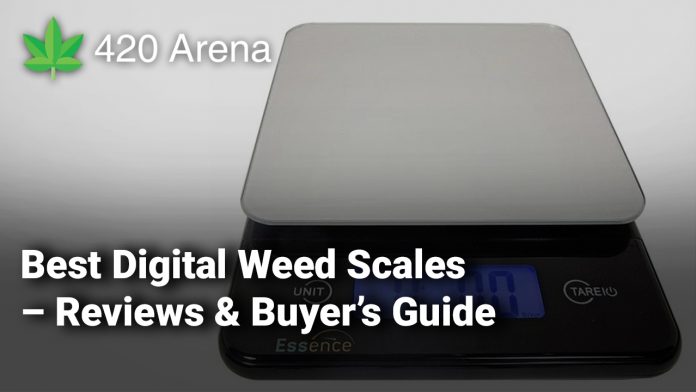 There are different kinds of weed smokers – some people tend to grow their own weed and smoke it up while there are others who have to rely upon other people to buy their weed. While in some places this remains illegal, but of late, there's been a trend of legalizing weed across most developed nations of the world and people are buying weed with better ease than ever before! When it comes to buying weed, you need to make sure you are actually getting the right quantity that you are paying for and this is where digital weed scales come into the picture.
Digital weed scales are basically weighing scales which help you measure the amount of weed that you are purchasing/possessing at the moment. While it is good for you if you are buying weed, it is particularly great for you to own one such scale if you are selling weed! This is something that not everyone would like to own, but those who own a weed scale know how important it is to them!
This is something that an ordinary joe might not want to buy but true-blue weed connoisseurs know how important these scales are for them! If you, too, happen to be one of these connoisseurs of weed – or an aspiring one at the least, you should totally check out this article. If you have already decided to buy one and hence reached this page, you've come to the best place as we will tell you everything about buying digital scales for weed – where to buy them, how to buy them – what to look for before you buy them – and all the options that you have! 
Before we finally proceed into the list – a word of caution: if you happen to live in an area where smoking weed is illegal, or selling weed is illegal, you might run into a problem with the law if you are caught with a weed scale as the cops can then ask you questions about why you own one and this might lead to unpleasant situations that you might want to avoid – so make sure you buy it only if the consumption as well as sale of weed is legal in your local legislation. Let us first look at the types of weed scales now:
Types of Digital Weed Scales
Before you buy a weed scale, you need to understand how many different kinds of digital scales for weed there are and what is the difference between all of them. Broadly speaking, there are four different kinds of scales for the measurement of weed digitally – these are pocket-sized, medium-duty, heavy-duty and stealth scales! Let us take a closer look at each one of them individually and understand what is the difference between all of them to ensure you know which one to buy for yourself:
Pocket-Sized Scales – as the name suggests, these are small-sized scales which you can easily keep in your pocket and walk around! This is convenient to carry and portable – and they offer you precise measurements in a small size. They are also cheaper compared to the larger ones and are budget-friendly options for you. Furthermore, if you live in a place where weed is a taboo and you want to hide your scales, these are just perfect given their small size.
Medium-Duty Scales – Slightly larger than the pocket-sized digital scales, these are weed scales which can measure a larger amount of weed compared to the previous type of scales but lesser compared to the next one. These are still small enough to be carried around from place to place, but are heavier compared to the pocket-sized scales.
Heavy-Duty Scales – Now this is something for the pros! If you are someone who likes to deal in a lot of weed, you would require a heavy duty digital scale for measuring your weed. These are big and cannot be carried around with convenience. However, these are multi-purpose and when you're done measuring your weed, you can use these scales as kitchen scales.
Stealth Scales – These are the most interesting kind of scales – primarily because they do not look like one, are usually small in size, and can be carried around with ease and discreetly. This is particularly for places where there is a high stigma attached with weed smoking and nobody wants to be seen with a weed scale.  
Understanding How to Measure Weed
Now that you know which are the different kinds of digital weed scales, you must also understand the different ways in which weed is measured. While some people deal in grams, some people deal in ounces, some deal in pounds and others even deal in kilograms! It is best to understand this numeric system so that you know exactly how much weed you are ordering. Considering that grams are the most commonly used universal unit for weight, here's a look at the mathematics of weed measurement:
1 Ounce of Weed = 28 grams

⅛ Ounce of Weed = 3.5 grams (this is a common measurement when dealing on the streets)

¼ Ounce of Weed = 7 grams

½ Ounce of Weed = 14 grams

1 Pound of Weed = 16 ounces = 448 grams

2 Pounds of Weed = 32 ounces = 907 grams

1 kilogram of Weed = 2.2 Pounds = 35.27 ounces = 1000 grams
Always keep these measurements in mind while weighing weed. 
Best Digital Weed Scales of 2019 – Reviews
Without further ado, let us now take a closer look at some of the best digital weed scales available in the markets in 2019. 
Smart Weigh SWS600 Elite Pocket Sized Digital Gram Scale 600 x 0.1 Grams, Black
FEATURES- The SWS600 was crafted to be strong, durable, and pocket-size for your portable needs. It can weigh a variety of items such as food, tablets,...
FUNCTIONS- Designed to make your weighing tasks convenient and efficient. You can use the tare function to determine the net weight. Features a 60 second auto...
If you are looking for a digital scale to weigh your weed, look no further! This is one of the best solutions, particularly for those who are looking for a small sized scale for personal use. This is one of the highest rated scales on Amazon, and it has been tried and tested by a number of people over the years who can vouch for how good this is – and how economical it is as well! 
The Smart Weigh SWS600 comes with a 'tare' function which helps you get the net weight with ease. Moreover, it comes with a 60-second auto off timer which ensures the long life of the battery of the device. The buttons are tactile and comfortable to press while the display offers just enough space for large font and a perfect blue and black contrast for you to look at the numbers clearly and distinctly. This is a stainless-steel weighing scale and measures 2.5 inches x 3 inches. You also get all the major measurement units – grams, ounces, troy ounces and diamond weight total. 
On top of all that, the device comes with a two-year warranty and also comes included with 2 x AAA batteries which help ensure that the device lasts for a long time. The scale can weigh between 0.1 grams to 600 grams with ease. It offers a high level of precision and is a great option for an average weed smoker.
Pros
Pros
Small Size, easy to conceal
Accurate weights
Can easily switch between weight measurement units
Cons
Cons
Some users have found a problem with measuring very light objects
Check Price & Reviews on Amazon
2. Poniie Digital Jewelry Kitchen Food Scale 
This weighing scale from Poniie is slightly bigger in size and is a great pick for those who want to use it not only as a digital scale for weed but also as a scale that they can use in their home and kitchen for multiple purposes. This isn't your typical pocket-sized or concealable scale but actually something that could be used for the purpose of an entire home! It offers measurements between 0.01 grams at the minimum and up to 500 grams at the maximum. 
The Poniie Digital Jewelry Kitchen Food Scale comes with five different modes which allow you to easily convert between various measurement units. This is a highly accurate and precise scale which gives you just the perfect reading – put your weed on it and you'll know exactly how much you have. This is so accurate that some people use it at their workplace to weigh important stuff such as jewelry and precious gems! It also comes with an auto-off timer which can be set to 60, 120 or 180 seconds. This weighing scale comes with a large display which allows viewers to easily see the weight and the blue-black contrast makes it easy to read. 
Pros
Pros
Very precise measurements
Big enough to use in kitchen
Sturdy and Durable
Cons
Cons
Too large to be concealed
Needs to be calibrated frequently
Check Price & Reviews on Amazon
If you are looking for a premium digital weighing scale, this is what you need to look at! Coming in with the dimensions of 5.9 x 3.8 x 2.5 in, this is a medium sized scale which has one really surprising feature – a good looking design! Furthermore, it comes equipped with a touch-screen display and is powered by 4 x AAA batteries that come included with it. You can also get an AC Power adapter but it is sold separately. 
This is the perfect scale for weighing weed because it offers smaller weighing options, going all the way down to 1 mg (0.001g). The upper limit supported by this scale is only 50g but it more than makes up for it in the lower end of the measurements. The feet and bubble that this weighing scale comes with can be moved around and adjusted easily. There's a wind-shield which ensures you can measure without any fear of your weed accidentally flying away off the device! It offers a large stainless steel platform as well.
To top off all this, the ZEO-50 comes with an incredible 10 Year warranty! It also provides a high-precision format where you are assured that the weight that you are getting IS the actual weight. The scale is also quite stable and is quick to go to zero once you remove the objects off it or turn it on. This is simply one of the best options you have if you are looking for a weighing scale for weed. 
Pros
Pros
Nice design, quite durable
Makes sure weed does not fall off
10 year warranty period
Cons
Cons
Some users complain of a slow delivery
Great with very light objects, not so great with objects on its upper end
Check Price & Reviews on Amazon
This is the perfect scale for you if you are looking forward to measure things which have a large variety of weights. This scale can actually measure between a wide range of weights ranging from 1g to 5kg! This is a great scale for those who want to use it to count the calories that they are going to consume, or for measuring the amount of weed that they've got in their possession at the moment. This is very accurate and can be used in kitchen as well as your living room or at your work!
This scale comes with a metallic look and feel – it offers a slim and lightweight device made of stainless steel. To ensure that the scale looks as good as new for years after you buy it, it comes with an anti-fingerprint technology which ensures that there are no fingerprint marks and stains left on it. There is also a feature where you can quickly convert between various units of measurement such as oz, lb, g, and ml. This is particularly great for measuring liquids such as milk. 
It also comes with a function which allows you to reset the current weight which basically eliminates any extra weight such as a cup or a plate upon which you would keep the contents that need to be weighed. It also offers an auto-off setting where the weighing scale turns off automatically after 2 minutes / 120 seconds. The LCD screen it comes with is a touch-screen which also has a built-in battery indicator. This weighing scale comes with a one-year warranty.
Pros
Pros
Easy conversion into multiple units
Great for measuring large quantities of weed as well as for measuring liquids
Premium design and great features at a low cost
Cons
Cons
Check Price & Reviews on Amazon
Sale
The P115NB digital scale from Escali is one of the best options that you have for buying good quality digital weed scales. It comes in nine color variants and is very simple to use. Furthermore, it also offers a wide range of measurements ranging from 1g to 5kg allowing you to measure objects of a slightly larger weight and size than compared to some other scales which offer smaller weighing capabilities. It is very easy to operate which is one of its key features – it comes with simply two buttons and you can make use of them to weigh anything that you want. 
This digital scale also offers the tare feature where you can basically negate the weight of any container upon which you'd keep the stuff that you actually want to weigh. This is a pretty handy feature which you're bound to find yourself using time and again. It offers a large LED display where you can easily watch the numbers that appear. The device is spill-proof and is safe against minor damages due to spillage. Interestingly, it comes with a 'lifetime warranty' which is quite a claim from the company! 
Pros
Pros
Spill proof – protects against minor damages due to liquids
Lifetime warranty
Great Range
Cons
Cons
Not so useful for measuring very light things
Check Price & Reviews on Amazon
One of the best options for those looking for a good digital weed scale – this is small in size and easily concealable, and also offers a very easy-to use 4-step usage where you simply open the scale, get the weights adjusted, calibrate the scale and start using it. This is a scale which is particularly meant for measuring very light stuff like weed or even certain types of powders – it even comes with a pair of free tweezers packed in which ensure that you can use them to pick up and move around powder on the scale. 
You can measure content as light as 0.05g and as heavy as 100g on this scale. The weight is displayed on the scale on a backlit LCD panel which offers a blue and black display. It also allows converting between g, oz, ozt and dwt. It is strong, durable and pocket-sized – making it a really great option to measure light things! You can measure something as light as a leaf on this. It also comes with a 100g weight that you can use to calibrate the scale. 
Pros
Pros
Small in size
Great for measuring light items
LCD panel offers clear display
Cons
Cons
Needs to be calibrated frequently
Check Price & Reviews on Amazon
How to Choose the Best Digital Weed Scale 
Size: One of the primary concerns when it comes to buying a digital scale for weed is the size of the scale. Do you want one which can be carried around in your pocket or do you want one which is slightly larger but can carry more weight? Do you want to keep it discreet from the people around you or are you a weed enthusiast who would love to show off your scale in your living room. It all depends upon the size of the scale!
Weight Supported: Another thing that you need to consider is – are you going to be measuring small quantities for personal consumption or will you be measuring large quantities and selling bulk orders? The larger the scale, the more weight it supports. Hence, before you make the purchase, make sure that your scale matches your weight requirements.
Certification: If you are planning to buy a scale, you might as well want to check if your weighing scale is certified by the NTEP (National Type Evaluation Program). This comes from the National Conference on Weights and Measures, which ensures that the weight that you see on the scale is actually properly calibrated and gives you the correct reading.
Precision: The scale that you are using to measure your weed needs to be precise. It has to provide you with the correct calculation or you might end up being called either someone who dupes people or you might end up getting duped by someone! Precision is the key and it is always best if you measure that your scale is offering a correct reading by weighing it against weights.
Measurement Units: Depending on where you live, you need to make sure you have got your units all correct. If your country does not follow the metric system, look for a scale which reflects what the units at your locality are! You can also refer to the measurements mentioned above in this article to get a proper reading.
Use Case: You should also know how you are planning to use this digital weed scale. Are you going to use it to sell weed as a weed-o-preneur? Or are you going to use it to measure the quantity of weed that you are buying so that you do not get ripped off by the sellers. Finally, there's also the question of it being used as a kitchen scale – are you going to use it for multiple purposes or just for weed? Based on that you need to decide the weed scale that you buy.
Price: Last but never the least, price plays a huge role in deciding if you are going to buy something and same is the case with a digital weed scale. You must ensure that the scale fits your budget and you are getting everything worth what you are paying for.
Conclusion
Now that you know why digital weed scales are important and what the use of having a weed scale is – as well as what you should look for before you buy a weed scale along with all the measurements, we hope that we have helped inform you about everything that you need to know about weed scales. We have also listed the top weed scales above which you can have a look at and purchase from Amazon – making it so easy that you can purchase them online and have them delivered right at your doorstep! 
Do check us out for more details related to marijuana – growing it, harvesting it, smoking it – we've got you covered! Puff Puff and Pass, Happy Smoking!