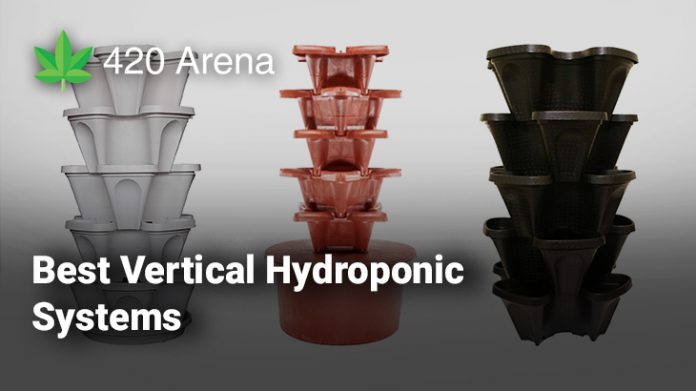 Growing your plants indoors is something which has been picking pace over the past few years. Gardeners who were traditionally growing their plants outdoors are now growing them indoors. There's also many fancy new techniques which are emerging and using vertical hydroponic systems to grow plants is one of them. Over the course of this article, we shall be exploring this form of gardening systems – and everything that you need to know about them.
Vertical hydroponic systems, specifically hydroponic towers are a great way to grow plants and we shall be discussing them in detail. In the article to follow, we shall take a closer and detailed look at what hydroponics is and more specifically, what these towers are. Post that we shall take a look at five of the best vertical hydroponic systems in great detail. That shall be followed by a detailed buyer's guide which will inform you about everything that you need to know before you buy a hydroponic tower. 
The buyer's guide will be followed by some tips and tricks, and then a detailed look at the pros and cons of growing your plants in a hydroponic system. Lastly, we shall answer the burning question of "is it really worth it" to grow your plants in such a setup? Moreover, all through the article, our focus will also be on growing marijuana using this method of growing plants. 
The marijuana plant has witnessed several innovations in the way it is grown. From being an ancient herb that was used by early civilizations for medicinal and recreational purposes, it has grown into the world's most controversial plant. While there has been quite the resurgence in the medicinal use of marijuana over the years, growing weed still remains quite a controversial subject. Growing weed using hydroponic systems is another angle that we will explore. Marijuana which traditionally used to grow outdoors in nature was soon cultivated by humans and is today grown with extreme care so that each plant offers maximum possible output. Hydroponic growth is not radically new but is indeed quite the innovation in growing marijuana. Let us take a detailed look at it –
What is Hydroponics?
Made out of the Greek words Hydros and Ponos, the word Hydroponics basically means the labor of water. And that's exactly what this method employs – instead of using soil as the medium to carry the nutrients, it is the water which directly provides them to the plants. Growing plant without soil might sound strange to those who are new to the world of gardening but hydroponic growth is all about providing nutrient-rich water directly to the roots instead of providing it to the soil from where the plants can seek it. 
In case of a hydroponic growth, there are different setups which make use of elaborate systems in which water reaches the plants directly. Plants usually grow in something like peat moss, coco coir, rockwool cubes, etc. which hold it together but don't really act as a medium of growth which is purely water in this case. Let us now take a detailed look at the vertical hydroponic system and try and understand how it functions – 
What is a Vertical Hydroponic System?
A vertical hydroponic system basically comprises towers with multiple water outlets, along with a pump at the bottom which helps the water flow up, reach all the plants, and then flow back into the reservoir from where it can be reused. This is nutrient-rich water reaches the roots directly and helps the plants get access to it quicker than they would in a soil-based medium. Furthermore, since this is a vertically stacked medium you can grow more plants in a smaller area. They look good, save space, as well as reuse water and are hence quite a great option for growers looking forward to growing their marijuana plants indoors.
However, while indoor growth is one way they can be used, they can also be placed outside. There are larger versions of these vertical hydroponic systems which are basically garden planters which support a large number of plants but utilize the same fundamental mechanism. Let us now take a look at the five best options that we have when it comes to buying vertical hydroponic systems to grow marijuana.
5 Best Vertical Hydroponic Systems (2020): Reviews
No products found.
No products found.
Mr Stacky is one of the most reliable names when it comes to the world of hydroponic planters for growing marijuana. You will see it being repeated in this list multiple times with their different products. This is a basic 5-level stackable planter from the company which allows you to grow 20 plants, four on each tier. Polypropylene, the material that it is made out of is essentially safe to use and toxin-free. While weed growers use it, it is also great for people who want to grow herbs and strawberries indoors. It measures only about 12 x 12 x 8 inches and is portable to carry around. It also makes for a great gift! 
Check Price & Reviews on Amazon
No products found.
We told you that Mr Stacky is a name you'll hear again on our list – this is another great product from the company. Similar to the previous one, this vertical hydroponic system also has 5 tiers where you can grow 20 plants. This one is slightly larger and is black in color. The company also informs us that using black color in your planter helps prevent the growth of algae near the roots of the plant. It comes with a special 'flow through' style of design which makes sure that any excess water that might accumulate runs off. There's a hole running through the center which allows the water to flow through. It measures 13 x 13 x 26 inches which makes it slightly bigger than the previous one but also portable and easy to carry around at the same time – the perfect combination for growers!
Check Price & Reviews on Amazon
No products found.
Now here's something a little larger and a little different from what we have been seeing on our list so far. This one comes from Earth Tower Garden and is one of the best setups for those people who have larger needs. It is a four-sided planter which gives you a space of about 46ft when it comes to planting your plants in it! This is a perfect structure for those people who want to grow a variety of plants and grow them outdoors in a vertical setup. This is a wooden planter which looks quite classy and is quite durable as well. Despite its large size it is very easy to set up and maintain as well.
Check Price & Reviews on Amazon
No products found.
If you are looking for one of the most  good-looking vertical hydroponic systems in which you can grow your plants, you need to look no further! Measuring in at 5ft of height with a unique black and white color scheme and with ample space for you to grow your plants, this SuiteMade planter is one of the best options that you have online.This one has twenty planter holes in it, but you can find a smaller four-feet version as well which has sixteen such holes. This is the best option for those growers who want to grow more plants in a limited space! This is a made-in-USA product assuring you of good quality as well!
Check Price & Reviews on Amazon
No products found.
Occupying only four square feet of space and made out of terracotta, this is one of the best options that you have if you are looking forward to buying a deluxe setup for growing their hydroponic plants. This is something that you could place in your outdoor spaces such as gardens and patios or even in your balconies or window sills to add to the charm of the place. The manufacturer claims it uses an advanced hydroponic technology to conserve 90% water, as well as help grow plants at twice the speed than they usually do. 
Check Price & Reviews on Amazon
Buyer's Guide: Factors to Consider While Buying a Vertical Hydroponic System
Now that you know which are the best options that you have when it comes to buying these vertical hydroponic systems online, here's a look at some of the factors that you must consider before you purchase them. You might want to use this list as a checklist of sorts and judge each of the above systems against them. 
Material –

You need to know what material your planter is made out of – this is for multiple reasons. First off, you need to make sure that you are using a durable and high quality material that will last you for at least a few seasons. Moreover, you also need to ensure that you are not getting something which is toxic and might end up damaging your plants! One of the best ways to ensure that you are staying safe from these problems is by getting hold of planters which are made out of BPA-free and UV stabilised material.



Size –

The size of your planters is very important. One of the biggest benefits of vertical hydroponic gardening is that it allows you to grow more in lesser space. Make sure that this objective is being achieved when you buy the setup of your choice! The best planters occupy the least space yet allow you to grow the most number of plants. Size should also be seen in relation to balance. Your setup needs to have a solid base which will not topple over due to the weight.



Number of Plants –

How many plants can you grow in your planter? This is one of the most important questions that you need to ask yourself. Most of them allow you to grow at least 20 plants – while there are some bigger ones where you can grow an even larger number of plants. Make sure you know of this statistic before you buy the vertical hydroponic system of your choice.

Ease of Use –

This is also something that growers must keep in mind before buying the planter of their choice. It should be easy to operate. Especially if you are a first-time hydroponic grower get a very simple setup so that you do not end up getting confused and do not over-water or under-water your plants!

Design –

Last but not the least it should go with the aesthetic appeal of the area you plan to keep it at! The planter must not stick out like a sore thumb and should blend in well with where it has been kept at!
Best Tips for Growing Weed in a Hydroponic Setup
Here are some of the best tips and tricks that you must keep in mind while growing marijuana, or any other plant for that matter, in a vertical hydroponic system.
The first thing that you need to take care of is the temperature at which you are growing your plants. The temperature needs to be 'ideal'. It should not be too hot and it should not be too cold either. Usually marijuana plants grow the best when temperature conditions are somewhere between 18 to 25 degrees Celsius.

Apart from adjusting the right temperature you also need to keep the humidity levels right. Normally when you grow a marijuana plant in soil you'll need a higher humidity in the early stages so that the roots aren't strained, but since this is a hydroponic setup the levels of humidity can be low in both the phases – the growth phase as well as the bloomin phase.

Lighting is the third and perhaps the most critical thing that you must take care of. While most people using planters prefer growing their plants in natural light, there also need to be some extra sources of lighting because plants generally need about 22 to 16 hours of light during the period of being a plantling to pre-flowering – which is the bulk of their lifetime. Make sure you're providing full-spectrum lighting for the best results. Modern-day growers prefer using LED lights.

While the whole idea behind growing plants in a vertical hydroponic system is to save on space, one must make sure to not get too carried away and cramp up the system. There needs to be appropriate spacing between the towers so that their plants don't intertwine with each other and that there is sufficient air-flow between them as well. 

One final thing that you need to take care of while growing in a hydroponic setup is that you are providing the right kind of nutrients and in the right amount. The latter is equally important as the former. Providing less nutrients might lead to your plants not being able to bloom to their maximum potential while providing more nutrients might result in nutrient burns! This is why you need a basic experience with growing weed before you progress to growing them hydroponically. 
Pros and Cons of Hydroponics
As we approach towards the end of this article, we hope that you have gained quite the insight about growing your marijuana plants in a vertical hydroponic system. Here's one last look at the advantages and disadvantages of hydroponics for growing plants such as marijuana:
Pros
Pros
You can grow more plants while occupying lesser space than a conventional setup.

Hydroponic plants tend to grow faster than soil-based plants

There is no risk of soil-borne diseases while growing hydroponically

You can save on water while growing marijuana using this kind of a method because you will be reusing the water

Easy to move around and can grow different types of plants
Cons
Cons
Waterborne diseases tend to spread faster than soil-borne diseases

You will need some basic experience with growing using soil before you start growing this because it can be a little complex

You will need to have basic knowledge about nutrition and PH levels
Lastly, before we proceed into the Frequently Asked Questions (FAQs), let us take one final look at whether it is worth your time, money and effort to invest in a vertical hydroponics system for growing marijuana:
Is Vertical Hydroponics Worth It?
Vertical hydroponic systems are totally worth it if you are a grower who is willing to experiment and try out something new! They are also quite a great option for those growers who want to experience hydroponic gardening. However, one must keep in mind that in order to attain proper hydroponic growth you need to be familiar with the basics and know the fundamentals of growing fully well. We don't really advice this for beginners. This is also a great option for those growers who live in a place where there is a perpetual shortage of water as the same water can be reused in the system for multiple days. Apart from marijuana growers, people who like to grow ornamental flowers or small kitchen-variety plants should also try this out, especially when you combine it with things such as a grow light, the results are even more effective. 
Frequently Asked Questions About Vertical Hydroponic Systems
These are the answers to some of the most common and frequently asked questions that we often get from our readers when it comes to the hydroponic growth of marijuana plants. Do go through them as you too might be having some of these questions and these answers will help you understand it in a better manner:
1. Is it legal to grow weed in a vertical hydroponic system?
Yes, it is absolutely legal to grow marijuana in a vertical hydroponic system – but only under the condition that growing weed is legal in your region. You need to check with your local laws as to whether or not you can grow marijuana, and if that is permitted, you will also need to check as to how many plants are you allowed to grow! 
2. Are there any drawbacks of hydroponic systems?
As such ther are no "drawbacks" of growing weed this way, but some traditional soil-based growers might not want to move to this due to it being a radically different method. Another thing about growing in a hydroponic system is that while you will be reducing the risk of soil-borne diseases, you will actually be putting your plant at a risk of catching water-borne diseases which tend to travel faster.
3. What else can I grow in such a setup?
Apart from marijuana, you can grow a number of ornamental and flowering plants using these vertical hydroponic systems. Many people use it outdoors as well – as a part of their gardens where they have just stacked the plants and use the efficient watering mechanism to benefit the flowers! Kitchen-variety plants, especially basic green veggies can also be grown using such a setup. However, marijuana happens to be one of the most popular things that people tend to grow in this. 
4. How much do vertical hydroponic setups usually cost?
You can get hold of a majority of these vertical hydroponic systems for a price of under $50 especially if you are considering them for indoor growth. Some products might also be between the range of $50-$150 especially if they are a larger setup for outdoor growing but it is very rare that these setups would cost beyond that. 
Conclusion
To conclude, we hope that by the time you have reached this section you know much more about vertical hydroponic systems when you did while heading into it. We have tried to cover the basics of hydroponics, as well as provide you with some of the best vertical hydroponic systems and their reviews. If there are still any more questions that you want answers to, do let us know in the comments below or drop us a mail and we shall get back to you shortly! Till then…
… Happy Growing! 🙂