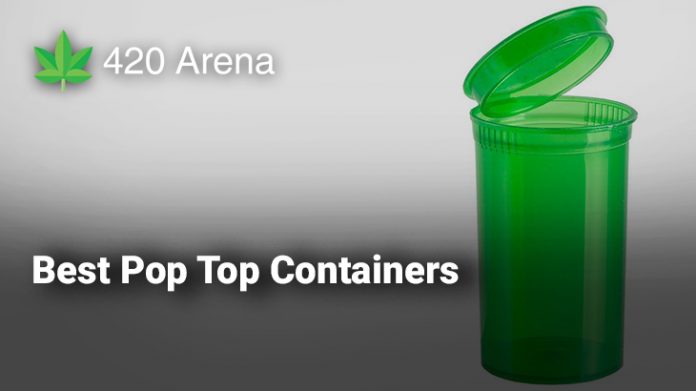 When it comes to marijuana, while there's a long process of growing it which has growers being very careful, there are also many things to be careful about once the weed has been grown. Carrying weed around is quite the process – and stoners also need to make sure that their weed remains fresh! Keeping weed fresh is quite a challenging task as exposure to air and water are both detrimental to the freshness of weed. In this article, we shall be looking at some of the best pop-top containers which will help you keep your weed fresh and carry it around discreetly anywhere! Apart from that, we shall also be looking at some good containers in which you can carry it around and answering some frequently asked questions as well!
7 Best Pop Top Containers for Storing Marijuana
Sale
Juvale's set of bottles here gives you 50 small bottles which are basically among the best pop top containers that you can buy online. These are 1.25 x 1.25 x 2.7 inch in size and come with an attached pop-top, meaning you'll have to squeeze the top from two sides in order to open up the bottle while ensuring that the cap remains attached to it. Storing your weed in it means that it will remain fresh for as long as you do not open the bottle. Given that the size is kinda small, the advantage here is that you can easily slip it in your pocket or you can carry it around in your bag with ease. These are waterproof as well as airtight and apart from your weed, you can also store pills and other small stuff in it. 
Check Price & Reviews on Amazon
This is a pack of ten bottles from Top Class Ventures Stash. The manufacturer here knows clearly what they'll be used for storing as the name itself suggests – these are herb storage containers. The thing that stands out about these bottles are that there are five pairs of different colours, meaning you can colour-code your stuff and know exactly what's in which container! This is among one of the best pop top containers for storing weed. Each of them has enough space to store about 3.5 grams of weed. These pop top containers are airtight and ensure that your stash that is stored inside them remains fresh! These containers are 2.75" in height and 1.65" in width. Moreover, these are also opaque, which ensures that no one will know what's kept inside them – giving you all the discreetness you require, especially while carrying weed. The exterior is water-proof and ensures that no smell leaks out.  
Check Price & Reviews on Amazon
Now this is something that is meant specifically for stoners who have much larger needs. This is a set of 150 pieces of some of the best materials. These are true-blue pop top containers as they give you that legit popping sound when they open up. Apart from the regular black variant, you can also find them in blue and green variants. Furthermore, this is a medical-grade, BPA-free plastic and has been made out of FDA approved material, meaning storing your stuff in this is not going to harm it. They are also smell-proof and CPSC certified. You need to squeeze the container firmly from both sides in order for it to pop open. This keeps your weed fresh for a really long time and is one of the best pop top containers for those who are looking forward to buying in bulk.
Check Price & Reviews on Amazon
One of the best options you'd find when looking for pop top containers for weed! This one comes from OXO and is their small-sized container. The company also has variants marked 'medium' and 'large' and even the entire set is available. This is a completely airtight container which ensures that the weed you store in it remains fresh! It comes with quite a good locking mechanism as well, where you need to push the button on top in order to open it up, thereby also making it child-proof and ensures it doesn't open up in case of a fall or a bump. It can be easily washed as well. This is a BPA-free plastic and comes with the 'OXO guarantee' where the company will replace the product if there's any sort of a defect with it. The storage volume here is about 1.9 qt (almost 1.7 liters) giving you a fairly large space. 
Check Price & Reviews on Amazon
While most pop-top containers we've seen so far are made out of some kind of plastic material, this one is quite a unique offering as it is made of glass! This is among the best pop top containers for those who don't want to buy plastic-made containers. This is particularly a great option for buyers who want to buy medical marijuana as glass is much safer compared to plastic. Furthermore, this gives you a premium storage experience as plastic often feels cheap but glass is always classier and has a different sort of an appeal! For those wondering about the size of this glass pop top container, it measures 3″x2″ (1/8oz Jar). It is also airtight, which ensures that the weed that you are storing in it remains fresh at all times. Interestingly, on the face of the jar, you'd see that there's the chemical formula of THC inscribed on that – making it absolutely clear that this jar is meant to store marijuana. 
Check Price & Reviews on Amazon
Sale
Another set of pop top containers for stoners who are looking forward to store their weed in an airtight container. This is a set of 50 containers from Van Cave, which is quite a good brand that makes some of the best pop top containers for storing weed. These are 13 dram containers which can store upto 2 grams of weed per container, meaning you can store almost 100gm of weed in the entire set. These are high quality vials which ensure that the weed that you store in them is not contaminated by any toxins or pollutants which might otherwise have caused some problem. These are also moisture resistant, which is great because it is usually due to moisture that stored weed tends to get damaged and the freshness goes away. This is also a child-proof container and one of the best pop top container sets you can get hold of from the web!
Check Price & Reviews on Amazon
Marijuana pot leaf stash jar might be the last on our list but this is certainly not the least of the lot! This is one of the best options for those who want to buy a good pop top container for storing weed but are not particularly looking for a plastic product. While the one we saw above was meant for medicinal marijuana, as it had a transparent sober appeal, this one is made of green colored glass and has the marijuana leaf designed on it – giving it quite the 'cool' look and making it one of the best products for growers who are looking forward to smoke weed for recreational purposes. This can store up to 6 ounces of weed and is 4 inches tall and 3 inches in diameter. This pop top container comes with an airtight seal on top which makes sure that the weed inside it remains fresh for smoking any time you take it out! 
Check Price & Reviews on Amazon
Bonus: 3 Best Containers for Storing and Carrying Weed
While we have seen some of the best pop top containers above, here are three other options that stoners might want to consider for storing and carrying around their marijuana:
When it comes to jars for storing weed, this one from Masterdam is one of the best options that you have in the markets! There are a number of benefits of using this one, as it ensures that this is an air-tight product thanks to the lid that can be screwed in. It also comes with an ultraviolet protection which provides the assurance that the UV lights of the sun won't damage the weed, furthermore, it is pretty slick and durable and easy to carry around too. It provides a storage volume of about 250ml, which is pretty convenient for stoners as they can store about half an Oz (14 grams) of weed in this container with ease. There's also a 500 ML (28 grams) XL variant available on Amazon. All in all a good option for those looking forward to carry around weed – and do it in style!
Check Price & Reviews on Amazon  
Sale
There are times when you need something a little more than just a jar or a pop top container – you need a proper 'stash case'. Manufactured by Ozchin, this is one of the best options you have if you are looking forward to buying something that will help you carry your weed around. This stash case makes sure that the weed you are storing inside it remains fresh at all times thanks to the help of carbon lining. It also makes use of heavy-duty tight-sealed zippers for ensuring that the smell remains inside and doesn't attract any unwanted attention. Another great thing about this bag is that there's a combination lock on top which you can set to ensure only you can open the case! There are a number of pockets and holders inside where you can store other stuff that you might be needing as well. 
Check Price & Reviews on Amazon
Lastly, there's this stash-box combo where you get a grinder to grind your weed, a glass jar in which you can store it to ensure it remains fresh, and a tray in which you can crush and roll your weed. You also get a bamboo box in which you can carry all of these things around with swag! It comes in two design variants, Pineapple and Tree of Life. This box also comes with a built-in lock and key system that ensures only you have access to the weed that you store in it. 
Check Price & Reviews on Amazon
Frequently Asked Questions:
1. Why do you need pop top containers?
Pop top containers are great because of two primary reasons – they are airtight and they are waterproof. Air and water are two of the biggest reasons as to why your weed might lose its freshness and potency and pop top containers help ensure that marijuana stored inside them remains fresh and can be carried around comfortably. 
2. What is the difference between pop top containers and doob tubes?

Pop top containers are small vials in which you can carry small quantities of marijuana. Doob tubes are basically tubes which often feature pop-tops or screwable tops where you can store an entire joint. Doob tubes are longer in size compared to a pop top container but these containers are wider than a doob tube!
3. What to look for in a pop top container before you buy it?
You need to check if it is really airtight, the material that the container is made out of, whether it offers transparency, the number of units you get in the package, etc. Every stoner has their own preferences and based on them they'd decide which is the container that is best suited to their needs!
4. Are pop top containers legal?
Yes, pop top containers are completely legal. You can buy any number of them without raising any alarms. However, what you store inside them might not be legal and depending on the state laws about marijuana (or whatever you plan to store inside them) you might be in legal trouble – basically, what you store inside the pop top containers has to be legal. The containers by itself are fine.
Conclusion
We hope that this article on the best pop top containers for weed has helped you gain a better understanding about what all should you be looking for before you buy one for yourself. We have reviewed 7 of the best options that you have, as well as 3 bonus items that you might also want to consider to carry weed around in style! Do let us know in the comments below or drop us an email if there's something more that you'd like to know or if there's something that you feel we've missed out on and we'll get back to you soon.
Happy Smoking! 🙂