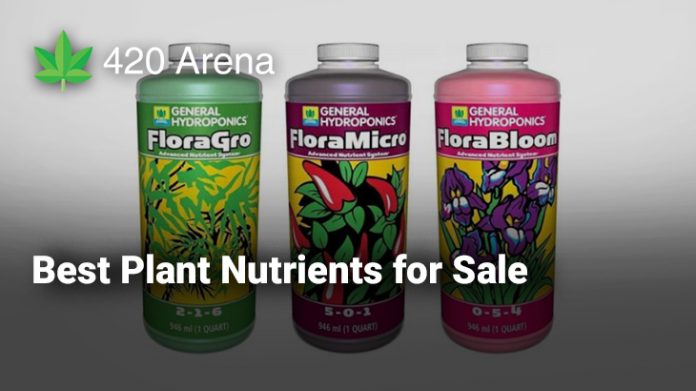 When it comes to growing a marijuana plant indoors, there are a number of things you need to provide – such as artificial lighting to replace the sunlight and enough ventilation and airflow so that the plant can get near-natural conditions. However, when the marijuana plant grows under natural conditions, it also gets another important element which it misses out on when growing inside – naturally occurring soil nutrients. Hence, they have to be artificially provided by mixing them with water. This is an article about the best plant nutrients that you can provide your plants with!
Even in nature, you can't get just the optimal condition for growing weed – as in having every nutrient in just the right amount. Growing weed indoors gives you that control and that ability to add all the nutrients to your soil which will help you get just the perfect plant for yourself! Over the course of this article, we shall be taking a detailed look at the five best plant nutrients review for growing marijuana, but we shall also be looking at many other basic aspects such as what nutrients are, what are their benefits, etc. We hope that by the end of this article, you get a complete insight into the world of plant nutrients and are able to make a well-informed choice about what you want to buy for your indoor setup! 
What are Nutrients? 
Normally, when you grow weed outdoors, the soil contains three main nutrients – Nitrogen, Phosphorus and Potassium. However, not every soil is perfect and each may contain different proportions of the same – in some, one (or in rare cases all three) of these elements might be missing too! Hence, using plant nutrients, you can actually ensure that the soil that you are using to grow your plants is of the right quality. In case of hydroponic growth, there are absolutely no nutrients to begin with and all of it has to be provided using these additives. 
Nutrients are administered to your marijuana plants via water. They are mixed in water (whether in the capsule form or in the form of liquid or powder), and then provided to the soil in case of a regular, soil-based growth. It is provided along with water because water mixes with the soil and when the roots absorb water from the soil, the nutrients mixed in water are also absorbed by them, thereby nourishing the plant well. In case you're using a hydroponic growth method, then the nutrient solution flows through the setup and the roots of the plants directly take it from there. 
Understanding NPK
NPK basically stands for Nitrogen (N), Phosphorus (P) and Potassium (K). Almost all of the nutrients that you are going to buy will have a number written on the bottle in the format N-P-K. For instance, if the bottle that you are going to buy reads 4-3-1, these are the NPK readings, as in it contains 4 levels of Nitrogen, 3 levels of Phosphorus and one level of Potassium. These numbers range from 1 to 15. 
Nitrogen is important for plants because it helps a lot during the vegetative stage of the plant's life cycle. Plants need Nitrogen for a lot of purposes, including to convert sunlight into energy. Nitrogen also helps plants create nucleic acid which helps the cells grow and multiply.
Phosphorus is great during the budding and the flowering phase of the plant's life cycle. This nutrient also helps the plants with other functions such as ensuring that the roots grow strong and long. 
Potassium is the third and final nutrient of the NPK trio, which is also quite important for the plants. It helps regulate the process of osmosis via which the plants absorb water. It helps open and close the stomata which is important not just for water to pass through but for Oxygen and Carbon Dioxide as well. 
Other Nutrients Needed by Marijuana Plants
In addition to the basic NPK nutrients, plants need a number of other nutrients. Here's a closer look at some of them:
Sulfur is one of the best plant nutrients that is essential for producing energy in the plant's body  with the help of amino acids. However, it also plays a major role in the determination of the flavour and the odor of the plant. 
Magnesium is required by plants for chlorophyll, which is the pigment that keeps them green. This is another nutrient which the plants need for the process of photosynthesis where they convert light into energy. 
Calcium is needed by plants for the growth of their roots. It also helps in the development of root hair which help the roots absorb water and nutrients in a better manner. 
Other than these three, plants also need nutrients (trace elements) such as Zinc, Manganese, Copper, Iron, Molybdenum and Boron. 
5 Best Plant Nutrients for Growing Marijuana
Golden Tree: Best Plant Food for Plants & Trees - Yield Increaser - Plant Rescuer - Excelurator - All-in-One Concentrated Organic Additive - Vegetables, Flowers, Fruits, Lawns, Roses, Tomatoes & More
FOR ANY PLANT: Our Golden Tree formula helps activate enzymes that promote photosynthesis in any plant, tree, flower, or bush. Increase your yield quality and...
GROW METHOD COMPATIBLE: No matter what grow method you're using, Humboldts Secret Golden Tree solution will help rescue dying plants, feed growing plants, and...
Manufactured by Humboldt's Secret, this is one of the best nutrients you can get for growing marijuana. This is truly a one-shot solution to all the needs of your plant. This nutrient comes with a fair mix of all the essential elements that your plant needs and helps them in multiple ways. Primarily, Golden Tree helps your marijuana plants increase their yield, improve the development of their roots, improve the flavour and the aroma of the plant, and helps ensure that the plant builds a good resistance to any stress while also improving plant tissue. What truly makes it one of the best plant nutrients for growing marijuana is the fact that this nutrient solution can be used during the growth stage as well as the flowering stage!
This nutrient solution can be used 1 to 3 times a week depending on how your plants are doing. Golden Tree is also a great option for growers who have plants who are sick or dying – and can help you revive them. For these growers, 10-20 ml (about 3-4 tbsp) per gallon of this solution will be needed every time. All in all, this nutrient provides the growers with a good mix of amino acids, enzymes, carbs, kelp, and minerals, all of which are critical for the growth of any plant. The manufacturer also claims that this decreases the vegetative time by 50% and increases the yields by 20% – making it ideal for marijuana growers.
Pros
Pros
Great option for growers who want to revive sick or dying plants
Improves strength of the plant and root development
Decreases vegetative time by 50%
Improves flavour and smell
Cons
Cons
The dosage is a little tricky and growers need to be careful with that
Check Price & Reviews on Amazon
Sale
Fox Farm is one of the best and the most popular brands when it comes to plant nutrients. The company makes a number of different products, each of which has its own special benefits and this product here is a pack of three such nutrients. These are: 
"Grow Big"

– which is great for providing your plant during its vegetative stage, which will help it get an optimal growth. This will help improve the branch strength as well as the stem and the root and will ensure new branches come out. It promises a "lush vegetative growth" meaning you can be ensured that the weed you're growing is going to be, er, thicc – we mean lush and dense!



"Tiger Bloom" –

This is the nutrient solution that you should be providing your plants during the flowering stage when you need them to bloom well and to produce a lot of buds. The previous 'grow big' nutrient solution was for the growth/vegetative stage while this one is to be provided at the bloom/flowering stage of the plant's life cycle. 

"Big Bloom" –

While the aforementioned two carry trace minerals, this one is purely organic! This is a premium nutrient solution which has to be provided during both, vegetative as well as flowering stages of the plant's life cycle. This is a mix of earthworm castings and bat guano, which are some of the best organic elements needed for the good growth of a marijuana plant. This is an all-natural and environmentally conscious product! 
Pros
Pros
You've got options for both – growth as well as flowering stages
There's also an organic nutrient mix included in this which is good for the growth of the plant
These are specialized nutrients for each stage of the plant's life cycle
Cons
Cons
Doesn't blend well with hydroponics
Check Price & Reviews on Amazon
Sale
SUPERthrive VI30155 Plant Vitamin Solution, 1 Pint
Superthrive Is a Highly Concentrated Non-toxic Vitamin Solution Invigorating All Variety of Greenery for Home Gardeners and Professionals Alike. It Is Equally...
Superthrive Replenishes the Soil to Nourish and Encourage the Natural Building Blocks That Plants Make Themselves under Optimum Conditions.
SUPERthrive is another popular name among the growers community for those who are looking forward to buying good quality nutrients for their plants. This one, in particular, is a great option, as evident from the amazing ratings and reviews it has gotten on Amazon from all the buyers who can testify to how great the product is! Another great thing about this nutrient is that it is cost effective – at just $32. It is a Vitamin solution for plants which includes kelp. One of the rare things that this solution helps you do is that it helps reduce the transplant shock for plants!
In addition to that, there are a number of benefits. Providing a regular supply of this vitamin solution from superthrive will help the plants stay protected against erosion, will improve their stress resistance, and even helps reverse weather-damage. All in all, this is one of the best plant nutrients for rooting, transplanting and the overall well-being of the soil as well as the plant in the long-run. This, however, is more useful for fully-grown and mature plants than for early-stage plants. Lastly, this is a mix of 53 ingredients, all completely non-toxic, and is great for growers who want to ensure their plant gets the best of growth.
Pros
Pros
Great for transplantations
Great for fully-grown plants
Non-toxic, won't damage the plants or the environment
Cons
Cons
You will need to provide many other additives along with this one as this isn't an all-in-one solution for your plants
Check Price & Reviews on Amazon
This is a set of three nutrients from Advanced Nutrients – each offering a different set of qualities of its own. These are the perfect set of conditioners for growers who are looking forward towards buying them from just the perfect brand. Advanced Nutrients has been around the markets for quite some time and their iconic gorilla on the container has been quite a popular symbol. The 'Bloom' nutrient is meant to be provided to the plants during the flowering stage, the 'Grow' nutrient is to be provided to the plants during the vegetative stage and the micronutrients can be provided at both the stages of the plant's growth cycle. This is one of the best plant nutrients for growing marijuana.
They come with carrier molecules which are pretty advanced in nature and ultimately help the plant improve the nutrient uptake. These ensure that they are properly absorbed by the plants and help your plants grow bigger and produce higher yields, as well as helps make them taste and smell better! This is the 'total package' for those looking forward to buying nutrients for growing marijuana plants indoors.
Pros
Pros
You get nutrients for all stages
Improve absorption and ensure that the plants get all the required nutrients
Helps improve the total yield
Cons
Cons
Doesn't really keep the pH levels balanced, as some users have reported
Check Price & Reviews on Amazon
While most of the nutrients above were meant for soil-based growth, there are a large number of growers who also grow their plants via hydroponics. For those looking forward to grow hydroponically, General Hydroponics offers just the perfect combo. This is a set of three nutrients where Flora Gro and Bloom fertilizers are the main components, and there's also Flora Micro. This offers you with a solution for every stage of your plant's growth cycle.
The Flora Gro fertilizer is one of the best plant nutrients during the growth or the vegetative stage of the plant's life cycle while the Flora Bloom, as  you might have guessed, is a good option for plants which are in their flowering or blooming stage. Just like most other nutrients and fertilizers, these two also ensure that your plant offers you higher returns and grows strong! Thirdly, there's the Flora Micro, which contains micronutrients and can pretty much be used the entire time.
Pros
Pros
Great for hydroponic growers
Works great for all parts of the plant's grow cycle
Cons
Cons
One needs to be careful while mixing it so as not to add too much of it.
Check Price & Reviews on Amazon
Conclusion
We hope that by this point, this article has helped you gain an all-round understanding of the world of plant nutrients – what they are, why they are beneficial for the plants, and most importantly, which are the 5 best plant nutrients for growing marijuana! While other elements such as getting a good grow tent and grow light are very important, nutrients should not be overlooked too! One can compare it like grow tents and grow lights being the hardware and the nutrients being the software – both of these need to run in tandem in order for the plant to grow better and provide good yields. Do let us know if there's something that you feel we might have missed out on, or if there's something more that you would like to know from us about the best plant nutrients for growing marijuana! 
Happy Growing! 🙂