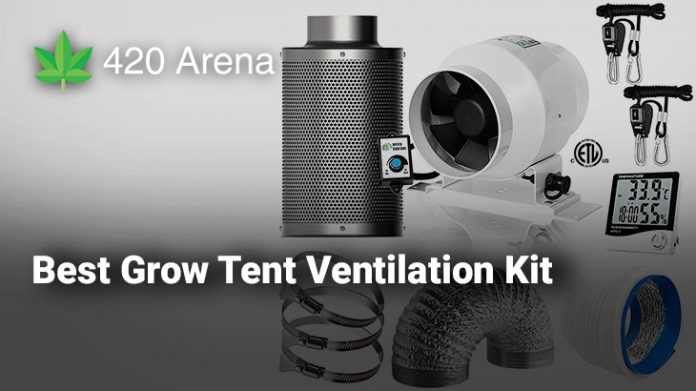 Ventilation is as important for plants as it is for human beings. Humans need ventilation so that fresh air can fill their rooms and that the stale air can be driven out. Similarly, plants growing inside a grow tent also need a supply of fresh air – for more reasons than one! Fresh air brings in a fresh supply of all the essential elements that a plant requires to generate energy and pigments. Furthermore, it also ensures that the stale air which the plants have respired, gets pushed out of the tent. 
There are a number of other benefits of ventilation which we shall discuss in detail over the course of this article. We shall begin by taking a closer look at what ventilation is and why is it so important for plants. We also take a look at the concepts of circulation and filtration and how they impact the growth of your marijuana plants. Followed by that, we take a look at the best grow tent ventilation kits for growing marijuana. 
Instead of buying elements of ventilation separately, some people prefer to buy entire kits which ensure that the growers are able to get everything in one place! These ventilation kits usually consist of a fan, a duct, a carbon filter and some other elements which are important. Following that, we shall discuss some key factors that need to be considered while you are buying a ventilation kit for growing weed and then we conclude after answering some frequently asked questions. The primary objective of this article is to familiarize the growers with ventilation kits for growing marijuana plants. 
Importance of Ventilation
When you talk about growing marijuana plants indoors, most people usually tend to focus upon the light, heat and nutrients as the core aspects. However, ventilation is equally important! A well-ventilated grow tent ensures that the plants are getting an optimal environment for their growth. Here's a look at the benefits of a well-ventilated grow tent.
A well-ventilated grow tent ensures that heat does not accumulate inside it! Heat is quite damaging to the plants as well as to the machinery such as grow lights because it can be quite damaging! Ventilation helps ensure that the heat moves out of the grow tent and a good climate is maintained which helps the plants grow well.

A well ventilated grow tent also ensures that pests and insects do not venture inside it. With the constant movement of air inside a grow tent, small and light insects/pests will be filtered out of the tent with ease.

Having a clip-on fan to improve the circulation of air inside a grow tent is also quite beneficial as it ensures that there's a light breeze inside the tent, which will be good for the growth of the stem and the branches.
Let us now take a closer look at some of the best grow tent ventilation kits that growers can purchase in order to ensure that their plants are getting the best possible circulation inside the grow tent!
Best Grow Tent Ventilation Kits for Growing Marijuana
Sale
Vivosun is one of the most trusted brands when it comes to growing weed. Especially for growers who prefer growing their weed indoors, this is a company which provides a lot of different products such as grow tents and grow lights. Vivosun also makes grow tents ventilation kits which are great for growers because they can get everything in one place instead of buying the components separately. This product comes in three variants, 4", 6" and 8" – but the one we are looking at here is the 6" variant of the Vivosun grow tent ventilation kit.
A 6-inch inline fan is great for growers who are looking forward to growing marijuana plants inside a grow tent which is a small to medium-sized setup, more suited for the latter though. The six-inch duct has a CFM reading of 440, which makes sure that the airflow is decent. The speed at which the fan operates at is 2450 RPM. Another great thing about this fan from Vivosun, which makes this one of the best grow tent ventilation kits for growing marijuana is that it operates in a very silent manner, at just 50dB.'
The carbon filter makes use of a 1050+ RC 48 Australian Virgin Charcoal Bed, which is considered among the best kinds of absorbing carbons and ensures that all the smell of the weed is trapped into it. The ducting pipe is also pretty solid as it comes with a three-layer ducting, as well as a built-in steel wire which ensures that there's sufficient reinforcement for the duct to stay sturdy.
Pros
Pros
Strong filtration and circulation via the fan
The carbon filter is highly absorbent, ensuring all smell is trapped in
Comes with all the belts needed to set it up
Easy to set up
Cons
Cons
Some users have reported problems related to rusting of the metal parts
Check Price & Reviews on Amazon
This grow tent ventilation kit comes from PrimeGarden, and is one of the best options for growers who are looking forward to buying a good setup for ventilating their grow tents so that their plants can grow better. This grow kit is one of the best choices for those who want the maximum value for their money as it comes with a number of equipment other than what the basic three things are (duct, fan and filter). This grow tent ventilation kit offers the growers with additional equipment such as a fan speed controller, a hygrometer, and a timer as well. This kit comes in variants of 4-inch, 6-inch and 8-inch based on the fan size – and the one here is the 4-inch variant.
This might be small for growers who grow in a larger scale setup, but is perfect for those who need it for a smaller grow tent. The fan is just perfect for small-sized setups as it operates at 189CFM. There's also a regulator which allows the growers to adjust the speed of the fan to three different settings – high, medium and low. The carbon filter comes with a 1.5-inched layer of activated carbon, which is great for most growers' needs. There's a 4 inch double layer ducting as well. 
The timer allows you to automate the lighting system, which will ensure that you do not have to constantly worry about switching the lights on and off. The timer can control two systems simultaneously and operates on a 24-hour cycle. The hygrometer that comes along with this grow tent ventilation kit is also pretty accurate and shows temperature as well as humidity. Using this would make sure that you know exactly what temperature is your grow room operating at! A great help for growers aiming for precision.
Pros
Pros
Good circulation and ventilation via the fan
Best choice for small sized grow tents
The hygrometer and timer are added benefits
Contains all the odour really well
Cons
Cons
Not suitable for bigger grow tents
Some users complain of the filter clogging up
Check Price & Reviews on Amazon
Growneer is another name you see time and again when it comes to buying products for growing marijuana. This product right here is a very basic combination of fan and thermostat which growers can make use of for growing marijuana inside their grow tents. This is a very cost-effective solution for growers who want to ensure good circulation in their grow tent but are not really looking for anything high-tech. This grow tent ventilation kit is a good option for those who want to use it as a secondary fan for their large-sized grow tent. The price isn't that high and many growers might want to get this as a backup. The digital thermostat is a huge plus point here.
This is an 8-inch fan but there are other, smaller, variants also available on Amazon with the same product. However, this is a great choice for growers using it in big-sized grow tents because it allows them to ensure fresh air is circulated well and that the stale air is thrown out. The grow tent ventilation kit also makes sure that temperatures inside the grow tent do not rise. 
Taking a detailed look at this fan, it offers an airflow of 800 CFM, at a speed of 2450 RPM, which are decent statistics for the price that it comes in at. The thermostat is a great device for growers who have somewhat more specific needs such as using it for dual-stage tasks such as refrigeration and heating. It is also good for those aiming at fermentation and home brewing. There's a five-gear speed control function as well. 
Pros
Pros
A very quiet fan, great for those who don't like noisy equipment
Thermostat is an added advantage
Speed control features
Water and dust resistant
Cons
Cons
Lacks a carbon filter
Plastic construction isn't really considered durable
Check Price & Reviews on Amazon
Recommended: Best Big Grow Tents For Growing Marijuana Indoors
Buyers Guide: Factors to Keep in Mind Before You Buy a Grow Tent Ventilation Kit
What's in the Kit:

You need to be well aware of what all the kit that you are going to buy actually contains. The grow tent ventilation kit that you are buying should have all the basic elements – the ducts, the fan, and the carbon filter. Sometimes, you also get certain products in addition to this. However, these must be the absolute minimum requirement for all growers.



What's the CFM?

Take a look at what the specifications of the fan are. CFM stands for Cubic Feet per Minute and this is the measurement of the speed of the air flow. The higher the CFM, the faster the air flows out of the fan and into the grow tent! You need a fan with a higher CFM for bigger-sized grow tents.



Is the Fan Noisy?

One of the most common complaint that a number of growers have is that their fan ends up being quite noisy and disturbing! Hence, make sure you are checking the decibel levels of the fan before you buy your grow tent ventilation kit. The best grow tent ventilation kits often come with fans which don't really create that much of a noise!

How absorbent is the carbon filter?

The carbon filter is an important element of all the best grow tent ventilation kits because growers need to ensure that the smell of marijuana gets trapped here and does not escape the grow tent. This is critical because the smells is quite strong and is often an instant 'tell' that someone is growing or consuming weed! Hence, growers need to be extra cautious and ensure that the carbon filter is highly absorbent in nature!

Durability:

The best grow tent ventilation kits will last you for a really long time. While carbon filters tend to have a limited lifespan, make sure that the fan and the duct will last you for long. Check out what the company claims as well as go through some of the reviews that we have mentioned above to get a clearer picture of how durable the kit is!



Price:

Last but not the least, pricing is also quite important as you must always keep a budget in mind. Ensure that you are getting the maximum possible benefits for the money you are paying to buy your grow tent ventilation kit. An assessment of all the aforementioned factors will help you make a better and well-informed choice when it comes to buying a ventilation kit for your grow tent. 
Recommended: Best Cheap Grow Tents for Cannabis Growers in 2020
Frequently Asked Questions (FAQs) About Grow Tent Ventilation Kits
Here is a closer look at some of the most common and frequently asked questions about grow tent ventilation kits:
1. What are the different kinds of ventilation setup? 
Ventilation setups are actually differentiated by how the fan and the filter are placed. Broadly speaking, there are actually four different kinds of ventilation setups for grow tents:
Fan in, filter out

Filter in, fan out

Fan in, filter in

Fan out, filter out
Most growers prefer the third method here where both fan and filter are inside the grow tent because that offers an excellent control over the air flow as well as the smell. However, different methods have different benefits and drawbacks and this is something that growers prefer on a case-to-case basis. 
2. Why does marijuana smell and how to get rid of this smell?
The smell that we associate with marijuana comes via terpenes, which are chemical compounds produced inside the marijuana plants. Terpenes are also the reason why fresh buds tend to be so sticky. Terpenes are important as they repel insects and pests and attract humans. Getting rid of the smell of marijuana is quite easy with the help of a carbon filter, which can absorb all the smell. The best grow tent ventilation kits these days always come along with a carbon filter.
3. What is a clip-on fan and what are the benefits of using one?
A clip-on fan can be visualized as a small-sized variant of a rotating pedestal fan. It can be clipped on to the top-bar of the grow tent where it would move around and ensure proper circulation inside the tent. This, if you compare it to how things should normally be when you grow weed outdoors, results in the creation of a breeze inside the grow tent, which is great for keeping pests away and also good for ensuring that the stem and branches grow stronger. Hence a clip-on fan can be a great addition to your grow tent!
Recommended: Best Grow Tent Accessories in 2020
Conclusion
We hope that this article has helped you gain a better understanding of everything that you need to know about getting the best grow tent ventilation kits for your marijuana plants. In case there is something that we have missed out on or if there's something more that you would like to know, do let us know in the comments below or drop us a mail about the same! Till then, we hope that after you finish reading this you are able to make a better and well-informed choice for buying the best grow tent ventilation kits!
Happy Growing! 🙂