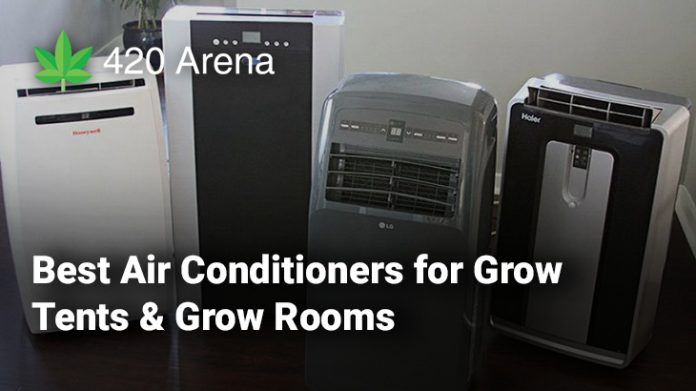 When it comes to setting up your grow room, you've got to know that as important as warmth is for plants, too much of heat could be quite counterproductive. Growers need to ensure that they are providing the right amount of heat but not at the risk of reaching such an excess that it leads to the edges of the plants burning off or the equipment getting damaged. Hence, there is a need for air conditioners for grow tents and grow rooms. 
Over the course of this article, we shall be taking a detailed look at some of the best air conditioners for grow tents and grow rooms. Following that, we shall take a look at what are the factors that need to be considered before you choose the AC that you want. We shall then be answering some of the most frequently asked questions (FAQs) about the best air conditioners for grow rooms and grow tents. 
Best Air Conditioners for Grow Tents and Grow Rooms
Sale
This AC comes from Pioneer and supports a cooling of 12000 BTU. It also comes in multiple variants (going as high as 36000 BTU). When you look at the full setup of this air conditioner, this is basically a ductless mini-split inverter, which comes along with a heat pump. One of the key advantages of using this AC is that it operates in a very silent manner, which is great for growers who want a noise-free setup. Considering how most portable ACs and Window ACs are quite noisy, this is indeed a good choice.
While mounting a split AC might take some time, this air conditioner from Pioneer comes with all the solutions that a grower might need such as a 16ft copper piping kit to make the process easy. When you get the package, you'll get an indoor unit, an outdoor unit, an installation kit, and a remote controller. The outdoor unit is basically the compressor of the AC. There's a 5-year coverage on the compressor, which ensures that you don't have to worry about the AC going bad! 
The overall design of this air conditioner is also quite impressive as it has a rather sleek look and feel to it. The AC can cover rooms as big as 300 sq.ft. under ideal circumstances and can even provide cooling to rooms bigger than this. This comes with washable air filters, as well as a remote controller with a large backlit display making it easy for growers to operate it with ease.
There are many different types of ACs which you need to consider when looking for the best air conditioner for grow rooms and grow tents. The split AC is one of the most common types of ACs which is seen all over the world, used mostly for regular room cooling purposes. The main advantage of using this is that split ACs generally tend to cover a much larger area compared to a portable AC and are cheaper to operate in terms of electricity consumption when you compare them with the traditional window ACs. Hence, these are the best air conditioners for grow rooms. 
Pros
Pros
Noise-free operation
Good for cooling medium to large rooms
Easy to control
Good tech support and warranty coverage
Cons
Cons
Some growers find the cost too high
Check Price & Reviews on Amazon
Sale
When it comes to buying consumer durables as well as electronic appliances, there's perhaps no match for LG's products! The company has been a top player in the international markets for a really long time and makes some of the best air conditioners which are appreciated globally. This is a portable AC from LG, which offers just the perfect solution to those looking forward to buying the best air conditioners for their grow tents. 
The LG LP0817WSR offers a coverage of upto 200 sq.ft. but is optimal for rooms up to 150 sq.ft. This AC also has an auto-evaporation system, which is also great for the growers. The AC comes in multiple colour variants as well as offers multiple variants when it comes to the coverage, ranging from 150sqft to 500sqft. Furthermore, growers should also know that this is an 8000 BTU Air Conditioner, which features three modes – a regular fan mode, air conditioning mode and a dehumidification mode, where it can dehumidify upto 1.8 pints of moisture from the air every hour.
The AC is designed in a way that it ensures an even distribution of air all over the grow room. Considered to be one of the best air conditioners for grow tents, this LG portable AC offers the growers with a very simple installation process. It takes about 20 minutes to set it up, no matter how you want to use it. Using this air conditioner in your grow room will make sure that there are no hot spots in any corner of the room because it uses auto-swing louvers to make sure that the entire room is covered. The air is discharged from the top portion of the air conditioner. There are wheels on the bottoms so that growers can move it around easily to make sure they put it in the best possible place. LG's brand value further adds to this because it is indeed one of the biggest and the most trusted names globally!
Pros
Pros
Three modes: fan, AC and dehumidifier
Excellent design
Available in different variants of varying room size coverage
Easy to set up
Cons
Cons
Some growers have reported that it is quite noisy for their preference
Check Price & Reviews on Amazon
Over the course of this article, we've seen a split AC, a portable AC and there's another portable air conditioner after this one. However, this is a unique solution – a window AC. We call it unique because, in 2020, most growers do not prefer to make use of a window AC, switching mostly to split ACs for grow rooms and portable ACs for grow tents. However, this window AC from frigidaire is one of the best options for those looking forward to buying window-mounted air conditioners for grow rooms. This AC works best in small-sized grow rooms up to 150 sq.ft. and operates at 5000 BTUs.
This is a great air conditioner for those growers who are absolutely certain that they want to use a window AC. This could be either because their room is ideal for setting up a window AC or because they don't want to invest heavily on a split AC. The initial purchase here is quite cost-effective, almost a third of what the split AC above costs. This air conditioner from Frigidaire also doubles up as a dehumidifier, which can dehumidify up to 1.1 pints per hour. This AC features mechanical rotary controls and comes with 2 cooling speeds, 2 fan speeds, and a 2-way airflow as well. 
The window that you need to set this AC in needs to be at least 13 inches in height and 23 inches in width (but not more than 36 inches). One of the best air conditioners for grow rooms, the Frigidaire FFRA0511R1E comes with a window mounting kit. Growers can control all the settings of this AC directly from the device's front panel using the knobs it comes with, making it fairly simple and easy to use even for first-time growers. The filter that this AC comes with features an antibacterial mesh which makes sure that you are breathing clean air. All in all, a good choice for those looking forward to buying the best air conditioners for grow rooms, and particularly for those who are looking for window ACs.
Pros
Pros
Doesn't cost too much when compared to split ACs
Can filter the air pretty well
An excellent choice for cooling small-sized grow rooms
Cons
Cons
High electric consumption
Mounting it is hard and often requires professional assistance
Check Price & Reviews on Amazon
Midea Portable Conditioner 12000 BTU Easycool AC (Cooling, Dehumidifier and Fan Functions) for Rooms up to 300 Sq, ft. Standing Air Conditioning 12,000
12,000 BTU for rooms measuring up to 550 square feet.
Features sleep setting, timer, fan, mode (cooling, dehumidification, fan only), and temperature controls. Power supply(V,Hz,Ph)- 115V, 60Hz,1Ph. Current (A)- 12
Midea is considered to be one of the best and globally appreciated brands when it comes to air conditioning. The company has been coming out with air conditioning solutions for people with different needs and this portable air conditioner from the company is simply the perfect option for those looking forward to buying air conditioners for grow tents and grow rooms. This is a 12000 BTU AC which is good enough for cooling rooms as big as 550sq.ft. This is a portable air conditioner which has wheels on the bottom and can be moved around easily.
When you take the first look at this air conditioner from Midea, it looks like it is straight out of a Stanley Kubrick film! It looks quite futuristic and goes in great even in your living room! The AC has three modes – one where it functions as a regular fan, another where it functions as an air conditioner and a third where it acts as a dehumidifier! There are a number of settings and modes that you can set this air conditioner to. This is one of the best air conditioners for grow rooms because it allows the growers to set up sleep settings, timers, etc.
This air conditioner comes with a remote which you can use to control it, alternatively, there are buttons on top of the device too. You can use the swing feature to ensure that the cooling is evenly distributed across the room. The fan operates in three modes and there's also an auto mode. It is easy to set up and easy to use, and practically everyone can learn how to use it in a matter of minutes! The filter is reusable and can be cleaned and re-inserted. The AC comes with an Includes exhaust hose assembly and window slider as well as a very long power cord. This is indeed one of the best choices for marijuana growers!
Pros
Pros
Functions as a fan, an AC and a dehumidifier
Sleep mode, multiple speed settings
Excellent design
Covers a rather large area
Cons
Cons
Some users have had problems with mounting it on to the window
Check Price & Reviews on Amazon
Recommended: Best Grow Tents for Growing Marijuana Indoors
Buyer's Guide: Things You Should Look for in an Air Conditioner for Grow Room
Now that you know which are the best options when it comes to air conditioners for grow rooms and grow tents, let us take a detailed look at some of the factors that you need to consider before you make the final purchase decision:
Cooling Capacity –

You need to know exactly how much this AC can cool. Is the level of heat generated in your room more than what this air conditioner can cool? Count the heat generated in BTUs per hour vs the BTUs per hour that the AC provides and then you can come to a perfect conclusion. Generally, in a grow room, heat comes from three main sources: grow lights, CO2 burners, and dehumidifiers. Hence, you need to know exactly how much the AC can cool. Also, your room size plays a role in this. The bigger the room size, the bigger an AC you would require.

Electric Consumption:

Another important consideration that you need to keep in mind before you purchase the best air conditioners for your grow tents and grow rooms is that you must know exactly how much electricity would the AC consume. Generally, smaller (portable) air conditioners tend to consume less electricity and window ACs tend to consume the most. Split ACs find a sweet spot between the two in most cases.



Size:

The size of the air conditioner also matters. You need to see if there's enough space in the room for you to place the AC or to mount it. This holds especially true when you are buying a split AC or a Window AC. These Air Conditioners need to be of the right size for them to be attached to your room. They should also be in proportion to the size of your room else you might end up getting an environment that either isn't effectively cooled or is over-cooled. Furthermore, the AC might not fit properly and there's a risk it might fall as well if it isn't the right size.



Brand:

Despite what many people out there might tell you, the brand matters a lot, because the brand determines how good an after-sales support would you be getting from the company, as well as how much money the product would fetch you if you were to resell it after a few months of use.

Other Functions: 

You must also check for other functions of the same product, i.e. what all it has to offer to you. In case of air conditioners, most of the double up as an air purifier and a dehumidifier – see if the AC that you have chosen offers all that.
Recommended: Best Portable Air Conditioners for Grow Rooms
Frequently Asked Questions (FAQs) About Air Conditioners for Grow Tents
Here is a closer look at some of the most frequently asked questions about air conditioners for grow tents and grow rooms that you need to know:
1. What are the different types of air conditioners for growers?
Broadly speaking, there are 4 different kinds of ACs for growers. 
Portable Air Conditioners:

These are the small-sized air conditioners which you can move around with ease. These usually have wheels on the bottom and tend to cover a smaller area compared to the other kinds of air conditioners. However, these are considered to be the best air conditioners for grow tents and are great for growers who have a lesser number of plants and a smaller growing area.

Window Air Conditioners:

These are age-old devices which you might have seen in some older buildings. A number of growers continue using these because of two reasons – first off, they are cost-effective and cost almost half (and even a third in some cases) of what a regular wall-mounted split AC would cost. Secondly, they are easier to install as they can just fit right into your window. They, however, are noisier and consume more electricity as well.

Split Air Conditioners:

A split AC is one of the top options that growers have when it comes to choosing the best air conditioners for grow rooms. Split ACs consume less electricity and operate silently, and tend to cover a larger area as well. However, they are much more costly when compared to almost all other types of ACs and getting a good split AC might set you back by $700-$900 easily!



Ceiling Air Conditioners:

Ceiling air conditioners are meant for extremely big growing areas such as if you are growing in a greenhouse or if you are growing across multiple rooms. These are piped ACs which hang from the ceiling. They are rather complex to set up and most growers who grow in grow rooms or grow tents would rather avoid them. 
2. How to decide the size of the air conditioner?
Two things come into picture here: The size of your grow room or your grow tent, which is the primary concern, and secondarily, the number of sources of heat that you have in your room. Calculate the heat generated by the heat sources in your room (BTU per hour) and then see if the AC that you are planning on buying has that kind of a BTU per hour cooling capacity to offer to you.
3. How long should the air conditioner be on for?
Ideally, we believe that the best air conditioners for grow tents and grow rooms should be left on all the time that the sources of heat are on. This is because they help counter the level of heat and a temperature equilibrium is maintained. However, different growers have different techniques of growing their marijuana and they may want the temperatures cooler or hotter based on their specific needs. However, make sure you do not turn it on for so little a time that heat actually becomes a problem or you turn it on for so long that the plants start to feel the effect of this cold weather which slows down their growth. 
Recommended: Best Big Grow Tents For Growing Marijuana Indoors
Conclusion
We hope that this article helped you make a better and well-informed decision about buying your own air conditioner. We have also shown you four different options for those looking forward to buying the best air conditioners for grow rooms and grow tents. We hope that by going through those four product reviews as well as the buyer's guide below that, you would get a fair idea as to what all has to be considered before a final purchase is made! Do let us know in the comments below if we have missed out on something of if there's something more that you would want us to write about. 
Happy Growing! 🙂