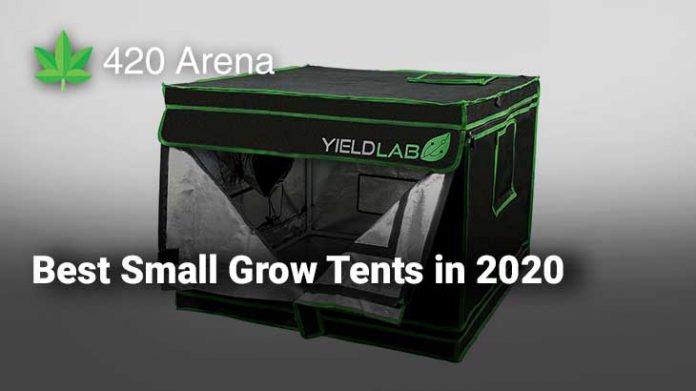 A grow tent is essential for those who are looking forward to grow marijuana on an indoors setup but don't really want to create a 'grow room'. Grow tents come in various shapes and sizes and over the course of this article, we will take a closer look at some of the best small grow tents in 2020 which you can make use of to grow your marijuana indoors.
We will first understand what a grow tent is and why you should be using one, then we take a closer look at why small grow tents are important, followed by a look at some of the best small grow tents in 2020 and before we conclude, a quick look at things that you need to keep in mind before you buy a small-sized grow tent. 
Let us begin:
What is a Grow Tent? Why Should You Use One?
A grow tent is a designated space inside which you can grow your cannabis in a controlled environment. When it comes to growing your weed indoors, you get a much better control over the kind of light, heat, air and water that you provide to your plants. A grow tent helps enhance that experience. Furthermore, it is also a concealing cover over your cannabis plants, allowing you to place it anywhere in your house without visitors raising a suspicion. There are a number of benefits of using a grow tent, such as:
It helps maximize the efficiency of the light with the help of reflective panels inside

Weed usually has a strong aroma associated to it, grow tents help contain it

They are very useful if you are growing different plants/or plants at different stages in growth cycles as you can bundle them together instead of having all in a room at the same time

They are space-saving as well
Why are Small Grow Tents Important?
Let us quickly focus on why 'small grow tents' are important. This is because not all growers have large growing needs. Some growers want to grow in smaller batches, or are just starting out and do not want to invest into a big setup. For these  growers, small grow tents are a great option as they occupy less space, cost less and are a great 'laboratory' for their experiments. Moreover, small sized grow tents can also be easily moved around without much of a hassle and are quite easy to set up as well. 
Best Small Grow Tents in 2020
Sale
The Finnhomy 600D grow tent is one of the best options available to those who are looking for the best small grow tents for growing their weed. It offers a 4' x 2' x 5' setup, which is quite a unique shape for a grow tent. It offers a decent length, a small breadth and a sufficient height for your plants to grow in. This grow tent is made of the 600D oxford cloth, which is both, tear-proof, as well as double-stitched. The material of this tent is also light-proof, ensuring that there is no leakage of the light. The inner lining of the tent is of Mylar, which is quite a reflective surface. 
What also makes this grow tent special is that it comes with metal poles which can hold as many as 150lbs of weight! This means, you do not have to worry about the tent collapsing under the weight of its contents. This tent comes with dual ventilation socks which ensure that sufficient amount of fresh air can be provided to the plants. Even setting up this tent is quite easy and experienced growers can set it up in no more than just 15 minutes! This is quite easy to use and something that first-time growers looking for the best small grow tents should indeed try out. 
In fact, the true beauty of this tent lies in the attention to detail! It has been crafted in a way that addresses all the problems of the growers – including one which tent-makers rarely address: the zippers! We have heard so many horror stories about zippers going bad and growers having to fix them time and again. However, this Finnhomy 600D grow tent comes with a heavy-duty SBS zipper, which is thick and ensures that it works smoothly for a really long time!
Pros
Pros
Can hold a decent amount of weight
Material is good and thick, light-proof and tear-proof
Well ventilated
Easy to Set Up
Good Customer Service
Cons
Cons
Some users complain of light-leaks around the seams and the zipper
Check Price & Reviews on Amazon
Sale
For those looking for the best small tents, this is as small as it gets! 2 feet length, 2 feet breadth, and 4 feet of height! This is a great setup for those looking for small grow tents and comes from a rather trusted name in the growers world. This tent from CoolGrows comes with a reflective Mylar lining on the inside, which ensures that the grow light that you use in the tent can be used to its full efficiency. The tent's exterior is completely light-proof, ensuring that no light leaks out and all of it is focused on the plants inside it.
This grow tent is also made up of the same 600D material that the above mentioned Finnhomy grow tent is made of, which gives the growers a peace of mind that their tent is tear-proof and made of double-stitched fiber. These CoolGrows tents are quite sturdy too, as they are made of durable metal bars and connectors. The grow tent comes with dual ventilation socks which ensure that there is enough air inside the tent at all times. The zipper in this grow tent is also quite thick.
This is one of the best small grow tents, which also offers the growers with a "window" via which they can quickly peak inside the tent. This grow tent is quite easy to set up, thanks to its tool-free connector system. You can simply push the metal poles on to the spring locks and they remain there firmly. Even while disassembling it, you just need to release the locks and it can come out with ease. This grow tent is also easy to maintain, thanks to the mylar spill tray that it comes with. If you feel the floor's getting a little too wet or dirty, you can quickly pull out the tray and clean it up. 
Pros
Pros
Very easy and simple setup
Durable metal poles
Thick, light-proof exterior
Quick-Viewing window is a great addition
Cons
Cons
The zipper tends to get caught after a couple of months of use
Check Price & Reviews on Amazon
Sale
An old and trusted name when it comes to the world of growing plants, Vivosun makes a lot of products for growers and grow tents happen to be one of them. This one in particular measures 3×3 ft. and has a height of 6 ft. which gives the growers adequate space to grow their plants as well as to hang their lights. This grow tent comes with a 98% reflective mylar on the inside, which is a very reflective surface. This ensures that all the light coming out of the grow light is reflected inside the tent and does not leak out, thereby giving you maximum efficiency. 
The company understands your zipper problems and makes use of a specially designed heavy-duty zipper which can last long and can be easily operated. In addition to that, this is one of the best small grow tents as it comes with an 'observation window' using which you can quickly peek into the tent and see how your plants are doing rather than having to open the whole thing and close it again. Even this grow tent is made of the same 600D cloth as the two tents above, offering the same level of thickness and high-quality fiber.
The tent is supported by metal poles and not plastic ones, ensuring it can carry quite the weight. It is also quite easy to set up and has a very simple, four-step installation process. It also comes with an easy to maintain floor tray which can be pulled out, cleaned and kept in again, ensuring that all the spillage is collected on to this tray. Another major benefit for the buyers is the long 2-year warranty period that the company offers you. Vivosun is an established brand in the world of growers and it is services like these which make it special. While many grow tents offer a limited warranty and some have no warranty, this small grow tent from Vivosun offers a hassle-free 2 year cover!
Pros
Pros
Thick and light-proof tent
Easy to set up
Comes with an observation window
Long warranty
Good brand value
Cons
Cons
Visibility through the viewing window isn't so good
Light leaks out through the zipper
Check Price & Reviews on Amazon
Sale
Another very popular name when it comes to buying equipment for the growers/growing tools, Mars Hydro is known for their grow lights, but it is also a popular brand for those who are looking forward to buying grow tents. This is one of the best small grow tents in 2020! Buyers should look out for this brand because it offers them not only a good tent but also the trust and experience of a very credible brand in the markets. First off, the dimensions of the tent are about 39" x 39" – about 3.25 ft x 3.25 ft, while the height is 70" – about 5'8" which is great for providing the plants enough space to grow as well as to maintain a sufficient distance between the light and the plants. The tent comes with a sturdy metal frame which can hold as much as 140lbs of weight. 
This grow tent features an interior made out of diamond mylar, which is a highly reflective surface and it ensures that the grow lights are utilized to the maximum possible efficiency. The reflective surface inside the tent ensures that the light bounces through and remains inside the tent. The exterior is designed in a way that no light leaks outside. Moreover, as opposed to other brands, which utilize the 600D/601D fabric for building the grow tents, this one is made out of 1680D, which is a thicker substance and thus ensures the light remains locked inside. The zippers that are used on this grow tent are quite sturdy and they are also crafted in a manner which ensure that the light does not leak through.  
A double-layer lined window has also been incorporated into this grow tent which allows you to peak inside without actually having to open all of the tent or having to worry about the light leaking much. Furthermore, you can also make use of this window by opening it up fully and ensuring that the heat gets dissipated and it can act as a vent. This grow tent is also quite easy to maintain as it comes with a floor tray which can be removed if water, leaves or soil fall on to it and cleaned. There are two vents on the body of the tent. This is indeed one of the best small grow tents in 2020!
Pros
Pros
Quite sturdy and can carry even heavy grow lights
The light does not leak through at all
Well ventilated as well as comes with the window to peak through
Uses good-quality fabric compared to other small grow tents
Cons
Cons
Some users complain of it being a little difficult to set up compared to other grow tents
Check Price & Reviews on Amazon
Things to Keep in Mind While Buying a Grow Tent
Now that you know which some of the best grow tents are, here's a closer look at things that you need to keep in mind while buying one:
Space/Size:

The space and size of the grow tent is an important factor when it comes to choosing the ideal grow tent. It needs to be ensured that the tent is sufficient enough to contain all the pots that you want to keep. Moreover, you must also make sure that the tent doesn't occupy too much space in your room.



Light Leakage:

Light leakage is a common problem with grow tents. When you set up a grow light inside your tent, the tent must have no space from where light comes out. The more the light that comes out of the tent, the lesser the plants get. To ensure this, make sure the density of the canvas is decent.



Reflective Material Used:

You must make sure that your tent is lined with reflective material on the inside and that it is a good quality reflective material. The more reflective your tent is, the better is the efficiency of your light.



Durability:

Your grow tent must also be durable and sturdy. The metal rods that support it must be able to carry a sufficient amount of weight which is needed to hang the grow lights (which can often be heavy if you add reflectors etc).

Ventilation:

There need to be an adequate amount of air vents so that your plants get fresh air and the still air can move outside. Ventilation is also important to maintain appropriate humidity levels.

Zipper Quality:

A lot of people have suffered because of a bad quality zipper because if it breaks after a few months, you'll have to replace it else light will keep leaking out of your tent.
Conclusion
We hope this article helped you in choosing just the right type of grow tent for all your growing needs. Small grow tents are great for beginners as well as for those who want to grow small quantities of weed. In this article, we have shared some of the best small grow tents in 2020 as well as the factors that you need to know before you buy one. We hope this helped!
Happy Growing 🙂