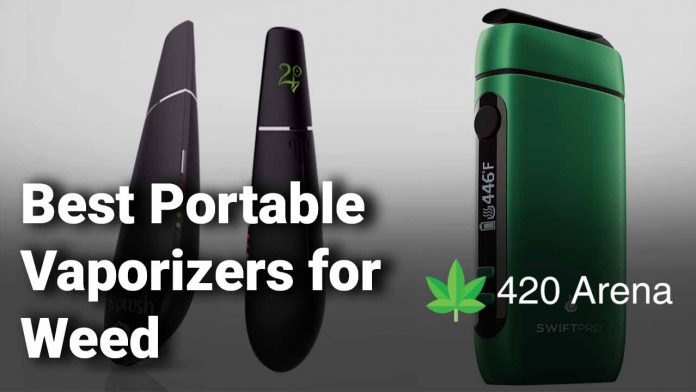 The best part about weed is consumption. Yes, while growing your own marijuana can give you a different sort of a kick – the end goal for most people who grow weed at a personal level is for consumption. While many people tend to smoke their weed, there are many who also like to consume it by vaping it! Hence, let us take a closer look at some of the best portable vaporizers for weed available to us which we can easily purchase off the internet!
However, before we deep dive into the best available options that we have when it comes to vaporizers for weed, let us first take a closer look at what these vaporizers (or as they are popularly known as: 'vapes') are. We will also take a look at the difference between smoking weed vs vaping it and the advantages and disadvantages of both. Without further ado, here's a detailed look:
What is Vaping?
Over the years, vaping has become quite popular. Many consider smoking weed the old fashioned way to be rather, err, old fashioned. Vaping is being seen as the classier, modern way of consuming weed. Vaping, for those who may not be aware, is essentially the consumption of marijuana via the use of vaporizers (which vary in shapes and sizes but all perform the same task). Here, the cannabis is kept in the vaporizer and instead of the smoke, the vapour is consumed.
Basically, what the vape allows you to do is to consume the THC (which is the chemical behind the mind-altering powers of marijuana) without actually having to smoke it up. Instead of the traditional e-liquids that many vapes come with, some of the cannabis vapes come with cannabis oil which enhances the experience.
What is a Portable Vaporizer?
A portable vaporizer is basically a device that you use to consume your cannabis. It can come in different forms and sizes but the most common form-factor is that of a vape pen. It looks and feels like a fountain pen, but you can fill weed inside it and consume the vapour. Now you must also know that there are two types of vaporizers – the first is your classic, old-school table-top vaporizers which are rather big and clunky. The second is the portable vaporizer which you can use to consume marijuana anywhere at your convenience. You can carry it around in your pockets with relative ease too.
Portable vaporizers which are used to consume weed come in basically two types:
Vaporizers That Feature a Cartomizer/Clearomizer
So basically, this type of a vape pen involves the use of marijuana in a liquid/oil/wax form which you can purchase in the form of 'dabs' which are commonly available across medical stores. Furthermore, for those who may not be aware, dabs are basically oil cartridges that fit right into these pens and are then heated up so that they can be vaporized and consumed. The Butane Hash Oil (BHO) is the primary contents of this cartridge. Sometimes, wax cartridges are also used where soil marijuana can be melted and then vaped via the wax contents of the cartridge.
Vaporizers That Directly Vaporize Buds
These are the second kind of vaporizers which involve direct vaporization of buds. These are considered to be slightly premium as compared to those which involve the use of oil cartridges. These vapes support direct vaporization of buds but they also support the use of cartridges.
The Best Portable Vaporizers for Weed in 2019
1. Firefly 2+ Vaporizer
Considered to be among the best portable vaporizers for consumption of marijuana, the Firefly 2+ comes in at a price of $249. This vaporizer is manufactured by firefly vapors and offers a temperature spectrum which ranges from 200 F to 500 F allowing you to heat your marijuana the way you like it. Moreover, it pre-heats in just 10 seconds, giving you the perfect vaping experience.
Not only is it well designed and great when it comes to heating your stuff, it is also a good vape for those looking to buy one with a good air-flow. You can use this vaporizer with concentrates. Also, with the kind of build that the Firefly 2+ has, it ensures that the taste is maintained while the smell does not carry through. It also comes with a mobile app which has a 'power tuning' feature where you can customize your vaping experience.
The vaporizer (like most other vaporizers) runs on a rechargeable battery. The battery charges up fully in 45 minutes and this vape can be used by 1-2 people with ease considering the chamber size. Another great thing about Firefly 2+ is the fact that it requires very little maintenance. For anyone looking for a quick vaping experience which is also hassle-free and comfortable, the Firefly 2+ is an ideal pick and must be among the top considerations!
Pros
Pros
The premium look and feel of the vaporizer are definitely a strong suite. It isn't big and heavy unlike its previous models
The air flow of the Firefly 2+ has been improved compared to its previous models
Cons
Cons
Requires some technique and practice for the best-use scenario
Battery life is good but long-term usage might reduce it
2. Crafty Vaporizer
Up next on our list is the crafty vaporizer, which is manufactured by Germany-based firm Storz and Bickel. The company is known for creating high-quality vaporizers in the past such as 'Mighty' and 'Volcano', both of which were loved by the users. Crafty is their latest launch! For those looking for a portable vape that is long-lasting, easy to use and comes with great features, this is a strong recommendation! The crafty vaporizer costs $279.
The Crafty vaporizer is among the best portable vaporizers for weed because it offers a high-quality vapor, along with a great design. Furthermore, at a time when vaping seems to become more and more complex to use, especially for the first-timers, Crafty ensures that everyone can use it with the most basic of knowledge. You need no practice or no prior experience to use crafty.
Another great thing about this vape is that battery life has been significantly improved compared to the company's other vapes in the past. The battery life of crafty lasts for about 45 minutes of continuous use. It takes 2 hours to charge but the best part here is that you can also vape while charging the device! It has a USB-based charging system, which means you can charge it practically anywhere using a battery pack!
The vape also comes along with a mobile app which allows the users to set temperatures ranging from 104 F to 410 F. It offers two presets – 'default' at 356 F and 'boost' at 383 F. It takes crafty around about 2 minutes to attain the temperature of 365 F. While this is not as fast as one would want it to be, it is still good enough and provides a consistent heating. It also provides vibration alerts to inform the users that the heating-up process is complete.
Crafty allows you to hold between 0.25g to 0.3g of the herb in the chamber. The cooling unit that the vape comes with is also great and it ensures that the vape is cooled down before it reaches your mouth so that you get a smooth vaping experience.
Pros
Pros
The design and the build quality are just too good!
The app is easy to use and simple even for the first-timers
Wide range of heating
USB charging allows you to charge anywhere, anytime – even while vaping!
Cons
Cons
Battery life isn't that good
Not as concealable as many would want it to be
3. Pax 3 Vaporizer
The Pax series of vaporizers have always been among the top choice of those who love to vape! Pax 3 comes out as the third-generation vaporizer from the brand and is one of the top-rated products as per us! This is a herb as well as concentrate vaporizer. This device, manufactured by PaxVapor, offers everything that you want in a vape! It offers a great design, comes with perfect concealability and is quite durable as well as easy to use. What more can you expect from a vape?
Pax 3 is the perfect example of a company knowing what its customers want! There are a number of changes in this third-generation device when compared to Pax 2. It offers an improved battery life, which stands in at 3500 mAh. This basically offers the users with about 100 minutes of use on a full charge.
In addition to that, another improvement comes in the form of heat-up time as the vape now pre-heats in just 15 seconds. Compared to the 2-minute time of the aforementioned Crafty vaporizer, this is a huge improvement. The app has also been updated and is much easier to use. There is also vibrating feedback on the app which allows the users to know instantly when the device has been heated.
The temperature spectrum that Pax 3 offers to its users vary from 360 F to 420 F. Users can also select different heating profiles based on their preferences. The temperature can be adjusted using the mobile application. In addition to this, the app also allows the users to control a number of other aspects of the vape, including dimming the LED, changing color themes – as well as locking the device! All these features put together make Pax 3 among the best portable vaporizers for the consumption of marijuana!
Talking of the exterior of the device, the Pax 2 used to offer a brushed aluminum finish. However, in the third generation of the vape, the company has decided to introduce a more polished and smoother finish, which makes the device look rather premium. Furthermore, it comes in two variants – one featuring 'device only' and the other being 'complete kit'. The device-only variant allows you to consume only herbs and on a full-bowl. The complete kit comes with a half-pack lid, along with a carrying case as well as a concentrate insert.
Pax 3 costs $199 when you purchase the device-only variant but costs $249. If you are someone who likes to vape alone, we strongly recommend you to go for the half-pack lid as many users had complained in the past that the bowl is a little too big for users who vape alone.
Pros
Pros
A battery life of 100 minutes is good enough to easily last 6 to 8 sessions, which is great
Heat-up time of 15 to 20 seconds is very impressive
The device looks pretty premium
Cons
Cons
Polished finish means easy scratches and fingerprint stains
Some people have found the magnet of the charging dock to be weak
4. Mighty Vaporizer
'Mighty' comes via Storz & Bickel (the company which manufactures the aforementioned 'Crafty' vape). However, before you proceed into the review, let us tell you right here that if you are specifically looking for a small-sized vape, then Mighty is probably not for you. It is slightly larger compared to most other vapes over here but when it comes to quality and features, Mighty really lives up to its name! It is one of the most premium names when it comes to vaporizers and costs $349.
For those who are looking for a vape that can last them for a really long time on a full charge, this is one of the best options that you have. You can easily take it out on a hiking or a biking trip, or even if you plan to camp somewhere overnight. The device easily lasts 6 to 8 sessions and a full-charge takes only 90 minutes. However, one thing that you need to know about Mighty is that it can charge only on wall outlets.
The bowl that it comes with can hold anywhere between 0.25 to 0.3 grams of herb depending on how finely grinded it is. Another great thing about the Mighty Vaporizer is that it is very easy to use. Simply pressing the power button will begin the process of heating it up and the temperature control can be adjusted via the on-body buttons.
Taking a look at the build of the device, Mighty isn't a vape that you can carry around in your pocket. It is slightly larger and heavier compared to almost every other name here is quite portable to be carried around for a quick trip. Another great thing about the device is that it is simple to use and comes with on-body buttons where you can adjust the temperature as per your preference. The temperature spectrum that the Mighty Vaporizer offers is between 105 F to 410 F.
To add to this, Mighty Vaporizer is a great vape for someone who likes to vape dry herbs. The vape that it generates is high-quality and very refined! Furthermore, this is a device for those who love to enjoy long vaping sessions of 10 to 15 minutes. It is also a good device for group vaping sessions. Basically, if you are looking for a portable device which you can easily pocket and use for a quick session, you might want to use Crafty, but if you are OK with a bigger device which offers more refined vapor, Mighty is totally among the best portable vaporizers for you.
Pros
Pros
Great battery life, good for those who like long sessions and want to take it hiking/biking
Very easy to use thanks to the on-device controls
Cons
Cons
Bulky, not pocketable and not concealable
Charges only via wall power outlets
5. DaVinci IQ
Those who want to buy a good-looking vaping device, you need to look no further. If premium looks are what you are after this is just the best vape for you. Not only does it offer a great premium build but also some amazing features. The DaVinci IQ costs $274.99 and is one of the favourites for those who care not only about the kind of vape that they would get but also about how their device looks and feels like. It is indeed a very classy choice.
When it comes to the aspect of how your weed would taste like, this is very important. The DaVinci IQ vaporizer is a dry herb vaporizer which provides those who vape using it with a great taste, particularly at higher temperatures. The device is very small in size and can be easily pocketed. Another great thing about this is that it is so small that you can palm it up while you vape so that it is easily concealed as well. Not many vapes these days offer such good features and taste at such a small size – this is one of its strongest suites. The device comes with a 3500mAh battery which lasts about 50 to 80 minutes depending on the way you use it. It takes about four hours to charge fully.
The DaVinci IQ comes in four color variants as well – black, blue, green and gunmetal. The device is made of zirconia ceramic which gives it a very premium feel. Coming back to why it is one of the 'best tasting' vapes out there, it is because of a 'flavor chamber' which is placed just before the vape reaches your lips. This lightly heated chamber accounts for the good taste – it also ensures that the vapor is cooled just enough to make it taste good, as well as smooth. It comes with two mouthpieces which are a little raised
The temperature spectrum that the DaVinci IQ offers for the users ranges between 250 F to 430 F. It comes with three pre-set heating options including a 'boost' mode. However, you can also adjust the temperature manually to get the desired result. The app also comes with a wide range of features which make the vape more attractive – it comes with various 'smart paths' where you can choose to heat up your vape in a way that it regulates the temperature based on your preferences. Cleaning and maintaining this vape is also pretty easy.
Pros
Pros
Offers great taste, especially at higher temperatures
Sleek, small and concealable – also great looking
Cons
Cons
High draw resistance
Battery takes too long to charge
A little complex for first-time users
6. Arizer Solo II
Given that battery life seems to be one of the biggest issues among most vapes these days, the Arizer Solo II is a great device for those looking forward to a vaporizer that offers a strong battery life. Priced in at just $184.99, the Arizer Solo II isn't really a cheap portable vaporizer, but isn't a costly one as well. In terms of price, it just hits the sweet spot where it offers good features and doesn't burn a hole in your pocket!
Cutting straight to the chase, what makes the Arizer Solo II really attractive for many users is the fact that it offers a battery life that can last up to three hours of non-stop use! This is almost twice of what most other portable vaporizers offer these days. This allows you to enjoy about 15 to 20 sessions without having the need to charge it. If you are someone who likes to be outdoors a lot, this is a vape that you must totally check out.
In terms of size, the device is indeed quite pocketable, but the stem that it comes with is a little odd – and sticks out like a sore thumb in an otherwise good looking device. The device is very slim too. It comes with a display which is well lit and can be read and controlled even under the sunlight. The device is quite scratch-resistant too. The Solo II offers a full temperature spectrum ranging from 122F – 428F. The device takes about 20 seconds to heat up which is pretty good. It allows you to set session timers which range between 5 to 15 minutes and is set at 10 minutes on default.
The vapor that comes from the Arizer Solo II is smooth and cool. It also tastes good and especially at this price point, it is really incredible. The draw resistance too is not that high and the airflow is pretty good. On a well-cleaned bowl, you won't feel any resistance at all!
Pros
Pros
Incredible battery life at almost 3 hours!
Slim and pocketable
Great air flow, taste and vapor cooling
Cons
Cons
Cleaning and maintenance is rather cumbersome
The glass stem is a little odd-looking
7. Boundless CF Vaporizer
Up until now the vapes that we have discussed above are all priced north of $200. However, let us now take a closer look at the best portable vaporizers for weed which are priced at rather affordable rates. The Boundless CF Vaporizer is one such option, which is priced under $100 but offers some really cool features. The device, in terms of looks and feel, is pretty similar to the Crafty Vaporizer but costs a lot less money.
It is the perfect device for someone who is very new to vaping and does not want to invest a big amount in getting a costly vape but is still looking for a device that gives him or her the best features possible. The device is made by 'Boundless', the company which also makes the CFX Vaporizer which is pretty similar to the aforementioned Mighty vaporizer. However, the CF Vaporizer is smaller and cheaper. The device comes with a one-year warranty.
Considering that it is priced under $100, one might suspect that the Boundless CF Vaporizer takes a long time to heat. However that is absolutely not the case and the device can pre-heat in just 20 seconds, which is rather surprising! The temperature ranges between 355 F to 415 F – it comes with 5 presets, each increasing by 15 F. Another great feature about the Boundless CF Vaporizer is the fact that it comes with a very large bowl which allows the users to stuff as much as 0.5 grams of the herb in it!
While the device has been made to look and feel like the 'Crafty', it does not meet such high expectations when it comes to vapor quality. Nevertheless, for a vape which costs less than $100, the vape quality is pretty decent. The air-flow in this vaporizer is pretty good, which makes it rather comfortable. While the cooling techniques and chambers aren't of high quality, they do their job well too, making it quite smooth.
The Boundless CF Vaporizer comes with a 1300mAh battery, which lasts up to 50 minutes on a full charge and takes close to 150 minutes to charge fully. The battery charges via USB and it does not come with a replaceable battery. All said and done, this is a great vape for those looking forward to buying one for the first time and do not want to invest too much initially.
Pros
Pros
Small in size, easily concealable
Punches way above weight at the price point
Good airflow
Cons
Cons
Build quality isn't that great
Vapor quality cannot be compared with high-end vapes
Lasts only 50 minutes
8. XMAX Starry Vaporizer
Another great choice for those looking for a dry herb vape priced in below $100, the XMAX Starry Vaporizer is priced in at $99 and offers great features. While it will be unfair to compare it to other vapes which are priced in two to three times higher than this device, but it still holds up pretty well given the price point. The XMAX Starry Vaporizer is a great pick for first-time vapers.
The device is small and portable, allowing the user to easily pocket it as well as ensure that the device remains concealed while they are vaping it. It doesn't weigh much either, and is rather easy to grip and pass around. The device comes with a 2500 mAh rechargeable battery which can be charged using a USB cable. A fully charged XMAX Starry vaporizer provides a vaping session of about 70 to 80 minutes and it takes the device roughly between 1.5 to 2 hours to fully charge.
What really impresses us about the XMAX Starry Vaporizer is the fact that it supports a large spectrum of temperature, even at its sub-$100 price point! The device allows you to utilize a temperature spectrum that varies from 221 F to 464 F. While it offers really high temperatures, most users do not prefer to go beyond 410-420 F. Going to high temperatures is not really recommended because that is when the taste starts to deteriorate and the device to starts to heat up. The vapor output, however, is pretty great.
The draw resistance isn't that good, especially when compared to the aforementioned Boundless CF vaporizer, which is also priced in at pretty much the same price point but offers a much better air-draw. However, the more finely grinded your herb is, the better it is for you. The device is quite easy to clean, which is a good thing. All said and done, XMAX Starry Vaporizer is for those who want to give vaping their first shot – and cannot get hold of the Boundless CF Vaporizer for some reason!
Pros
Pros
Very affordable price point – offers decent features despite low price
Good for first-timers
Large range of temperatures
Cons
Cons
Device tends to heat up at high temperatures, bad taste
Air flow isn't really good
Things to Consider Before Buying a Portable Vaporizer for Weed
With the knowledge of the best portable vaporizers in the markets, you now know which all the good options are. However, the bigger question now is – how are you going to select something that suits all your needs? Here are some factors that you need to keep in mind before you buy yourself a vape.
Temperature Range
While vaping your herb at high temperatures ensures that it vapes up faster, it also damages the taste. You need to know the perfect temperature that suits your needs but you also need to ensure that your vaporizer is offering you a diverse range of temperatures. A good vape should offer a range between 275 F to 410 F. Anything beyond that is always welcome but this is the least you should aim for.
Herb or Concentrate?
Do you like to vape your herb dry or do you like to vape via concentrates? Make sure that the vaporizer you are buying supports the option that you are looking for! Most devices these days support dry herbs but concentrates require either purchasing a high-end device or separate cartridges for inserting into the vape.
Is it Concealable?
There is a lot of social stigmas that surrounds vaporizers which is why a lot of people prefer smaller devices which can be carried around in pockets and can be concealed behind their palm so that no one can actually see them vaping. Most devices these days are manufactured based on this need but there are still some which are large and bulky. You can choose the one that you prefer.
Battery Life
This is one of the most important features of a vaporizer. It needs to offer a great battery life – the best portable vaporizers offer a battery life of about 3 hours – which is basically 15 to 20 sessions depending on the length. The average battery life is between 90 to 120 minutes. You must always look at the battery life of a vaporizer before making the purchase.
Ease of Use
This one matters a lot, especially for first-timers. Vaporizers need to be simple enough to be used by someone who has never used them in the past. While most vapes today come with mobile apps and complex features, there are some which offer a simpler user interface, i.e. a power button and two temperature buttons so that it can easily be operated!
Build Quality
Build quality is another important factor when it comes to vaporizers. Users are often looking for a device which is sturdy and long-lasting. It should not be easily susceptible to scratches and fingerprints. Another major problem is that the body of the vaporizer should not heat up while vaping! All of this needs to be considered before you buy a portable vaporizer for yourself.
Price
Last but not least, the price of the vaporizer also matters. It depends if you are a first-timer who is looking for a low-price decent-quality vaporizer or if you are already into vaping and are looking for a premium device with high-end features. There are multiple options for each price point and we hope this article helps you find the best vaporizer for your needs.
Vaping vs Smoking: What are the Benefits of Vaping Your Weed?
When it comes to smoking, there are different kinds of smokers with different kinds of preferences. While there are those who love to lick up a freshly rolled joint, there are also others who like to avoid that and rather use the classier and more premium way of smoking up – by using a portable vaporizer or a vape pen. Nevertheless, many people today consider that vaping is the best form of smoking. Here are some of the advantages as to why you should use a vape instead of smoking your weed:
No Carcinogens: Since weed that is consumed using a vaporizer involves heating up of the bud or the oil and not burning it, as is the case with a joint, this process produces no carcinogens, thus making it comparatively a safer choice.
Better High: Those looking forward to consuming marijuana only to get a high out of it should consider switching to vaping because vaping is way better than smoking for getting high. This is because here you are smoking the THC directly mixed with vapor rather than having to smoke it up – this gets you high faster as well.
Safer for Mouth: When you smoke anything, you are basically putting yourself at a risk of developing mouth cancer or damaging your teeth or getting sores and boils in your mouth. However, when you vape your marijuana – none of this happens!
No Smell: One of the biggest turn-offs for many people who want to consume marijuana is the fact that they find the smell a big problem. First off, it persists for a long while and is easily identifiable by a lot of people, and secondly, it takes a lot of effort to make it disappear. When it comes to vaping marijuana, there is absolutely no smell so there is no problem of being caught like that!
Costs Less: Last but not least, getting a vape-pen is just a one-time investment following which all you have to worry about is procuring weed. It is simple to consume the weed using a vape as well as cheaper because it is just a one-time purchase!
Conclusion
You now know everything that there is about consuming weed using vaporizers. In this article, we've seen smoking weed in a vaporizer feels like – what are the benefits of it – and most importantly, which are the best portable vaporizers for weed that you can purchase in order to consume your marijuana and get a high out of that.
Vaping is emerging to be a hot trend – however, one last word of caution, make sure to check with your doctor is vaping is better suited for you before you make a complete shift to it. Furthermore, always check the components of the 'stuff' that you are smoking before you smoke it. When bought from a legal dispensary that sells weed, you can get to know the exact composition of what you are going to be smoking so that you know it is perfectly safe for you. Finally, always make sure if you decide to vape weed, you are doing it in a state which has laws that allow you to consume marijuana! That's it for now, happy vaping!