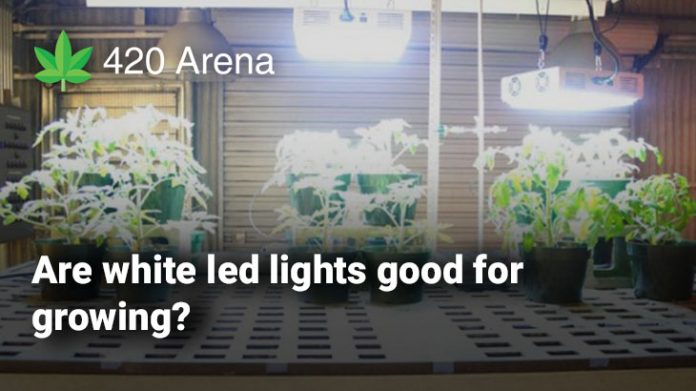 When it comes to smoking weed, there are two types of stoners – growers and buyers. Buyers don't like growing and growers usually don't like buying. Once you start smoking weed regularly, you eventually figure out who you are. Most stoners usually start off as buyers but once they start growing their own weed – they become growers for life. Growing weed is a process which involves a lot of emotional investment. You begin to care for the plants that you are growing and you become attached with their growth and their daily needs! It is almost like having a child – and you want to make sure that you are providing the best care for your child.
When it comes to providing the best care for your weed, you need to make sure that you are providing your plants with the best quality of LED grow lights – these lights come in various colors, and it is important to know how your plants react to each of these lights. White LED lights in particular are of quite an importance, but you need to know exactly how and when to make use of this light and more importantly: Are White LED lights good for growing weed?
In this article, we take a closer look at all LED lights, but more specifically, the focus will be on White LED lights and how important they are when it comes to growing your own weed indoors. 
What Are Grow Lights? Why Are They Useful for Growing Weed?
Grow lights are among the most critical components when it comes to growing weed indoors. Out of all the three natural elements that are needed to grow weed (sunlight, water and air), light is the most important because it provides not only energy but also food to the plants by enabling photosynthesis. However, when you grow your cannabis plants indoors, you need to ensure that they get appropriate lights and heat in an indoors environment which is often hard to emulate. Hence, you need to select the best grow lights which ensure that your plants get the best of lights and heat. 
LED stands for Light Emitting Diodes. For those wondering how these LED lights can emulate the spectrum of light, it is with the help of two different semiconductors. The first of the two creates a negative charge (electrons) while the second type of semiconductors create a positive charge (holes). Other types of lights create light and heat based on different material such as mercury, gas or filaments. However, LEDs have a different way of creating light which is actually way more cost-effective compared to the others. They are also more durable and environment-friendly compared to the incandescent lights. 
The spectrum of lights that LED Grow Lights emit can be of various types: some of them might actually be quite similar to the wavelength of the sun. However, there are others which provide certain specific wavelengths focusing more on the reds or the blues which contribute to the growth of the plants in a specific way. However, here, we will be focusing not on the reds and the blues, but on the whites! Here's a closer look at White LED lights and why they are important –
Understanding White LED Lights: What Are They?
Now that you understand what LED lights are and why are they important for the growth of your cannabis plant, let us give a closer look to white lights and what makes them so special and so different. 
While there are a number of colors of lights that come into effect when it comes to growing a cannabis plant, white lights are the ones that matter a lot. A white-light spectrum consists of six lights at different wavelengths. These lights are of violet, blue, green, yellow, orange and red colors. Each of these lights is a part of the white-light spectrum at different wavelengths. 
In this, violet light is usually present at 380-450nm, blue light at 450-495nm, green light at 495-570nm, yellow light at 570-590nm, orange light at 590-620nm and finally red light at 620 to 750nm. While most spectrum of lights will have all of these colors but the intensity of the wavelength of the lights will be different. 
Best White LED Light for Growing Weed
Now that you know what is the role that LEDs play in grow lights and what is the importance of White Lights, here's a closer look at the best LED white lights for growing weed. 
1. Mars Hydro TSW White LED Grow Light With Timer
Sale
First up in this list is the Mars Hydro TSW White LED Grow Light, which also comes with a timer, which is one of the most popularly demanded features in grow lights! This comes with 684 LEDs and consumes 300W of power. This is a plant growing lamp which will ensure that the white LED lights provide the best possible growth to your marijuana plant. At its optimum performance levels, this grow light offers as much as Max 2.5g yield per wattage. The company claims that this grow light offers 30% higher yield. 
This grow light from Mars Hydro is great for those who have setups measuring roughly about 3.5×3.5ft but can offer a maximum coverage area of 4x4ft. Over 90% of the energy that is emitted by these white LED lights can be absorbed by the plants. The LED bulbs used in this grow light ensure that there is no light-loss – the aluminium hood design also ensures that the light is focused properly. Furthermore, thanks to the IR lights present in it, it ensures that photosynthesis happens in a natural way. These lights are great for almost all phases: for seedlings, growth and bloom. There's a dimmer on the power supply which you can adjust to increase or decrease the brightness. 
It is also very simple to operate as you can just plug it to turn it on. There are no push buttons here and it is very simple. The dimmer is also quite easy to use. This Mars Hydro white LED grow light also comes with a 36 month warranty which ensures that you can use the device for three years without fearing about most sorts of damage! 
Pros
Pros
Support for timer
Light emitted is quite similar to the natural light of the sun
Long warranty period
Cons
Cons
Some users complain of dents/broken items upon delivery
Check Price & Reviews on Amazon
2. Horticulture Lighting Group HLG 300 V2 with Samsung LEDs
Horticulture Lighting Group (HLG) brings the HLG 300 V2 in the market which is one of the most popular names when it comes to white LED grow lights! This grow light makes use of Samsung LEDs which ensures that they are one of the most high-quality products in the markets. The light comes with high-efficiency quantum boards which emit white light, great for the blooming and the vegetative state of the plant. 
This is a modern-looking white LED light board which will allow growers to ensure that they provide light in the perfect wavelength to their plants. Furthermore, the design of this grow light ensures that no light is left out and all of it is concentrated upon the plants well. One of the biggest problems that many grow lights face is that the lights get lost in emission and not all the light that is emitted reaches the plants. However, this doesn't happen here. Moreover, another benefit of this White LED grow light is that it doesn't even overheat and ensures that there is no heat-related damage. The Samsung LEDs are one of the best performing, premium lights and your plants will benefit a lot out of it.
The HLG 300 also comes with a dimmable switch which you can make use of to adjust the lighting intensity. Lastly, a three-year warranty is included with the product.
Pros
Pros
Doesn't heat up easily
Great for the growth of cannabis plants
High-quality LEDs
Cons
Cons
Overuse may damage plants and give them burns
Check Price & Reviews on Amazon
3. Daylight LED Plant White LED Light Bulb – Great for Small Plants
While the above-mentioned lights are basically big panels that you can use if you are growing your cannabis plants in a larger number, there's also an option for those who are looking forward to buy white LED lights for smaller plants. This Daylight LED light bulb is a great choice which you must consider for small plants that require white light. Each LED chip on this bulb is a mix of red, blue, green and far-red light, which allows your plants to have tall leaves and better, healthier flowers. 
Under ideal circumstances, you should use it by hanging it at a height of 18 to 24 inches, upon which it would cover between 2.4 to 4.2 sq ft. The ideal lighting time should be between 10 to 12 hours, but it also depends on what stage your plant is in. This is a small lamp which comes with a ceramic body and a hollow-out design, which ensures better dissipation of heat. It also comes with an E26 socket which means it can fit most regular desk lamps with ease. This is suitable for the entire life cycle of the plant and can be used not only on cannabis but also on other small plants such as rose, pepper, tomato, mint, etc. 
Pros
Pros
Value for Money, doesn't cost a lot and delivers way above its weight
Clear white light, great for growing small plants
Good heat dissipation
Cons
Cons
Fragile, needs to be handled with extra care
Check Price & Reviews on Amazon
Advantages of White LED Lights
Now that you know which are the three best options you have when it comes to buying white LED grow lights for your cannabis plant, let us take a look at the advantages of these White LED lights and why they are considered to be better over other types of lights. 
Energy Savings 

One of the biggest features of these white LED grow lights is the fact that they are known for saving energy compared to other types of lights. As per various statistics, LED lights can save as much as 60% energy compared to traditional system of lighting.

Better Growth of Plants:

Depending on what kind of light your LED lights emit (UV, IR, etc) and depending on what kind of a plant you are growing, if you figure out the perfect combination plus the perfect distance and timing, you can ensure that your plants grow in an optimal environment and they grow to be healthy and strong. You can also provide different kinds of lights at different times of the day to get this best-case scenario out there.

Faster Cycle of Growth:

Considering that you are growing plants indoors, it allows you a greater control over how much heat and light do you expose them to. While in nature it can only happen for a fixed period and that too can get interrupted due to clouds or bad weather, when growing them indoors under LED grow lights you face no such problems which actually leads to your plants growing faster.

Durability:

Last but not the least, compared to traditional forms of light sources such as gas or filament-based lights, using LED lights is actually better because they are much more durable and long-lasting too! Given that they have a low output of heat, the lights do not get damaged as quickly as the other types of light sources. Most good LED lights can last you anytime between 40,000 to 50,000 hours! To put that in perspective, a year has a little over 8760 hours.
Conclusion
To conclude, we hope this guide on White LED lights helped you understand things in a better manner and helped you gain a perspective on how grow lights are useful for the growth of plants. More specifically, the role that white lights play and which are some of the best white lights in the markets! Make sure you know what kind of light is great for your plant to grow and customize accordingly but as a rule of thumb, white LED lights come with a broad spectrum and can emulate the natural heat and light of the sun pretty well, resulting in your cannabis plants growing healthy and fast! 
Happy Smoking!