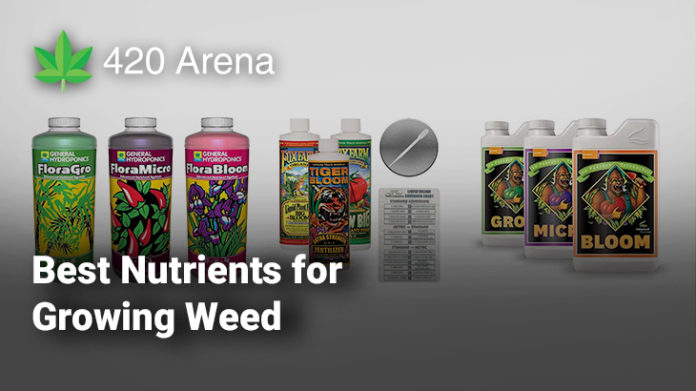 Much like the human body, plants too require nutrients to grow. Providing the right water, light, air, and soil isn't enough for plants to grow. Plants need nutrients which are present in the soil – it is based on these nutrients that different marijuana plants have different properties. Getting the right nutrients for your weed would help you create the perfect marijuana plant based on your needs. This is why we have come out with a list of the 10 best nutrients for growing weed which would make selecting the ideal product a lot easier for you!
There are so many options available for growers that one might get confused about which nutrient they should be buying. In this list of ours, you could take a closer look at their top features, the benefits that these nutrients offer, which stage of growth they are meant for, what is their NPK ratio, and much more. Every information that you need has been made available in an easy to understand format here and you could buy these products right off Amazon in just a few clicks.
However, before we proceed to the list of the 10 best nutrients for growing weed, here's a very quick look at what are nutrients – 
What are Nutrients and Why Do Plants Need Them
Plants require nutrients to grow. These are as important as the light and air that they grow in. A soil which is rich in nutrients will give rise to better plants than a soil which lacks them. Many elements of your plant's growth depend upon the kind of nutrients that they get during the growth cycle. The kind of smell that they get, the density and color of the leaves, the size of the flowers all depends, in part, upon the nutrients that they are getting. These nutrients can be understood as two different sets:
1. Primary Nutrients
These are commonly referred to as the NPK nutrients:
Nitrogen:

The most important nutrient for the plant during its vegetative growth. Nitrogen is responsible for the plants forming chlorophyll and for that green growth we associate them with. It also forms amino acids and helps the plants generate their food and grow. Nitrogen also helps the plant cells to grow by forming a core part of the DNA and the RNA. 

Phosphorus:

Important during the flowering phase, Phosphorus helps increase the size of the buds as well as helps maintain the overall health of the flowers. Another major importance of phosphorus is that it helps the plants with the development and strengthening of roots. 

Potassium:

Performs a number of functions in the plants but is mainly responsible for maintaining the overall salt and water osmosis. Potassium is also important for the opening and closing of the stomata of the plants which helps them 'breathe'. Potassium also helps generate the much-needed glucose for the plants to thrive. 
2. Secondary Nutrients 
These are the non-NPK nutrients which are also needed by the plants, but in a much smaller quantity 
Calcium:

Helps maintain the structural integrity of the cells of the plants and holds them together. Lack of calcium shows up as badly formed or curled up or spotty leaves. 

Magnesium:

Helps convert sunlight into energy and forms a major molecule in chlorophyll. Also helps in the generation of glucose which provides energy to the plants.

Boron:

Helps with the structural integrity, as well as with the formation of the plant cell membrane. 

Copper:

Helps produce Vitamin A in plants and also helps them with protein synthesis, which provides them energy to grow taller and stronger. 

Manganese:

Helps the plants during the germination stage, as well as is a component of multiple enzymes present inside the plant body. It also plays a major role in the process of photosynthesis.
10 Best Nutrients for Growing Weed in 2020 [Reviews]
Given that there are just so many options when it comes to buying nutrients for growing weed, growers are likely to get confused. Not only are there hundreds of brands in this, but there is an even larger unbranded market. This is why we have come up with this list of the 10 best nutrients for growing weed which will help you understand which are the best choices you have and get to know everything about what they offer. This is the most comprehensive marijuana nutrients review that you can find on the internet! 
One of the best-known and most trusted names when it comes to buying nutrients for growing plants (and specifically weed), Fox Farm is a well established name in the markets. This is a set of three bottles – named Big Bloom, Grow Big and Tiger Bloom. The first one that you need to start off with is the Grow Big bottle, which will help your plants grow leafier and greener during the vegetative phase of their growth cycle. Post that, you should consider adding some Tiger Bloom once your plants begin to enter the pre-flowering phase with buds beginning to become prominent. Tiger bloom helps you get bigger flowers during the flowering phase.
The third bottle that you have here is 'Big Bloom' which is your constant companion during both the stages of growth and needs to be provided to the plants in small amounts at all times. Using big bloom is beneficial for your plants as it helps with the development of the root network, as well as with balancing out nutrients. In addition to the three bottles of nutrients, you also get a free pipette using which you can easily drop the nutrients in the water, and you also get a conversion chart along with the package which will help you convert between various units of measurement so that you know you are creating the best possible mix for your plants. 
Check Price & Reviews on Amazon
The iconic gorilla of the Advanced Nutrients brand is a well-known sight for marijuana growers. Something that has been around for quite a long time and has been widely used by people who grow weed, this package from Advanced Nutrients is among the best nutrients for growing weed for people who are just starting out. This is a pack of three nutrients, named 'Bloom', 'Micro' and 'Grow'. These are three different nutrients for the two different phases of the plant's growth cycle. 
'Grow' is to be provided during the first half of the plant's life cycle: during the vegetative growth stage. 'Bloom' as the name suggests, is suited for the blooming/flowering stage of the growth cycle and the third, 'Micro' is something that you can provide during both the stages of the plant's growth cycle as it helps the plants get an all-round growth. The company claims that using these nutrients will help provide your plants with an 'unmatched array' of Amino Acids which are highly beneficial for the growth and well being of your plants. These nutrients have been created in a way keeping in mind that your plants must absorb all of what they have to provide. The pH levels are also well suited for your plants. All in all this is one of the best pack of nutrients for those growers looking forward to growing weed.
Check Price & Reviews on Amazon
While we have seen 'packs' of nutrients in the two options above, this one is a specialized product that is meant for your plants during the bloom phase. You need to begin providing it during the flowering phase as it has been created with the special intent of helping your plant attain bigger and stronger flowers. Using this 'bloom booster' will help you increase your 'yield per square foot' which will help you maximize the number of flowers that grow in your plants. Another advantage of using this bloom booster is that it will help you with all kinds of growth – soil-based, hydroponic, as well as aeroponic.
This is a 250 gram dose. However, you can buy variants of 1000 grams, 5000 grams and even 20,000 grams. Every 250 grams of this nutrient can be used to treat 2000 gallons of water. Using this bloom booster from flower fuel would also help your plants get a boost in the resin and sugar production which would make the flowers taste sweeter. For those growers who want their marijuana to taste better, this is just the perfect kind of nutrient to use! The NPK ratio here is 1-34-32, which means it is rich in Phosphorus and Potassium and carries only trace elements of Nitrogen. 
Check Price & Reviews on Amazon
Back to three-packs. This one is a pack of three which features nutrients that help your plants power through the growth/vegetative phase, as well as the flowering/blooming stage. These are one-quart bottles (946 ml) which are great for growers who are growing at a small scale. General Hydroponics is also a popular and trusted name – which not only makes nutrients but also other additives which your plants need. This one, however, is a set of only nutrients. The manufacturers claim that scientists in NASA and Antarctic Research approve of their products.
'FloraGrow' helps your plants with the vegetative stage and ensures that they develop as much foliage as possible. It carries an NPK ratio of 2-1-6. 'FloraBloom', as the name suggests, is meant for the blooming phase of the plant's growth cycle. The NPK ratio of FloraBloom stands at 0-5-4. Last but not the least, the third bottle in this pack is the 'Flora Micro' which helps the plants during both the stages of growth and helps improve the root systems as well. Flora Micro features an NPK ratio of 5-0-1 and is rich in Nitrogen. Together, the three act towards improving every aspect of your plant and are among the best nutrients for growing weed. These are highly concentrated nutrients and need to be used with care. 
Check Price & Reviews on Amazon
FoxFarm FX14109 Dirty Dozen Starter Kit Nutrients
  Features:
A complete set: carries everything that your plant would need for a healthy growth
Contains 9 packs of liquid nutrients for the all-round growth of plant along with 3 bottles of soluble fertilizers
Takes care not only of the two main phases, but also of smaller aspects like root development, taste, and flavor, etc.
Fox Farm returns to our list one more time. One of the most popular and well-known brands, Fox Farm is not limited to producing the three-bottle-kits but also has something called a 'Dirty Dozen' which is essentially a complete kit which carries everything that you are ever going to need to grow a plant. It contains various bottles of liquid plant food, root enhancers, microbe brews, taste enhancers, as well as the classic set of fertilizers that you need to provide to your plants to help them grow across all stages.
This is something that is meant for a somewhat advanced group of users who have been growing plants for some time and know what it is that they are adding to their plants – and more importantly, how much of it to add. In addition to the nine liquids, you also get a set of three soluble fertilizers which will help your plants develop better: these are Open Sesame Early Ripening, Beastie Bloomz Heavyweight Blossoms, Cha Ching For Late Flowering – these are meant for different phases of the flowering plants. All said and done, priced in at under $120, this is one of the most 'complete' sets of nutrients that you could find when you are looking forward to the best nutrients for growing weed. 
Check Price & Reviews on Amazon
Here's another product from Advanced Nutrients, which is again specifically meant for growers to use during the flowering stage. You will find many products in the markets solely focusing on this stage because this is the most critical phase in the growth of the plant. This is where you get the fruits of your labour in the form of the flowers. Marijuana flowers are critical because that is the part that you are going to smoke or sell. Hence, you need to make sure that the plant gives you as many flowers as possible. Growers are always looking forward to ensure maximum yield per square foot of their plants, and using nutrients for growing weed is one such way to get that.
This product from Advanced Nutrients is rich on the Potassium and Phosphorus elements when it comes to the NPK Ratio. This is a 250ml package, but you can also get it in packs of 500ml, 1liter, 4liters, 10liters and 23liters. Over the years it has been proven that using Big Bud liquid fertilizer helps your plants get bigger flowers – and this is indeed one of the best options that you have in the markets these days. You could perhaps get the Grow Big pack as well which will help your plants during the vegetative phase of growth as well.
Check Price & Reviews on Amazon
Much like the Dirty Dozen that we saw above, this one too is a complete package. Humboldts has manufactured a kit which is perhaps the best possible option that growers have when they are planning on buying the best nutrients for growing weed in 2020! In this package you get the essential grow and bloom nutrients (Base A and Base B). By now we hope that you know that the grow nutrients are to be added for the vegetative phase of the plant's growth cycle and the bloom nutrients are to be used during the flowering phase. Other than that, you get the 'golden tree' and 'flower stacker' additives, as well as a pack of plant enzymes, and 'CalMag and Iron', which are self explanatory. 
What truly makes this one of the best options for growers these days is the fact that it is suitable not only for indoor growers and outdoor growers, but also for those growers who are not growing in the traditional soil-based medium. If you are growing hydroponically or aeroponically, you could use the same grow kit to ensure that your plants are getting the best possible nutrition. The company manufactures all their nutrients in the US (unlike some other companies which are of Asian or Chinese origin). Their Base A and Base B nutrients are rich in NPK nutrients, as well as Calcium, Magnesium, and Fulvic Acid, all three of which are very important for the growth of plants.  
Check Price & Reviews on Amazon
TPS Nutrients has been known to be a firm which makes some of the best nutrients for plants. This one is named 'Bloom' and it is aimed at the blooming and flowering phase of the marijuana plant's life cycle. It can be used for many different kinds of plants but shows great benefit when using for marijuana plants. This is to be used when buds begin to appear and you enter pre-flowering, about the time that you reduce lighting hours to try and trigger flowering. Using this fertilizer will help trigger flowering in your buds. This nutrient is rich in Trichoderma, a kind of microbe which helps trigger the plants into blooming by expanding cell growth. 
Not only does it trigger flowering, this nutrient also helps your plants produce flowers with a better density and hardness. Thanks to the presence of chelated Manganese and Zinc, this nutrient makes sure that your plants get a good all-round growth. When you use this nutrient on a soil medium, you must use it at about 2 to 4 ml per gallon. If you happen to use it on a non-soil medium, half it down to 1-2 ml per gallon. This means you can use it for a really long time. The NPK Ratio in this nutrient is 0.5-5-3. This product is extremely beginner-friendly as it comes with all the necessary charts and information which helps the growers know how much of it should they be providing to the plants. Apart from 'Bloom', TPS makes a number of other nutrients for plants and this one goes best with them.
Check Price & Reviews on Amazon  
When it comes to providing your plants with a boost during the bloom phase, there are a number of options that you have. However, when it comes to the growth phase, the options are quite limited. This is one of those nutrients that is meant for the growth phase but can be provided as an additive during the flowering phase too. Rich in Potassium and low in Nitrogen and Phosphorus, the Advanced Nutrients Jungle Juice is a good product that assists your plants in an all-round growth and aides the primary nutrients provided to the plant during the growth and the bloom phase.
There are three options for buyers who want to purchase Jungle Juice – a pack of 0.5 liters, a pack of 1 liter and a 4 liter pack. This is one of the best nutrients for growing weed and has been acknowledged by a large number of growers. Advanced nutrients is a top tier brand in the markets and growers can vouch for the same! The product is wholly made and manufactured in the US. Using this nutrient will help your plants get a denser and greener foliage during the vegetative stage of their growth. 
Check Price & Reviews on Amazon
Bloom City is known for manufacturing A-grade nutrients for plants. This one is an additive which can benefit plants at all stages and at all times. It provides quite a bit of Nitrogen to the plants, but is very useful because, as the name suggests, it is rich in Calcium and Magnesium. Apart from these two, the Cal-Mag mix carries a large number of other micronutrients too. These are Manganese, Iron, Zinc, Boron, Copper, Sulfur, Molybdenum. The formula has been composed in a way that the plants can absorb maximum possible nutrients from this solution!
You need the Cal-Mag solution in every stage of your growth cycle and this additive can work well with nutrients of any brand! You could be providing Big Bloom but the additive manufactured by Bloom City would work well with it! There are no harmful EDTA chemicals in this product which makes it very safe for growers to use. Using this product would improve the overall plant health and specifically the leaf health. It also helps prevent bloom rot and a number of other similar problems that plants tend to face over their growth period. Indeed one of the best nutrients for growing weed in 2020.
Check Price & Reviews on Amazon
How to Choose the Best Nutrients for Your Plants?
Now that you know which the ten best options are, here's a quick rundown of things you must consider before you select the nutrient:
1. What is the NPK Ratio?
One of the first things that you need to consider is the NPK ratio of your nutrient. You must make sure that you are getting the right amounts of Nitrogen, Phosphorus and Potassium based on the phase of growth you are in. An early-stage growth needs more Nitrogen than the other two and a late-stage nutrient should ideally have little to no nitrogen  and a lot of Potassium and Phosphorus.
2. What is the quantity of the Nutrient?
The quantity matters a lot. A small scale grower should invest in small-sized packs while a large scale grower should go for a large pack. This makes appropriate economic sense. You must also know how much water the solution can mix with. Knowing these details will help you understand the exact quantity that you should be purchasing. 
3. Which Phase is it Meant For?
Make sure you know which phase the nutrient is meant for. Many growers end up buying the wrong nutrients for the wrong phase and sometimes end up damaging the plant rather than helping it grow. So always make sure you are using growth nutrients during the vegetative phase and bloom nutrients during the flowering. 
4. Is it a Complete Kit?
From an old-school perspective, getting a kit is always better when you are starting out. Followed by that you could proceed to buy individual bottles as and when the need arises. Try and maintain one brand of nutrients for your plants as same-brand nutrients usually go well with each other but that's not a strict 'rule' that has to be followed.
5. What Mediums Can it Support?
By 'mediums' we mean is this nutrient going to support soil-based growth or non-soil growth? How well does it go with hydroponics and aeroponics? How well does it go with coco coir or peat moss? These are all the answers that you need to know if you are growing on an alternative or a non-soil medium of growth before you make the purchase. 
6. Is it safe to use?
It is extremely important to check for all the ratings and certifications that the product has gone through to ensure that it is safe to use. Sometimes there might be nutrients that are high on chemicals that can actually damage your plant more than they help it grow. You need to make sure you are not falling for any of that. 
7. What Micronutrients/Microbes does it carry?
You need to go one step beyond just the NPK nutrients. Is your nutrient also rich in Calcium, Magnesium, Iron, Manganese, Boron, Molybdenum, Sulfur, Zinc, etc? The more of these nutrients you can get the better it is for the growth of your plants. Having a large number of microbes is also beneficial for the betterment of your plants!
Frequently Asked Questions About Nutrients
Here are the answers to some of the most common and frequently asked questions about plant nutritions that every grower needs to know about!
1. What does the NPK Ratio Mean?
The NPK ratio shows how much of Nitrogen, Phosphorus and Potassium content is present in the nutrient. Plants need large amounts of Nitrogen during the early phase, a little less during the mid-level growth, and almost none during the late phase. Phosphorus and Potassium are needed in large quantities during the flowering. The NPK Ratio is usually a number like 5-3-4 which indicates how much quantity of each is present in the mix. 
2. What does Flushing mean?
When dealing with nutrients, there is one thing that growers need to know – they need to be removed from the body of the plant around the time you are ready for harvest. Nutrients are great for growing the plant but not as well suited for consuming the plant after you are done growing it. Hence, they need to be removed. This process is called 'flushing' and it is done right before the harvest – about a week to ten days before that. Here, you need to start providing plain water to the plants without any nutrients which will force the plants to use all the stored nutrients before the harvest.
3. What is the difference between liquid nutrients and powder nutrients?
Liquid nutrients, as the name suggests, come in liquid form and can be easily mixed with water and provided to the plants. Powder nutrients take some time to be mixed properly and can then be provided to the plants with water. Powder nutrients are much more concentrated and require a higher level of expertise to use. Powder nutrients are preferred by experienced growers as they allow them better storage space and are also cheaper. 
Conclusion
There are thousands of different types of nutrients available in the markets but that's what separates a good grower from a great grower – knowing what to buy for their plants. You need to make sure you are getting the right product with the right NPK ratio, the right kind of microbes and micronutrients, etc. You also need to make sure that your nutrient goes well with your medium of growth. We hope that this list of the 10 best nutrients for growing weed  has helped make the task of purchasing nutrients easier for you! If you still have any questions, feel free to drop us an email or let us know in the comments below and we shall get back to you as soon as we can! Till then… 
…Happy Growing!