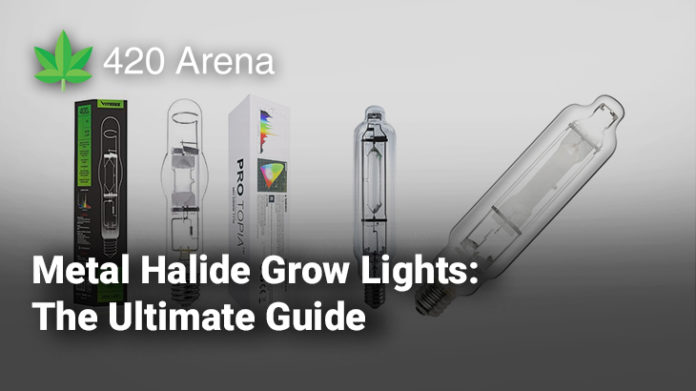 Growing marijuana is a task which needs quite a bit of technical knowledge. First-time growers think it is going to be complex, but you only need to know the basics. One of the key things that growers need to keep in mind while growing marijuana is that you need to provide the right kind of lighting at the right time. Failing to do so will result in an improper growth of your plants and might not get you the desired results at the end of the growth cycle. In this article we shall be discussing a special kind of light: Metal Halide grow lights. 
There are a number of different kinds of grow lights out there in the markets. Each of these grow lights functions on different principles and has a different science behind it. Growers need to know which light is best for their needs as well as how these lights function. Having an all-round understanding of grow lights will help you in the long run. In this article, we shall begin by looking at why grow lights are important and what are the different kinds of lights out there. Post that, we shall turn our focus on to Metal Halides and why they are important, how they function, etc. 
After you have understood how Metal Halide grow lights function and why they are needed by the growers, we shall look at some of the best MH lights out there in the markets which you can buy off Amazon in just a couple of clicks! We shall then take a quick look at a buyer's guide, the overall pros and cons of metal halides before we conclude. So let us begin by talking about some basic aspects and understanding why these lights are needed by you:
Why Are Grow Lights Important for Growing Marijuana?
Much like how humans need Oxygen, plants require light to grow. The light, under a natural setting, comes from the sun. However, when you take your plants indoors, such as often is the case with marijuana plants that aren't grown outdoors due to social taboo, you need to provide them with an artificial source of lighting. This is where grow lights come into the picture and are important. Using these grow lights helps the growers recreate artificial sunlight inside their grow tents. Sometimes it can be done by using just one light and sometimes you might need two lights – to recreate two ends of the spectrum. Metal Halides fall in the latter, the two-part lighting system.
Different Types of Grow Lights
There are a number of different types of grow lights out there. First up are the High-Intensity Discharge (HID) grow lights. These grow lights are a two-part system: High-Pressure Sodium lamps (HPS Grow Lights) and Metal Halides (MH Grow Lights). The HPS lights offer red lighting and are useful for the plants during the flowering phase and the MH lights offer your plants with the light of the blue wavelength – making it an ideal lighting setup for the vegetative phase of the plant. Then there are fluorescent (CFL) grow lights, which are used by growers who want a really bright output – but this is considered a thing of the past these days. These come in cool white and warm white variants.
The latest shift in the trends has come with the arrival of LED grow lights, which are full-spectrum lighting equipment, where you need to put just one light and it will help your plant grow across both the phases. LED lights offer you the best value for money because they are extremely energy efficient. These grow lights come in different variants – regular LED lights are technically SMD LED grow lights, then there are COB lights which are bigger and brighter and finally the latest jump in the trends has come in the form of Quantum Board LED lights. 
Everything You Need to Know About Metal Halides
Now that you know which are the different kinds of grow lights that you can find in the markets, let us come down to our primary topic at hand – what are metal halides! As mentioned above, these are the blue-wavelength lights that are important for plants during their vegetative phase. Here's a detailed look at how they function.
How do metal halides function?
There are two broad parts of the bulb you need to understand – first off it is the actual outer bulb, and then there is the inner arc tube. Inside the inner tube, mercury and metal halide salts are kept condensed. However, the moment you switch the light on, a current is passed through the arc tube. As the electricity flows between one electrode to the other, the mercury and metal halides tend to heat up and turn into gas. The more they heat up the brighter they tend to get. This is how light comes from these bulbs. When you start a Metal Halide grow light, it will take a few minutes to reach its full potential because heating up the gas takes some time. The metal halides present inside these bulbs help it produce the white-blue lights that the plants require during the vegetative stage. 
8 Best Metal Halide Grow Lights in 2020
There are hundreds of thousands of grow lights out there in the markets – but which is the best metal halide for your needs? Here's a list of the eight best such grow lights that we have come across and reviewed for you:
Vivosun is one of the finest names when it comes to the world of grow lights, and gardening in general. The company makes a number of gardener-centric products, most of which are considered industry standards! This is one of the best metal halide grow lights that you can find in the markets. Vivosun has made a pretty durable and long-lasting product and one of the key attractions here is that it can last you for about 24,000 hours which is pretty impressive for an HID grow light. Moreover, this is a 400W grow light which provides you with 36,000 lumens – making it quite bright too!
This grow light is compatible with electronic as well as magnetic ballasts, making it quite versatile. It takes the light about 2-3 minutes to completely get turned on and about 5 minutes to get completely turned off. This is the 400W variant, but you can also find 600W and 1000W variants on the Amazon page. Another great thing that we must tell you about this grow light is that it remains 90% of its brightness even after one year of use! While most MH grow lights tend to have a much larger slowdown, there isn't a major effect on these lights. 
Check Price & Reviews on Amazon
A heavy-duty grow light for growers who need a very bright metal halide. This product comes from iPower which is a trusted brand when it comes to making equipment for growers. As mentioned above, it is extremely bright as it operates at 105,000 lumens and at 1000W. It does consume quite a bit of electricity but it also ensures that you get the best kind of lighting. This grow light will ensure that your plants are thriving on light and get a dense green foliage. The light makes use of an E39 base and is compatible with electronic as well as magnetic ballasts.
Furthermore, for the first 5000 hours of its lifespan, you don't even have to worry about any problems with the lighting as it will retain at least 90% of its luminosity by that time. The total lifespan here is about 12,000 hours – could have been a little longer but given how bright it is, this is something you can perhaps oversee. It is made out of borosilicate glass and is quite a strong grow light too. This is one of the best metal halide grow lights in the markets and lights up in about 3 to 5 minutes. There's a one year warranty on this grow light from iPower.
Check Price & Reviews on Amazon
Protopia's 1000W metal halide light is among one of the most preferred names when it comes to growers who want to grow commercial-grade weed. This is something that large-scale growers tend to buy in larger numbers and use in their entire growth setup to get their plants bigger and greener during the first half of their growth cycle. The light that comes from this grow light recreates the kind of light that the sun would emit during the spring season – which ensures that your plants get a great growth. What also stands out about this grow light is that it makes use of quite a thick Quartz glass, which makes it pretty strong and durable. 
The light uses an E39 base, and takes about 3-5 minutes to attain peak brightness. It takes another 5 minutes to get completely turned off. You get a somewhat small lifespan here, especially when compared to most other names on this list. This grow light can last only for about 6000 hours but comes with a one-year warranty, which is pretty impressive for a device with such a short lifespan. You get a bright 95000 lumen lighting experience, and the grow light operates at a color temperature of 6500K. 
Check Price & Reviews on Amazon
Another very trusted names when it comes to buying grow lights and gardening equipment, Apollo horticulture makes some really great products. Here's a 400W Metal Halide grow light from the company. This low-wattage product suits the need of those growers who are growing at a small or personal scale. This ensures that their plants are getting just the right amount of lights (too bright and they might suffer). The color temperature is at 4200K, which is also quite suitable for the growth and development of the plants. Another great thing about this grow light is that it is really cheap. At just above $10, it is very affordable and practically anyone can buy it without it being a burden on their pockets. 
This grow light functions on an E39 base, and supports magnetic as well as electronic ballasts. The light offers the growers with about 36,000 lumens, making it bright enough for small-scale needs. Besides that, the lamp can last you for 10,000 hours – and for the price tag it comes in at, it is really worth it. Apollo has, over the years, been quite a specialist when it comes to low-cost lighting solutions and this grow light is no different. 
Check Price & Reviews on Amazon
Among one of the best grow light for growers who want to grow in smaller scale setups. This one comes from Mixjoy and is a perfect fit for those growers who want to either use it as their primary lamp for the vegetative stages of their plant's growth cycle, or as an additional supplementary light to aide their primary light. The light is made out of pretty durable materials and would survive the occasional bumps or scratches. These lamps fit into PGZ18 sockets which might be somewhat limiting as most growers prefer using lamps with E39 bases. 
What truly makes it one of the best MH grow lights out there is the fact that you can use this lamp for as many as 15,000 hours and for the first 8,000 of it – the light will retain about 90% of its luminosity.  This is a pretty bright grow lamp which offers a color temperature of 3100K, providing just the right kind of depth and range for your plants to thrive. The manufacturer also claims that the Mixjoy 315W grow light runs at 'extra low temperatures' and does not generate as much heat as some of its contemporaries do.
Check Price & Reviews on Amazon
A 640 Watt grow light from Hydro Crunch, this is one of the best suited grow lights for indoor growers as it offers a large coverage and is very bright. Operating at 78500 lumens, this grow light does the job for most growers who are growing between small to mid-scale. There are two variants of the lamp based on the color temperature – the first one at 3100K and the other operates at 4200K. This grow lamp is rather cool in operation and does not generate too much heat, which is generally a problem associated with Metal Halides. Growers have found that using this grow lamps helps your plants improve their inter-nodal spacing. 
This grow light is meant for growers who hang it horizontally. It also comes with certain precision gases inside it which ensure that you get a better spectral output in the light. There's a one year warranty on this grow light and at just above $100, this is a great grow light for most growers. Besides that, another advantage is that it comes to you packed in a rather discreet packaging so that no one would know what's inside the package. 
Check Price & Reviews on Amazon
Metal Halide Grow Light Kits: 
So far we have seen some of the best Metal Halide grow lights that are available in the markets. However, when you are buying a grow light for the first time, you need to buy some other elements along with it. These include ballasts, hanging kits, reflector hoods, timers, etc. Instead of buying them separately and arranging them together, we strongly recommend you take a look at these two kits which will ensure that you get everything from the same brand – which has been produced to fit well and work in tandem with each other. 
We have already seen a bulb from iPower above – and here's the full kit. When you buy this, you get one metal halide grow light, one HPS grow light, hanging kits to ensure that you are able to hang your grow lights properly, one reflector hood to enhance the efficiency of your light and to increase the coverage area, a ballast in which these bulbs can fit in – and lastly a programmable timer. Getting them together makes it easy for first-time growers. The grow lights you get here are 1000W MH and HPS lights, suitable for both flowering as well as vegetative phase of your plant's growth cycle. 
The ballast that you get here is a high-quality digital ballast, which will work quite smoothly when it comes to dimming your lights. There are three options – 50%, 75% and 100% brightness. The HPS bulb operates at 2100K while the MH grow light operates at 6000K. There's a 19 inch reflector along with the grow lights which makes sure that you can cover about 4×4 ft of area. Priced in at just above $240, this is a great deal for those who are new in the world of growing weed. Lastly, the iPower brand is also known to be an industry expert and is preferred by millions of growers. 
Check Price & Reviews on Amazon
Last on this list but certainly one of the best brand names when it comes to growing marijuana – Vivosun's Metal Halide grow kit is something you must consider if you are planning on growing your weed indoors. One of the biggest advantages that you see first-up is that you save quite a bit of money when you buy this kit. Priced in at half of what the iPower kit is at, you get all the elements. A dimmable ballast, a reflector, two lamps, one timer – and a hanging kit. This grow light, however, functions at 600W. There's a 1000W variant available on the page as well. 
The 24-hour mechanical timer can help you set automatic on/off times for your grow lights so that you don't need to do it manually all the time. The lights provide a high PAR output and are great for ensuring that you get dense and green plants, but they also produce big flowers! One more thing that growers need to know is that this grow light kit makes sure that it generates lesser heat than what one usually expects from these lights. All said and done, one of the best grow light kits out there, especially for someone looking for Metal Halide grow lights.  
Check Price & Reviews on Amazon
How to Choose the Best Metal Halides for Your Plants?
Now that you know which are the best options that are available in the markets for growers who are looking forward to buying MH grow lights, here's a closer look at some things that you need to keep in mind before you purchase a Metal Halide light:
You must know exactly how much area your grow lights are covering – and whether or not they will be enough to provide the right coverage to your plants. Sometimes you may have lights which cover less (or more) than the area of your plants. While having a larger coverage is always better, having a smaller coverage would mean that plants that are on the sides will not get proper lighting. 
Another thing that you must know is the exact amount of power that your grow light consumes from the wall socket. You need to look at the packaging details to know the power draw or the power consumption. This will help you plan up your finances and your budget in a better manner when growing weed. 
HID grow lights tend to take a few minutes to reach their full potential when you light them up. This is because when the current passes it needs to heat up the chemicals present in the inner tubes. These chemicals and metal halides take quite some time to heat up and slowly illuminate till they reach their peak brightness. 
Heat dissipation is another important thing – the light that emits the least heat is the one that you should be going for. However, most MH grow lights do emit quite the bit of heat (lesser than HPS lights). You would need additional cooling systems such as clip-on fans while using them to keep the temperatures down.
This is an important thing to consider when it comes to HID grow lights because sometimes their bulbs tend to be quite fragile. Growers need to make sure that they are getting a grow light which is made out of a tough glass and also features proper ballasts which will ensure a proper flow of current. Having a ballast which is not working properly might lead to a problem of excess or reduced flow of current which can sometimes even lead to the bulb blowing up.
Last on this list but certainly, one thing that you must check up is the warranty period. You must know how long your bulb is expected to last you. Most good HID grow lights generally last you between 10,000 to 18,000 hours. At least a year or two worth of warranty is quite important when buying an HPS or an MH grow light. 
Pros and Cons of Metal Halide Grow Lights
Let us now take a closer look at some pros and cons of these grow lights:
Pros
Pros
MH Grow lights are great for your plants during the vegetative phase. Since they provide a special kind of light (the one that falls in the blue spectrum), these lights ensure that the foliage gets denser and the plants are greener and bushier.




MH grow lights tend to last longer than fluorescent grow lights

Metal Halides have a better range and depth when it comes to color temperature and can produce better colors than CFL lights or even CMH lights.
These grow lights are of great benefit to growers as they can be used indoors as well as outdoors. When it comes to growing weed, they are quite versatile and flexible.
Cons
Cons
These lights take quite some time to warm up and cool down – the electric current heats the chemicals and when it stops they need to cool down. This is unlike LED lights that turn on and off the second you hit the switch.  

These grow lights carry chemicals inside them and can be quite difficult to dispose off as you might risk a leakage which can be dangerous.  

These bulbs are not as tough as LED panels and can hence be at a risk of breaking even at the slightest bumps or falls so you need to be very careful. 
Frequently Asked Questions about Metal Halide Grow Lights
Here are the answers to some of the most common and frequently asked questions about Metal Halides. We get these questions often so we have compiled them together for your ease. Going through them will help you understand Metal Halides in an even better manner:
1. Are MH lights different from CMH lights?
CMH stands for Ceramic Metal Halides – while the original MH lights carry just the blue spectrum, CMH lights carry a little bit of the red lights in them too. CMH lights can provide somewhat of a full-spectrum growth though most growers still prefer the HPS/MH combinations. They consume lesser power than MH lights and also give out less heat. However, they are more expensive in comparison and when it comes to purely the vegetative stage, MH lights are considered better than CMH lights.
2. How are MH grow lights different from HPS grow lights?
MH and HPS grow lights are both a kind of High-Intensity Discharge (HID) light but they are different on the basis of the spectrum of light that they provide. MH lights provide a blue-white light that is better suited for vegging plants while the red-orange lights that come from HPS lights are better suited for the needs of the growers who have their plants in a blooming phase. 
3. Are LED grow lights better than MH grow lights?
Yes, LED lights are considered superior to HID lights because they are much more energy-efficient and sometimes draw less than half the power to provide similar levels of output. LED lights are also safer to work with as they do not carry any chemicals inside them and they are also not spectrum-specific when you compare them with HPS lights. 
4. Why is it better to buy a full kit when buying HID lights for the first time?
It is recommended to buy the complete kit when buying these lights for the first time because you know that you are going to get a reflector, ballast, timer, etc. and all of them are created to fit well and function in tandem. When you buy each part separately you're never sure of how well it will fit or how they will function together. This gives you that assurance and then you can replace the parts as and when needed. 
5. Where can I buy MH grow lights?
Metal Halide grow lights are pretty common and can be found at all gardening stores all over the country. However, the best place to get them from is via online platforms such as Amazon where you can get a really large collection from multiple brands.
Conclusion
We hope that by the time you reach the conclusion, you have fully understood everything that there is to know about Metal Halide grow lights. We have tried and included every detail from what they are and how they function to how to choose the best MH lights and even answered some FAQs about them. Besides this, there's our list of the 8 best Metal Halides that you could buy off Amazon right away to start growing your plants! If there still are any other questions that you want answered, feel free to send us a message over email or in the comments section and we shall get back to you as soon as we can! Till then…
…Happy Growing! 🙂