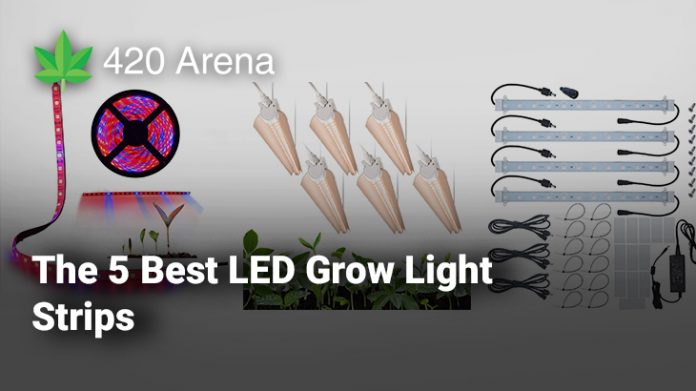 Growing marijuana can be quite a cumbersome task, especially if you're new to growing weed indoors. When you grow your plants outdoors there are just so many things that nature provides that you need to take minimal care of the plants. On the other hand growing indoors requires simulating the outdoors environment indoors and is quite a costly as well as time consuming process. However, the yield that you get when you grow your cannabis plants indoors is much higher in comparison to the outdoor growth because growing them indoors allows you a much better control over the factors of growth. While you grow your plants indoors, you don't really get access to proper sunlight and hence are dependent on artificial sources of light. In this article we shall be talking about the top 5 best LED grow light strips which will help you grow your weed in a better manner.
First, let us talk about what LED lights are and why are they important and considered better than other forms of lighting. Then we shall take a look at the difference between regular LED grow lights and light strips, followed by the 5 best LED grow light strips in the markets. We also have a buyer's guide for our readers which will help ensure that you are buying just the right kind of product which suits your needs the best. Lastly, we shall put forward some pros and cons of using these light strips, followed by answers to some Frequently Asked Questions before we conclude. Let us begin by looking at grow lights: 
What are Grow Lights and What Makes Them Important? 
In order to grow in a healthy manner and to produce just the right kind and color of foliage, as well as produce healthy flowers and fruits, plants need sunlight in the right quantity and quality. When plants grow outdoors, the sun is the source of this light. However, when you grow your plants indoors, you need to recreate this lighting with the help of grow lights. These grow lights ensure that your plants are getting the best possible growth. You can tweak the colors and the wavelength of the light, the distance from which it shines, etc. and ensure that your plant is getting the best possible care. All of this is possible with the help of grow lights.
Without proper lighting, there can be no photosynthesis and without photosynthesis, the plants can't really grow well. Hence, these grow lights are important. There are many different kinds of grow lights such as fluorescent grow lights, CFL lights, Metal Halides, High-Pressure Sodium lights, etc. but the most prominent kind of lighting these days is using LED grow lights. In this article, however, we are talking about a specific type of LED lights – light strips. 
What are LED Grow Light Strips? How are they Different?
LED grow light strips are basically smaller variants of a proper LED grow light panel. These are strips of light which offer lesser lighting in comparison but offer a more angular lighting solution. These are generally not used in isolation but along with an LED grow light. The thing about grow light panels is that they are too big to be placed anywhere other than the top of the grow tent. However, that means that portions of the plant which are on top get better lighting and as the plant grows denser, the lower areas get lesser lighting. Hence, LED strips can be used to help the plants grow in a better manner and provide lighting to areas where light would otherwise not reach properly. 
One of the biggest confusions that growers tend to face when they use these LED light strips is that they are never sure which is a more credible brand. In case of LED grow lights, you know that there are some major players like PlatinumLED or Viparspectra which are some of the best names and you can buy them without a second guess. However when it comes to these light strips there are no established names in the markets as such and growers never really know which one will suit their plants the best. With that in mind we are here to tell you about some of the best LED grow light strips in the markets that you can buy in just a few clicks! Let us take a detailed look:
Top 5 Best LED Grow Light Strips
No products found.
Here's a look at some of the best options that you have when it comes to buying LED grow light strips which you can buy off the web almost instantaneously – 
No products found.
This is one of the best and most popular names when it comes to using LED grow light strips for growing marijuana. These strips come from LitEver, and give you the whole set – there are mounting accessories, extension cables, holders, etc. One of the first things that needs to be known about these grow light strips is that they are very easy to install and practically anyone with even an average skill set and basic knowledge about grow lights can easily set these up. They are very bright and offer a high PAR value which is great for your plants. 
Another thing about these grow light strips is that they are very safe to use and they follow all the safety standards. The power adapter that they come with is a high-quality product as well. These grow lights generate very little amounts of heat and are the perfect grow tent accessories which will help give your marijuana plant quite the boost while the buds grow!
Check Price & Reviews on Amazon
No products found.
Available in the 2ft and 4ft variant, the Moinos-L T8 Grow Light strip is a great option for those growers who are looking forward to buying a V-shaped T8 grow light strip. This offers a full-spectrum solution for growers and helps the plants get a boost as additional forms of lighting. These are 24W each, and offer lighting which varies in the 400nm-800nm spectrum making it suitable for vegetative as well as blooming phase. These light strips also offer a great heat dissipation which ensures that heat does not damage the plants or the light. They are quite the space-savers as well and fit easily into almost any setup.
Using these grow light strips will give you better yield and will especially help the lower portions which are hidden below dense foliage grow stronger and better. These lights are very easy to install and can fit in practically anywhere. There's also a 24-month warranty and 100% money back promise on these grow lights making them quite a safe bet to try out.
Check Price & Reviews on Amazon
No products found.
The third name on our list, this one is one of the best LED grow light strips for growing marijuana inside a grow tent. These are strips from AveyLum and they offer the growers with a quick and easy lighting solution to parts which might otherwise be getting less lighting. This is a full spectrum grow light strip which comes with Red and Blue lighting in the ratio of 4: 1, making it better suited for the flowering stage – which also makes sense because this is time the foliage will be dense and you will be needing a strip. 
This is a water-proof and splash-proof strip of light and can easily be used by growers without fearing any risks of damage. It is a 5m strip which can be cut into any length according to your needs. There's a 60-day return policy and you can even have it replaced if you want in that period. The company also offers a lifetime of technical support and has been known for its quick responses to emails. This light comes with a 12V UL certified adapter, making it even safer to use.
Check Price & Reviews on Amazon
No products found.
This is the Kihung T8 led grow light fixture, which offers 8 pieces of 4 ft LED grow light strips. These are perfect for growers who are looking for strips for a greenhouse setup where you need additional lighting when the sunlight hours get over. There are removable reflectors in these lights, and they also offer a full spectrum lighting. The full-spectrum lighting is great for your plants as it will help them grow in vegetative as well as flowering phases. The spectrum ranges from about 400nm to about 800nm which is quite close to the natural light of the sun. 
These grow light strips are quite simple and easy to install. They can be hung as well as attached to the ceilings and can be adjusted in every way possible to ensure your plants are getting the right kind of lighting. They generate minimal heat which is dissipated well and there's no fan needed, hence they generate no noise either. The company also offers quick and reliable replacement in case it is needed by the growers. 
Check Price & Reviews on Amazon
No products found.
Last on our list but not the least, these are some of the best LED grow light strips that you can find for growing marijuana. They even come with a dimmer which will ensure that you can set up just the perfect lighting for your plants. Priced in at $15.99, these are almost a steal-deal for growers who are willing to invest a very small amount to ensure that their plants are getting a good growth. There are 300 LEDs in this 16.4ft grow light strip. These LEDs are placed on a super adhesive 3M strip which can stick on to any surface with ease without you having to put in much of an effort, making them ideal for using in grow tents.
These are also very easy to cut and come with scissor marks. There's a 12-month warranty for this grow light strip, where you can claim full replacement or full refund. The customer service is also quick and efficient and the turn-around-time is about 12 hours. All in all a good deal for those looking forward to buying among the best LED grow light strips for growing marijuana indoors.
Check Price & Reviews on Amazon
Buyer's Guide: Things to Look For Before You Buy LED Grow Light Strips
One must remember that these light strips are never the primary source of light but act as a secondary source of light to areas where the primary source cannot properly reach. 
This is particularly beneficial for those growers who are growing a large number of plants. If you are a grower who is growing on a small and personal scale you might skip it. 

This will benefit those growers who have a very thick foliage layer on the top portion of their plants. If your grow light isn't able to reach the bottom portions you might want to use these light strips to enhance that area.

Another type of growers that this light is for is for those who are using low intensity grow light panels and want to ensure an extra dose of brightness. 
Pros and Cons of Using LED Light Strips
Now that you know what these light strips are, which are some of the best options in the markets as well as what to look for before you buy them, here's a quick look at some pros and cons of using these light strips:
Pros
Pros
LED grow light strips offer the growers with one big advantage that they can provide lighting from many different angles where traditional grow light panels cannot penetrate.

LED grow lights are also great for growers who are growing in a compact setup as they occupy very little space. Since there's no bulk that is usually associated with a grow light panel, these strisps of light fit in anywhere with ease.

LED grow light strips are also beneficial as they generate very low heat compared to normal lights. This means you can place them closer to the plants. They even consume very little power as there's nothing in them other than the LEDs. 
Cons
Cons
Cannot be used in isolation and are not a standalone replacement to LED grow lights but are an add-on enhancement.
Frequently Asked Questions About LED Grow Light Strips
Here are the answers to some very common and frequently asked questions about LED grow light strips. Do go through them as there's a chance that you too might have similar doubts which this section will help you with. 
1. Why Can't I Grow Weed Using Just LED Light Strips?
The light that comes out from a proper grow light panel is more concentrated because the number of lights put together are much greater and those are lights which are brighter and operate at a higher wattage, which makes them ideal for plant growth. These lights, on the other hand, are just supportive lights which ensure that the lower portions are not neglected. 
2. Why Do Lower Portions of the Plant Need Light?
The lower portions of the marijuana plant also need light because growth has to happen from everywhere. When plants grow, the canopy on top tends to get thicker which means that eventually if it is not properly trained or spaced out, it will block the access to light to portions below it. Hence these light strips are of great help. 
3. What are some Other Grow Tent Accessories?
In addition, to grow light strips, you can get something like a insect catcher, or a clip-on grow tent fan, etc. which act as great grow tent accessories for growers who are willing to go the extra mile to ensure that their plants are getting the best possible growth. 
4. Can I Grow Weed Without Using LED Grow Light Strips?
Yes, you can easily grow weed without using these grow light strips but using them will make sure your plants have an extra edge and grow even better than they normally would. It is no compulsion to use these lights but using them would always be for the betterment of your plants. 
Conclusion
We hope that this article has helped you understand LED grow light strips in a better manner and has familiarized you with the five best options that you have when it comes to buying them. If there are any other questions that you may have, or if there's something other than this that you want to know, do let us know in the comments or drop us an email and we shall get back to you as quickly as possible! Till then…
..Happy Growing! 🙂