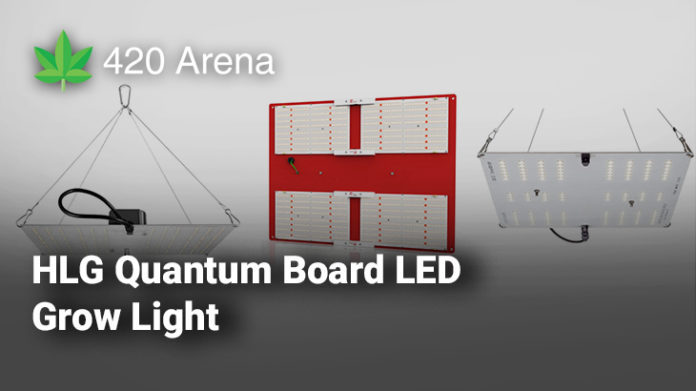 Growing your own marijuana has become quite popular in the US these days. Given that legalization is at its full swing and most states have legalized the consumption and growing of weed for medicinal purposes, while some have done it for recreational purposes too, marijuana growers are a rapidly increasing community. When people grow their weed, they can do so indoors or outdoors. In this article, we shall be talking about one aspect of indoor growing – lighting. More specifically, we shall be taking a detailed look at some Quantum Board LED grow lights manufactured by Horticulture Lighting Group, popularly known as 'HLG'. 
While the primary agenda in this article is to review the best HLG quantum board LED grow lights, we shall also be taking a look towards understanding what Quantum Board lights are and how they are different from regular LED grow lights. Besides that, growers also need to know about the brand and what it stands for, along with the various advantages and disadvantages of using HLG lights. 
By the time you finish reading this article, we hope that you will be well aware about what quantum board lights are, what HLG lights stand for – and which are the best such grow lights from HLG. However, let us first begin at the basics – 
Why Do Marijuana Plants Need Grow Lights?
Marijuana plants need light just as any other plant needs it. The light (which comes from sunlight when growing outdoors) helps the plants grow bigger and taller and ensure that they get bigger buds and that their yield per square foot can also be increased. However when plants are grown indoors, growers need to use something known as "grow lights". These are the lights which provide artificial lighting which is very similar to the natural light of the sun. These grow lights provide lights of different wavelengths which combine to form what we see as natural sunlight. 
There are a number of different types of grow lights available in the markets these days. Some growers prefer to make use of the good old High-Intensity lights such as HPS and MH grow lights. Then there are others who prefer using Fluorescent/CFL lights to grow their plants. However, there is a third kind of grow light which is the most popular – LED lights. These save much more energy compared to the older grow lights. However, there are three different types of LED grow lights as well. There are the regular lights (SMD LED lights), then there are the COB LED grow lights, and lastly the Quantum Board LED grow lights. The third of these is what we will be discussing in detail in this article. 
What are Quantum Board LED Grow Lights?
Technology keeps evolving with time and grow lights too are one such example. Quantum Board LED grow lights are the latest in the line of some LED grow lights – and HLG was the first to make them, making them an innovator and an industry leader! These boards are a more efficient alternative for COB LED grow lights. Quantum Board lights are basically diodes attached to a board and they fix the biggest problem that COB lights have – a limited spectrum. Quantum Board lights offer a much broader spectrum in comparison to regular COB lights. Another huge benefit of using them is that these grow lights do not heat up too much and using a basic heat sink is enough. All of this put together makes quantum board lights as a better and well-suited option for growing indoor marijuana. Let us now take a detailed look at brand HLG – which was the first brand to come out with these lights (although a number of brands now make their own Quantum Board lights).
Understanding Brand HLG
HLG, which stands for Horticulture Lighting Group, is a popular and well-established player in the markets. The company was formed when two companies merged together – Johnson Grow Lights and Northern Grow Lights. With over 15 employees working in the research and development of their grow lights, HLG has become quite a popular brand name in the growers community. Anyone who is looking forward to buying an innovative grow light which offers them a high return on investment goes for their products. Not only did HLG grow lights improve the energy efficiency compared to existing LED/COB lights, but they also offered their products at a lower price point. All of this put together makes HLG one of the best selling names in the gardening industry today. Let us now take a closer look at some of their best quantum board LED grow lights:
Best HLG Quantum Board LED Grow Light Review (2020)
Looking forward to buying some of the best Quantum Board grow lights available in the markets but are confused about which one you should go for? Here's a list of some of the best HLG Quantum Board LED lights which you could choose from! We have tried to provide a detailed review along with each of them so that you know exactly what you are getting when you buy these grow lights. 
This grow light right here is a perfect choice for those growers who are looking forward to buying a DIY product. The grow light provides an output which is equivalent to a 185W 8-tube T5 grow light. The LEDs used in this grow light are high-quality Samsung LM561C S6 LEDs, and there are 120 such pieces used here. The light has been designed and manufactured in the US, which gives it an immediate edge over products that are manufactured in China or other nations where you are not assured of the origin or the quality. 
This grow light covers a 2 x 2 grow area and is well suited for small-scale growers. It offers over 10,400 lumens and works on a full spectrum of lighting, providing a 4000K white light for your plants. This grow light offers a good amount of PAR score for small scale growers, and comes with a one-year warranty as well. Priced in at $98, it is not too expensive and is one of the best and the brightest options that you have when you are looking forward to buying an HLG Qunatum Board LED grow light for growing marijuana.
Compared to the one that we have seen above, this is a slightly brighter variant which offers a 95W lighting to your plants. This grow light also covers a little larger area when you look at the vegetative coverage – which is about 3ft x 3ft, which is good enough for most personal scale growers. This grow light can easily replace a 200W HID grow light. Another advantage of going for this HLG quantum board LED grow light is the fact that it makes use of Samsung LM301H LED LED's and there 192 such diodes used – the combined effect of which gives you quite a bright lighting experience. 
There are two different variants of this grow light that you can buy – the first one operates at 4000K and is more suitable for blooming phase (but also for the entire growth cycle) while there's a 3000K variant as well which focuses more on the bluer end of the spectrum and is more suitable for the vegetative growth and cloning. You get the driver and the hangers along with the grow light – the light costs around $150 with only one drawback that it is not dimmable. You also get a one year warranty on this grow light from HLG.
Moving forward to our third Quantum Board LED grow light from HLG in this list, this one can easily replace a 600W HID grow light, but consumes only about 270W while doing so! This makes it highly energy-efficient and one of the best quantum board lights out there in the markets. These lights carry not one but two quantum boads, one on either side. The wattage here is dimmable between 90W to 270W and you can get an ideal lighting effect for your plants while using the grow light. 
The grow light offers you 3500K of white light for an ideal full-spectrum growth as well as an additional 660nm deep red lighting for better blooming. This light is pretty impressive when you look at the coverage too. It covers a 3×3 area when your plants are in the flowering phase and an area of 4x4ft when they are in the vegetative phase of growth. The grow light makes use of over 540 Samsung LM301H LEDs to provide the full spectrum white light while making use of the 32 Top-Bin Osram 660 nm deep red LEDs to provide the extra boost during the blooming phase. There's a three-year warranty on this HLG grow light. 
We crank things up a little higher with this grow light from HLG – this grow light offers the growers with a 1000W lighting output while consuming only about 600W, making it a really energy efficient grow light. One of the best options if you are specifically looking forward to buying HLG Quantum Board LED grow lights, this one gives you a pretty large coverage too. With 6×6 ft of vegetative coverage and 5x5ft of flowering, this is a pretty impressive coverage and will exceed the needs of most small to personal scale growers. People growing on mid-scale might want to get a couple of these lights too as they are the perfect size for a grow tent. 
Similar to the one above, this grow light also makes use of Samsung LM301H LEDs along with Top-Bin Osram 660 nm deep red LEDs. There are over 1000 Samsung LEDs which are being used here along with 64 deep red LEDs which ensure that your grow lights are getting proper care during their blooming phase. All the grow lights made by HLG are made in America and you can be assured of getting a homegrown brand which will assist you whenever you need help. Besides that, the grow light also comes with a three year warranty period which you can make use of to ensure that you are getting the best possible service from the brand. 
HLG Quantum Board LED grow lights are great for those growers who are looking forward to growing in small to mid sized setups inside a grow tent. The HLG 600 BSpec comes out into the markets in 2 variants – 120V and 240V so that you could use it based on your plug type. The grow light is very efficient when it comes to performance and can easily replace a Metal Halide of 1000W. It can cover an area of 6ft by 6ft, which is great for growers of most small to mid scale operations. Another great thing about this grow light (much like most HLG grow lights) is that it makes use of high-quality Samsung LEDs. There are over a thousand Samsung LM301H LEDs that are being used, as well as 64 Top-Bin 470 nm blue LEDs – which make this a great grow light for growers who are into cloning or want to provide their plants with a great vegging boost.
One of the best things about this grow light that many people have appreciated is that the driver that this comes with is dimmable between 60W to 600W, which means you can actually tweak the grow light with quite an ease and to a great extent! This grow light is particularly great for vegetative-stage plants and helps ensure that you develop a thick foliage and large green plants. The light comes with a three-year warranty period, much like many other lights on our list.
When you look at HLG Quantum Board LED grow lights, this is the one which offers among the largest coverage areas. The HLG 650R can cover an area of 7ft by 7ft during vegetative growth of your plant and 5x5ft during the flowering phase – this makes it ideal for mid-scale growers who are using large grow tents (upto 8×8) to use this grow light. The grow light consumes less than 500W of power from the wall socket and offers you an output which is enough to replace a Metal Halide of about 1000W. 
The grow light is dimmable between 60 to 630W and will suit the needs of all vegging plants perfectly. In addition to that, this quantum board light from HLG makes use of 1088 Samsung LM301H LEDs and 64 Top-Bin 470 nm blue LEDs to provide the best possible lighting output. Like all the other HLG lights, this is a fully made-in-America product and offers the growers with a 3 year warranty period. You also get free shipping and a discreet delivery when you buy this grow light from growlightcentral! 
Pros and Cons of HLG Grow Lights
Now that you know which are the best options that you have if you want to buy the best HLG Quantum Board LED grow lights in 2020, here's a detailed look at the pros and cons of using grow lights manufactured by the company:
Pros
Pros
Most of their grow lights come with Samsung diodes. These are among the best and the most trusted kind of lights that a grower can get! Samsung's LEDs tend to last for a much longer time and don't really stop working when compared with other cheaper or lesser known brands. Apart from being long-lasting, they are also brighter in comparison.

Quantum Board LED grow lights have a larger panel when you compare them with COBs or SMDs. These grow lights can cover a larger area than the old-fashioned LED lights, and they can also provide a more even distribution of light, ensuring that your entire setup is getting proper lighting.
With most of their products you get a long 3 year warranty period which is higher when you compare HLG against other brands in the markets operating at their price point.
You get a full-spectrum lighting experience when you use these HLG Quantum Board lights. Such an experience is not possible with COB lights but you get a better lighting experience when using this light. This light is good enough to power your plants through all the different phases of their growth cycle.
The PPFD/PAR scores that you get when using this grow light are also pretty good and are quite impressive. This ensures that most of the light is absorbed well by the plants!
Cons
Cons
Some reviews point out that HLG does take quite some time in reverting to mails and even about customer service. Although most people are satisfied with the service that they get – they have pointed out that it does take some time. Nonetheless, we hear that the company is indeed working on improving this aspect of their service and are likely to overcome it in the days to follow.
Buyer's Guide to Quantum Board LED Grow Lights
Here are some things that need to be kept in mind before you purchase a quantum board grow light for growing your plants – 
You need to know that the grow light you are going to buy is going to be durable. One thing that lacks from most quantum board grow lights is durability. Considering that they are much thinner in size and are essentially just a board with LEDs on them, you need to handle them with care. Older grow lights were bulkier but came with protection around them. You need to make sure you are getting the most durable grow light. HLG's lights are generally quite tough and won't get damaged that easily!
LED lights consumed lesser power than older forms of grow lights. Similarly, Quantum Board LED grow lights consume even lesser power than traditional SMD/COB LED grow lights. However, you must know one thing that the wattage written on the product name is not the same as the power the grow light consumes. A 1000W grow light is not going to consume 1000W from the wall socket! Make sure you are checking the packaging details for exact information on the grow light's power draw. 
You need to measure up your plants before you go out to buy a grow light. You must know the area that you want to cover – and then buy grow light(s) according to that. Sometimes it is better to buy two 2×2 grow lights than one 4×4 grow light (adjust to scale for your setup). So make sure the light(s) that you buy are sufficient to cover the whole of your setup.
Lighting and Spectrum Details
You must make sure that the light that you are buying offers you a full-spectrum lighting experience. In our list above this won't be a problem as all of them are full-spectrum Quantum Board LED grow lights. However, if you get a light that is not full-spectrum, you will need to change it from time to time depending on the phase of growth that your plant is in and that could be quite a frustrating thing to do. 
Quantum Board LED grow lights heat the least when you compare them with any other form of grow lights out there. Nonetheless, you must make sure that the heat dissipation is happening properly.  In case of these kind of grow lights, the heat sink must be of the right size and made out of the right materials so that all the heat leaves the body of the device and does not stay there and damage it. 
Last but not the least, cost and warranty also matter a lot! Cost is obviously the biggest make or break factor for any deal. Fortunately, the HLG Quantum Board lights are quite affordable and would suit the budgets of most growers. Furthermore, the warranty that you get on HLG's grow lights is that of three years on most products, making it a pretty sweet deal. 
Frequently Asked Questions About Quantum Board LED Grow Lights
Here are the answers to some questions that we get asked time and again when it comes to these kinds of LED grow lights. Do go through the answers as they might solve some of your doubts as well: 
1. Is it legal to grow weed using Quantum Board LED grow lights? 
Using quantum board grow lights to grow plants is completely legal and no one can question you for possessing such a grow light. However, if you are growing weed, you need to make sure that you are doing so while following all the local laws. There are some regions that allow you to grow your own weed while there are other places where growing weed is illegal. Even in places where you are allowed to grow weed, personal-scale growers are only allowed to grow up to a certain number of plants. Make sure you know all of this before you start growing weed. 
2. How much do these HLG Quantum Board grow lights cost?
Depending on the wattage, coverage, and other features discussed above, HLG's grow lights vary from a little under $100 to a little over $1000 – there are multiple budgets available for different types of growers and there's something for everyone!
3. Do these lights offer full-spectrum lighting?
Yes, when you buy HLG's Quantum Board LED grow lights, you are assured of a full-spectrum lighting experience which will provide your plants with light that is as close to the natural sunlight as possible to create artificially. These lights are quite effective because using them would mean that you no longer need to change the grow lights between different phases of the plant's growth cycle. 
Conclusion
As we pointed out towards the beginning of this article, technology is constantly evolving and constantly changing – for the better. Even in the world of gardening and growing marijuana you are bound to find many technological changes. These are happening at a pace more rapid than ever before! HLG Quantum Board LED grow lights are just one step forward in that direction. The company has truly been an innovator – even a disruptor in the industry. They have changed the way many of their competitors view the markets and while many other firms are making quantum board grow lights now, HLG remains on the top. We hope that this article has helped you understand these kind of grow lights in a better manner, as well as helped you know which are some of the best options you have if you are looking forward to purchase a quantum board LED grow light in 2020! Do let us know over mail or in the comments if you still have any questions and we will get back to you as soon as we can! Till then….
….Happy Growing! 🙂