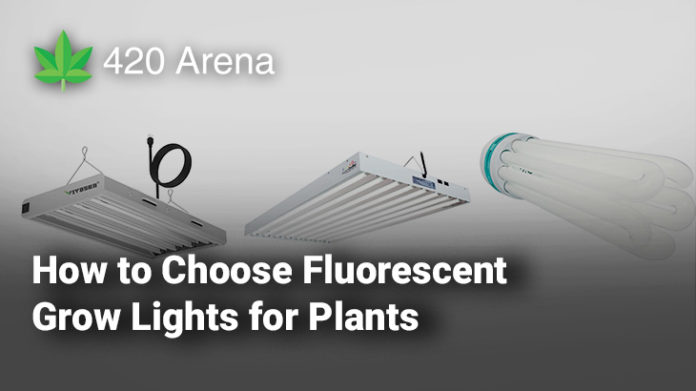 With so many different options to choose from, growers (and especially first-time marijuana growers) might get confused when they head out to buy grow lights for their plants. Should you go for CFLs, T5s, MH lights, HPS lights, or LED lights? Should you choose fluorescent over HIDs? There are just so many options that there is bound to be some initial confusion. Hence, we have been coming up with articles that answer all these questions. In the past, we have discussed different kinds of grow lights – and here, we will be discussing what fluorescent grow lights are and how to choose them! For your convenience, we also have a list of some of the best fluorescent grow lights down below. 
However, before we delve deeper into the world of fluorescent lights and discuss what they are – we shall start with the basics. What are grow lights and why do you even need light to grow plants. Then, we will take a closer look at Fluorescent grow lights, and understand the different kinds of these lights. Post that, we take a look at a buyer's guide: how to choose fluorescent grow lights for your plants. Once that is done, we move on to the 8 best options you have when it comes to buying these kind of grow lights. That shall be followed by some pros and cons and FAQs before we conclude. Without taking too much of your time, let's begin with the basics:
Lighting: Why Is Light Important for Growing Plants?
Light is the most basic element that your plants need to grow. Normally under nature when plants grow outdoors, they get their light from the sun, which is the biggest source of light available to humans. Light is quite important to plants. It is using this light that plants prepare their food as well as ensure that they remain green. It is with the help of light that foliage increases and it is based on the changing light due to the changing seasons that plants enter the blooming stage. Light is also responsible for better root health, as well as providing plants with the flavour and smell that they have. When plants grow indoors they do not have access to natural light. Hence, they make use of indoor grow lights. 
These grow lights come in different types, shapes, and forms based on how they light up and the kind of lighting that they provide. While in this article our focus will be on fluorescent grow lights, there are a number of other types of lights too – such as High-Intensity Discharge (HID) grow lights, which include High-Pressure Sodium lights and Metal Halides. Then there are LED grow lights, which are considered the best in the markets right now. There are different kinds of LED lights as well – such as SMD LEDs, Quantum Board LED lights, and COB LED lights. Let us now divert our attention towards what fluorescent lights are, how they function, and what are the different types of these grow lights:
Understanding Fluorescent Grow Lights
Fluorescent grow lights (in some form or the other) have been around for over a hundred years. Over the years they have evolved and have now reached such a stage that they can be created specifically for the purpose of growing and benefiting plants. All of these lights work in pretty much the same fashion – there is a gas inside the tube (usually mercury vapor) which is heated up when an electric current is made to pass through the tube. When the gas heats up, it generates ultraviolet light. These bulbs are coated with a phosphorus coating on the inner sides, which ensures that the UV light gets converted into visible light. This light is then used by plants for a better growth. 
During different phases of your plant's growth cycle, you might need to provide different kinds of lighting using these fluorescent lights. For the first half of the growth cycle (the vegetative phase), you would be required to provide your plants with 'cool white' or 'daylight' lighting which has a color temperature between 6000K to 6500K. For the flowering phase, you would need a 'warm white' light, which would have a color temperature ranging between 2700-3500K. Let us now understand the difference between CFL lights and T-lights, which are the two main types of Fluorescent grow lights available in the markets:
CFL lights have a very familiar form factor – these are the twisted tube-like bulbs that you use in your homes. They are usually used for household and indoor lighting, but some growers use them for growing their plants as well. These CFL grow lights provide a higher number of lumens as well as an adjusted color temperature which ensures that the light is great for the plants. One of the biggest advantages of using CFL lights to grow plants is that they can be angled in any way you want and operate at very cool temperatures. 
Compared to CFL lights, T5/8/12 lights are essentially tube lights. They come in sets of 2,4,6 or 8 lights. These lights are also quite cool in operation and offer a wider coverage than compared to CFL lights. These grow lights are for growers who have somewhat more number of plants compared to those growing under CFLs. Most growers who are still using fluorescent lights usually tend to use T5s over CFLs because they are brighter and offer a larger coverage.
How to Choose Fluorescent Grow Lights for Plants?
Here's a quick buyer's guide for those growers who are looking forward to buying a fluorescent light but don't really know what metric to compare them on. These are some pointers for you which you can consider before finalizing on the purchase decision:
You need to know the exact amount of area that the grow light can cover and whether or not your plants can be covered by that. If the light is larger than the area your plants occupy then that's ok, but if the plants occupy a larger area you might need to look for a bigger light or a second grow light to cover them completely. 
You also need to know the phase of growth that your plants are in. This is because unlike LED grow lights, fluorescent lights are not full-spectrum grow lights. You need the warm white lights during the flowering phase and the cool white lights during the vegetative phase. You need to keep the needs of your plants and the phase of growth they are in in mind before you buy your grow lights.
You need to know the exact power draw – the exact amount of power that these grow lights draw from the wall socket before you buy them. This will ensure that you are not spending way too much on your electricity bills and things remain in your budget.
Heat dissipation isn't exactly a worry when it comes to fluorescent grow lights because they emit very little heat in comparison to other forms of lighting. However, try and go for the one which emits the least heat.
We'd suggest most growers to go for T5/T8 or T12 lights regardless of the scale they are growing in. However, if you are a really small-scale grower growing tiny plants which don't need intense lighting experience you might want to go for a CFL in that case. CFL lights are a great add-on light to T5/8/12 lights but not so good as a primary source of lighting. 
Color temperature is another thing that growers must keep in mind before they buy their grow lights. When it comes to the vegetative stage, you need a light that's between 6000-6500K, and for the flowering stage, you require somewhere between 2700 to 3500K. 
Cost, Warranty, and Delivery 
Lastly, the cost also matters a lot! Thankfully most of these lights are quite inexpensive and won't cost you too much. Since they have a small lifespan, any warranty you get on them is a good deal. Delivery-wise, make sure that the seller delivers the packages in a discreet manner.
8 Best Fluorescent Grow Lights for Plants
Here's a closer look at some of the best fluorescent grow lights that you can buy off Amazon right now in just a few clicks! These are detailed reviews along with features which will help you identify which is the best grow light for your needs! 
Hydrofarm is one of the best-known names when it comes to making grow lights. Their agrobrite series of grow lights are particularly appreciated by growers – and the FLT48 is one of the best fluorescent grow lights that you can get your hands on! This is a set of 8 lights measuring 4 feet each. These grow lights operate at a color temperature of 6400K each, and offer a total brightness of about 40,000 lumens which is really bright and great for your plants which are growing under them. 'Under them' might be different for everyone as these lights can be placed horizontally, vertically or hung overhead. 
Another key feature of this grow set of fluorescent grow lights from Hydrofarm is that they support daisy chaining as well, which makes it easier to cover larger areas. These lights are fit into a panel of faceted specular aluminum, which ensures better brightness spread and distribution of lighting. The lights used here are T5 tubes and for growers who want a bigger/smaller setup, there are multiple other variants available on the product page. It comes in a discreet cardboard box along with all the hanging equipment that you might require to hang the grow light. 
Check Price & Reviews on Amazon
Anyone who has spent any time in reading up about growing weed indoors – or rather, growing any plant indoors, is likely to have come across the name of Vivosun. A company which has been around for quite a long time and makes some of the best grow lights as well as other growing equipment. Their fluorescent grow light is also quite impressive. Here, you get a 2ft setup featuring four T5 tubes. Each of these lights functions at a color temperature of 6400K and are great for your plants, particularly during the stage where they are still vegging. There are two switches on this grow light which allow you to control two lights at a time,which means you can adjust the brightness intensity based on your need. 
Just behind the tubes is a 95% reflective aluminum fixture which is great for the overall growth and development of your plants because it helps the light bounce back downwards towards the plants. These grow lights have undergone all safety tests and are UL-listed, which is another advantage. These are also very simple to operate, thanks to their plug and play setup. They make the best kind of lighting setup for growers who are still new to the world of growing. In addition to all this, there's a 2 year warranty on these lights too, which is decent for fluorescent grow lights. The lights come with an 8 ft power cord.
Check Price & Reviews on Amazon
While the lights that we saw above this one were T5 grow lights, here's a compact light – a CFL light. This one is manufactured by Hydrofarm, which is, as we have already stated, one of the best names in the business. The FLB125C grow lights come in three variants – 125W, 200W and 250W, which you can choose based on your needs. In our review we are  choosing the 125W variant. This grow light offers a color temperature of 6500K, which makes it an ideal candidate for growers who want to use it during the vegetative phase of their plants' growth cycle. 
One more advantage of using these grow lights is that they operate at very cool temperatures. Even cooler than other regular fluorescent lights. Thanks to this, it can be placed very close to your plants without the fear of them getting damaged. This is also a great option for those growers who want to use it as a source of side-lighting or as an additional light that assists the primary grow light. This is a self-ballasted grow light, meaning you do not need any additional ballasts to use it – and you can simply screw it in a regular bulb socket. 
Check Price & Reviews on Amazon
iPower is another prominent name in the world of growing plants indoors. The company makes entire grow kits for growers – but is also known for making standalone products. This one is an interesting setup as it comes with a complete rack for your lights. This setup measures 25" x 18½"  x 30" and is a great option for those growers who are growing multiple small plants and want to keep them below the rack. This isn't meant for a grow tent but is ideal for a grow room, or even for any room where you want to grow plants. You can move the rack and light in and out as per your needs. 
The lights, too, are easily adjustable and can be moved up and down based on the needs of the plants.  There's only one T5 bulb in this grow light but thanks to the wide reflector on top, it covers quite a large area. This makes it suitable as well as less bulky. The frame is made out of metal and is quite sturdy and won't fall through. Furthermore, the adjustment mechanism is quite easy and works on a feather-touch mechanism. All said and done, this is one of the best fluorescent grow lights for those growers who are growing seedlings, small plants, or succulents. 
Check Price & Reviews on Amazon
A lesser-known brand in the markets, yet one that punches way above its weight, Sun Blaze's HGC960315 is one of the best options you have if you are looking forward to buying a high-output fluorescent grow light for your plants. When you buy this product, you are essentially buying a single tube of light for about $40. However, it is totally worth it because it is very bright and works great as an additional source of lighting. Most growers usually buy multiple of these lights to suit their needs. This is a 2-feet grow light, which operates at a color temperature of 6500K.
It comes with a power cord that can be hooked on to the main power source – and thanks to the jumper cable it comes with, you can attach another Sun Blaze grow light on to it via daisy-chaining. The light does not weigh too much either and can be attached to almost any setup. Growers usually prefer it as an extra source of lighting which helps their plants grow faster. This operates at very low temperatures and can be kept close to plants to ensure they get the maximum benefit during their vegetative phase. 
Check Price & Reviews on Amazon
AeroGarden is a popular brand for those kinds of growers who like to grow hydroponic plants. The company makes some of the best equipment for hydroponic growth. However, this is a grow light from them which would suit all kinds of growers. This is, once again, a CFL grow light, which is a smaller and compact source of light, yet one which is quite effective. When you buy this from Amazon, this is essentially a set of two grow lights that you could use together. These work really well on smaller plants and go really well with other AeroGarden setups. 
One major drawback of using these grow lights to grow your plants is that it operates at just 5500K which is below the recommended 6000-6500K range when it comes to vegetative growth of plants. Nonetheless, since there are two of these lights that you get, the combined lighting that you provide to your plants could actually be quite refreshing, especially if used as an additional source of light and not the primary source. Serious growers almost always use CFL grow lights as secondary options and rather go for T5 lights to grow their plants. 
Check Price & Reviews on Amazon
Oppolite is another name that you might have heard of if you have been a grower for some time or have expressed interest in the world of growing plants indoors. This product features a 2 feet 4 tube setup, where there are four T5 grow lights. Each of these lights operates at 24 Watts and provides a color temperature of 6500K. Thanks to this perfect color temperature, these lights are very well suited for the needs of the growers who have their plants in the vegetative phases as this is the color temperature in which these plants thrive at, 
There are dual on-off switches which allow you to control two bulbs at a time. This is another great advantage for growers who want to ensure that their plants are getting the best possible lighting experience – as dimming is not possible here, but switching off 50% of the lights has a similar effect. There's a 10-foot power cord that this grow light comes with. Furthermore, on top of the lights is a premium-grade aluminum reflector which ensures that all the light bounces back downwards on to the plants. At just under $75, this is indeed a good product for growers. 
Check Price & Reviews on Amazon
Our last product on the list (much like the first one) is also manufactured by Hydrofarm and is a part of their Agrobrite series of lighting. The company, as we have pointed above, makes some of the best grow lights in the world. Unlike the ones we've seen above, this one is a CFL grow light from Hydrofarm and operates at 26 Watts. The lamp offers the growers with a color temperature of 6400 Kelvins and is also very energy efficient. This bulb is great as an add-on bulb for your setup or you could use multiple of these bulbs to grow your lights. It offers about 1600 lumens of light, which is sufficient enough for a small plant like a succulent but for anything larger you are going to need more of these. 
The bulb has a lifespan of 10,000 hours. One of the best things about this light is that it can fit into any socket which supports a medium base, making it very versatile and easy to use. It costs just $12 – hence getting multiple of these units is also quite cost effective. Getting about 10 of these lights would give you a lumen output of 16000 lumens at about $120. In any case, this is one of the best fluorescent grow lights for those looking for an add-on light option.
Check Price & Reviews on Amazon
Pros and Cons of Using Fluorescent Grow Lights
Here's a quick look at some of the advantages and disadvantages of using these kinds of grow lights for growing your plants:
Pros
Pros
One of the first things that people appreciate about these grow lights is that they consume very little electricity in comparison with the HPS/MH (HID) lighting systems. 

These grow lights also emit very little heat and operate at really cool temperatures while providing bright lights to your plants

When you are growing in a small grow space for personal-scale growth, these lights are the best suited for you

Since the heat output is so low, these lights are ideal for use on seedlings or very early-stage plants where even the slightest of heat can be damaging

Fluorescent grow lights are easily available at practically all gardening stores

These grow lights are cheaper compared to other forms of indoor lighting for plants
Cons
Cons
While they are suitable for grow tents or for small scale setups, when you have a really large scale/commercial sized setup you'll need more powerful lights

Their spectrum is quite limited and you need to switch between the warm light and cool light during different phases

Fluorescent grow lights are usually quite brittle and delicate, and don't even have a long lifespan when compared to LED or even HPS grow lights.
Frequently Asked Questions About Fluorescent Grow Lights
Here are the answers to some of the most common and frequently asked questions when it comes to fluorescent grow lights. Do go through them as you might be having some of these queries as well and it will help you understand these lights in a better manner. 
1. What is the difference between T5, T8, and T12 lights?
Sometimes growers get confused by the numbers that are written in front of T in these grow lights. This is a question that we get asked very frequently. These are basically how they stand compared to an eighth of an inch. Basically, T5 lights are of a diameter of ⅝ inches, T8 lights are 8/8, hence a diameter of 1 inch, T12 lights are 12/8, and hence a diameter of 1.5 inches. The numbers are indicative of the diameter of the tubes.
2. Are LED lights better than fluorescent grow lights?
Technically speaking, yes. LED grow lights are way better than fluorescent bulbs because they offer a much larger range of spectrum in just one panel. Fluorescent light setups can be quite bulky and large and yet offer a single kind of a lighting. LEDs are smaller and offer a much wider range, as well as save much more electricity and have a significantly higher lifespan. Besides there are no chemicals inside LED lights which makes them safer to operate too. Hence, LED lights are considered to be superior forms of lighting when it comes to growing indoor plants.
3. How do Fluorescent Grow lights function?
When an electric current passes through a tube of light, the mercury vapor stored inside the tube tends to heat up and emits ultraviolet light. This UV light then passes through the phosphorus coating on the glass tube and gets converted into visible light which is then utilized by the plants. This is how fluorescent grow lights function. 
4. Where can I buy these grow lights from?
The best place to buy these grow lights is from Amazon. This is because they have a really large collection and offer a number of different brands, sizes, and wattages of grow lights. Besides that, if you prefer buying them via physical stores, you can get them at practically any gardening store as they are quite common. Most growers, however, prefer Amazon because they get better discounts and a wide range of products.
Conclusion
We hope that reading this article has helped you gain a much better perspective on fluorescent grow lights than you had in the past. We have tried to cover it in as much detail as possible – including but not limited to the different types of fluorescent lights, how they function, how they compare to LEDs, the pros and cons of using this type of a lighting system, how to choose fluorescent grow lights for plants, as well as the 8 best options you have in the market! If you still have any questions about these grow lights, feel free to drop us a mail or let us know in the comments section and we shall get back to you as soon as we can! Till then…
…Happy Growing! 🙂