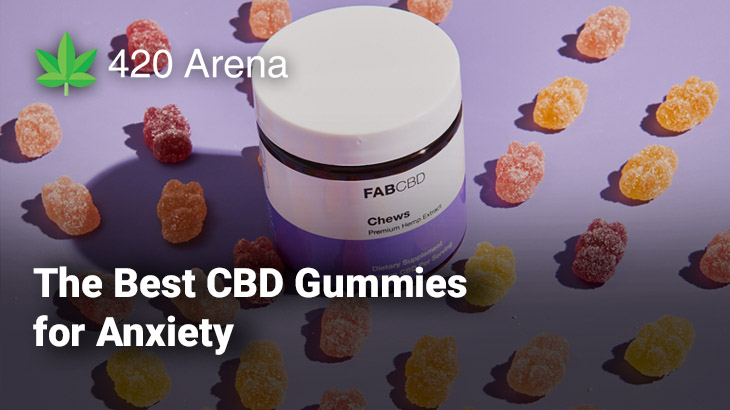 One of the many benefits of weed and its associated products is that they can be consumed in several forms and shapes. There are joints, blunts, cookies, butter, tea, etc. but there's another form factor that many people often tend to forget: gummies! CBD Gummies are among one of the best ways to consume CBD, which stands for Cannabidiol and is an essential element of weed and has a number of health benefits. These CBD gummies help those who consume them deal with anxiety (among other problems). 
Over the course of this article, we shall be taking a detailed and a closer look at the best CBD Gummies for Anxiety in 2020 – which you can easily consume to get relief from anxiety and other similar mental health problems. Here, we will first be looking at what is CBD and how is it different from THC, then we will look at CBD gummies and the effect that they have on anxiety. Followed by that, we shall be looking at some of the best CBD gummies available in the markets which you can buy online. Towards the end, we shall be answering some frequently asked questions about these CBD gummies for anxiety before we conclude! Let us now begin by addressing the basics:
What is CBD? How is it different from THC?
CBD and THC are both naturally occurring compounds found inside the marijuana plant's body. For those with a limited attention span, the one thing that you need to know is that THC is what gets you 'high', CBD also has a number of benefits but can't get you 'high' the way THC gets you. Both of these carry the same kind of atoms (21 carbon atoms, 30 hydrogen atoms, and 2 oxygen atoms) but their arrangement is different. CBD is non-psychoactive and hence does not get you high. THC is a psychoactive compound which binds with the cannabinoid receptors of your brain (CB1) and gives you the sensation that you get after you smoke weed! 
Both THC and CBD have medicinal benefits, particularly towards mental ailments such as anxiety, depression, PTSD and other similar forms of problems. They also help with a number of other problems such as muscular pain, arthritis, glaucoma, nausea, etc.
What are CBD Gummies?
The best way to explain CBD Gummies is that they are chewable gummies, often carrying different flavors but also carry CBD. The biggest benefit that you get out of consuming these gummies is that they help you fight anxiety in a much better manner as CBD is known to have anti-anxiety properties. With millions of people across the world dealing with anxiety issues, these are getting really popular of late. CBD gummies help you not just fight against anxiety but other problems such as sleeplessness as well, thanks largely to their composition as some of these gummies also carry melatonin which helps you sleep better. Let us now look at the best options you have when you're looing for these THC gummies to fight against anxiety.
10 Best CBD Gummies for Anxiety in 2020: Reviews and Details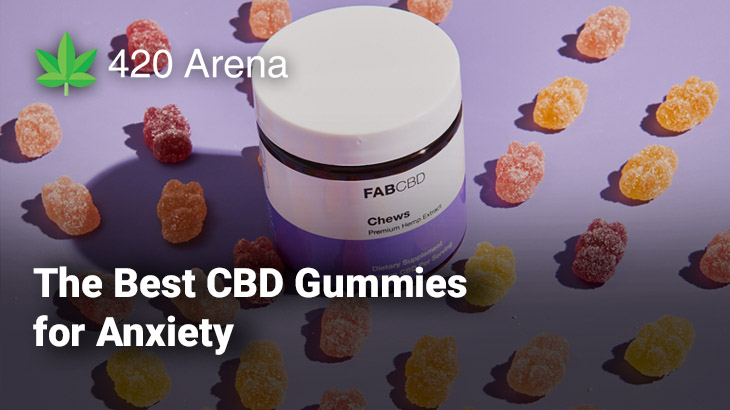 Our first product on the list comes from Fab CBD and provides you with 30 gummies in the package. You get about 25 milligrams of CBD per gummy, which is a decent quantity. One thing that people looking forward to buying this must know is that this is made out of a CBD Isolate, meaning it is pure CBD and does not carry any THC or other cannabinoids. Another great thing about this package which makes it one of the best CBD gummies for anxiety in 2020 is that this is a fully vegan product and non-GMO. It only uses natural colors and flavors. Just one thing that you might want to keep in mind here is that these gummies are processed in the same facility where soy and fish gelatin are processed and that it is packaged in a facility where peanuts, carrots, coconuts, etc are packaged so if you've got any of these nut-related allergies or allergies related to any similar products, you might want to avoid these.
For those seeking relief from anxiety, these CBD gummies are actually made by a company called 'pure relief' – and this is exactly what they would give you. While we pointed out that the first product on our list carried about 25mg per gummy, this one outdoes them and is the highest CBD per gummy product on our list with 30mg per gummy! This package carries 30 gummies and there are two options that you can buy – a daytime product as well as a nighttime product. The latter comes with added melatonin which helps you sleep better and fight off all anxieties. These are CBD isolates and do not carry any THC or other cannabinoids and provide you with quite a high dose of CBD. This 900mg package costs you just $60 and can last you for quite a long time!
These are a set of 60 gummies from Charlotte's Web. In this package, each gummy carries about 10mg of of CBD which is a mild amount. However, these are really helpful with people who suffer from anxiety and epilepsies and have been widely consumed with quite good ratings and reviews. There are different types of CBD gummies for anxiety that you can get here – such as 'recovery', 'sleep' and 'calm' which you can consume based on how you are feeling at the moment and based on what you want to attain after you consume the gummy. The recovery gummies carry anti inflammatory properties as they come with ginger and turmeric blends. The sleep gummies carry melatonin and help you sleep better while the calm gummies feature lemon balm and L-theanine to cope with anxiety in a better manner. These are full-spectrum CBD products and might contain trace THC.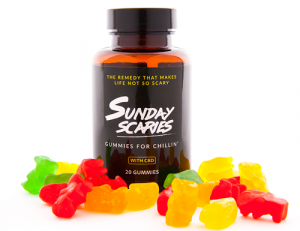 A set of 20, these are among some of the best CBD gummies for anxiety in 2020 as you get gelatin-based as well as pectin-based variants here. These contain Vitamins B-12 and D-3 which makes these CBD gummies an ideal choice for people who are on a vegan diet and might have deficiencies of these nutrients due to their diet choices. This is a set of 20 CBD gummies where each gummy carries about 10mg of CBD. While 10mg is quite a mild dosage, it indeed calms down a lot of consumers as it is a full-spectrum CBD, which means there might be traces of THC and other elements present in it as well. You can even buy yourself a monthly subscription of these gummies to ensure you're getting a regular supply to cope with your anxiety in a better way. 
A set of 60 gummies from HempBomb, where each gummy carries about 15 milligrams of CBD content in them. The kind of CBD present in these gummies is 'broad spectrum', which means it contains quite a few cannabinoids but very little to no THC. This is a great product for those people who find it really hard to sleep and are coping with sleeplessness and insomnia along with anxiety. The good news for these people is that these gummies come with L-theanine, Scutellaria, and Passiflora, as well as 5mg of melatonin per gummy! To sweeten up the taste, corn syrup is used in these gummies. There's also a trace of gelatin in it which might make them unsuitable for vegan users. Nevertheless, for those looking for the best CBD gummies for anxiety in 2020, this is indeed a very good option that you must seriously consider.
CBD gummies for anxiety are quite important for some people, especially for those who find it therapeutic to use them. These CBD gummies from CBDFX are a set of 60 gummies per package where each gummy carries only about 5mg of CBD, making it an ideal choice for those people who want very mild dosage of CBD to ease out their anxieties. The CBD content here is broad spectrum, meaning that there might be other cannabinoids involved. One important thing here is that they are completely vegan and GMO free gummies and carry no artificial sweeteners. These CBD gummies are a great option for those who are just starting off or specifically want a very mild dosage of CBD. 
Joy Organics makes these CBD gummies which come in a pack of 30, and each gummy in this package carries about 10 milligrams of CBD. These, too, are broad-spectrum CBD concentrates, which means that other cannabinoids are indeed present in the gummies. These are among some of the best CBD gummies for anxiety that you can find in the markets as they are THC-free, Gluten-free and completely vegan! Also, they come in green apple and strawberry lemonade flavors, giving your taste buds quite an experience while you get rid of your anxieties.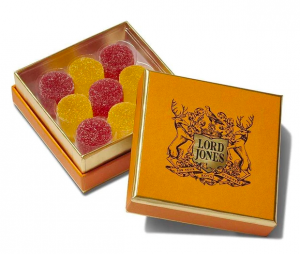 A set of 9 gummies carrying 20 mg of CBD per gummy, this is a slightly premium product from Lord Jones and offers the consumers small handmade batches of CBD Gummies! Here, the packaging and the presentation is quite important while the taste and the effect that the gummies have on you is also pretty good. These are a perfect choice for those who want to carry CBD gummies either for a special occassion or want to gift their friends the best CBD gummies for anxiety! This is a thoughtful gift item and the CBD that they carry is broad-spectrum, therefore meaning that it carries no THC in it!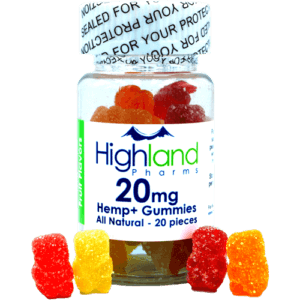 A set of 'all natural' gummies from Highland Pharms, these come in a package of 20 gummies and carry between 10 to 20mg of CBD per gummy. The thing that really stands out about them is that they carry a great taste and consumer just love it for that. Besides that, they feature all-natural colors and flavors, and also carry certain ingredients which might be organic in nature. There's no gluten in them but it must be noted that the processing of these gummies is done in a place where fish gelatin and soy are also processed so those with allergies better watch out! Lastly, they feature a full-spectrum CBD which means there might be traces of THC too. 
Last on our list but definitely not the least! These are oil gummies from PlusCBD Oil. You get two variants of packaging here – packages of 30 and 60, where each gummy carries about 5mg of CBD. This is a low quantity of CBD, making it great for those who are starting off their CBD journey. What truly makes them one of the best CBD gummies when it comes to tackling anxiety is that they do not carry any artificial ingredients whatsoever and are a completely all-natural product. They're also non-GMO, soy-free and good for those who are specifically looking for lower doses of CBD. 
Buyer's Guide: What to Look Before You Buy CBD Gummies?
Now that you know which the top ten options are when you want to buy a CBD gummies, here are some factors that you must keep in mind before you make the purchase:
CBD Content Per Gummy –

For beginners, about 5 to 10 mg per gummy is enough. However, for those who need stronger doses, you can also find packages with 25 to 30mg of CBD per gummy. This is something that you must know before you buy the product.



Gummies Per Package:

There are certain packages which carry 10 or lesser gummies which won't really last you a long time. Then there are packages which carry 60 or more gummies – you've got to think it through before you make the purchase.



Source of the CBD:

The source of the CBD is quite important. You need to know if the CBD is an isolate or if it is a broad-spectrum CBD where there are other cannabinoids present. A full-spectrum CBD would also have THC present which some people who want to consume it for anxiety might want to avoid. Always check this out before you buy the CBD gummies of your choice.

Price:

Lastly, price is also quite important. Most people want to make sure they're getting the most value for their money. It is best to set a budget beforehand and then to look for products which fit the price range accordingly.
Frequently Asked Questions about CBD Gummies
Here are some FAQs about CBD gummies:
1. Are CBD Gummies Legal?
You will need to check with your local law enforcement agencies about this. However, it is generally considered that in areas where consuming weed for medicinal or for recreational (or both) purposes is legal, CBD gummies are by and large allowed. Still, it is best to confirm once before you order as this differs from state to state and from country to country.
2. Are there any side effects of CBD Gummies?
There are no specific side effects of the CBD gummies but largely the effects of CBD will be the same such as slow reaction time, altered sense of reality, etc. while it does not get you 'high', you must always consult with your doctor or your psychiatrist once before you consume CBD Gummies for anxiety.
3. What are the other effects and health benefits of CBD?
CBD has a number of other health benefits such as in easing depression and PTSD, anti-inflammatory effects, muscle spasms, against nausea and vomiting and relief from nerve pain. 
4. Can CBD Gummies get me high?
No, CBD gummies do not get you high unless you're absolutely new to them and consume a high-dosage gummy which might give you an altered sense of reality for a bit but the high that you get out of smoking weed or consuming other THC-rich products is quite different. 
Conclusion
We hope that this article on the best CBD gummies for anxiety helped you gain a better perspective on what CBD Gummies are and how can they help you against anxiety. Moreover, we also hope that you now know which are some of the best products that you can buy off the markets to ease your anxiety! Do let us know in the comments below or drop us an email if you've got any more questions about this! Till then…
Happy CBD-ing!