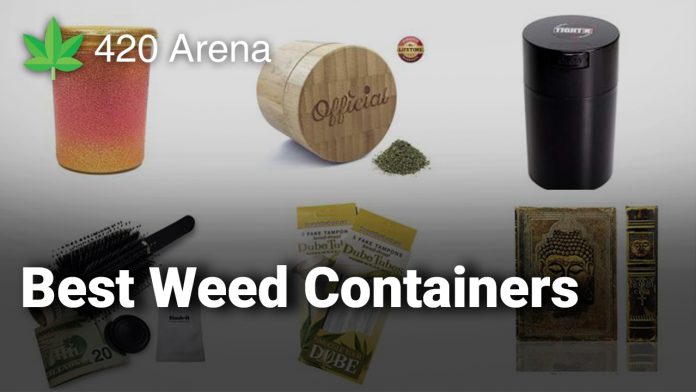 Smoking weed is one of the finest feelings of the world. Whether you are doing it for recreational purposes or for medical purposes, the effect that it has on you is amazing and it can't be denied that you are bound to feel good after you smoke up. However, smoking it is the easiest and the most fun part when it comes to weed. There are many more aspects to it – and one of the most important aspects is that of storing your weed! We have prepared a list of some of the best weed containers which will help you ensure that you can easily store your weed.
The products curated here have been closely examined by our team and ensure the best quality! They are easy to buy as they are all available on Amazon and they are also products that will be very useful to you. These containers and boxes are indeed going to add to the aesthetic value of smoking up your weed!
The thing about storing your weed is that everyone's got to do it in some way or form. It doesn't matter if you are a student who wants to sneakily smoke at your home or if you're a connoisseur of marijuana such as Snoop Dogg! Everyone has to store it somewhere! While many people consider that storing weed is an easy thing to do and it can be stored almost anywhere – you can't be more wrong! Over the course of this article, we will deep-dive into what makes storing weed a complex process and what are some of the best solutions that you have for storing your stuff!
Why Do You Need a Weed Container?
In the simplest of words, you need a container because you just can't keep it lying around! While for some people the risk of discovery might be a problem, the biggest actual problem here is that it can simply blow away! A container ensures that it remains safe in one place. In addition to this basic issue, there are a number of reasons as to why you need a container for weed!
Firstly, the weed needs to remain fresh. Getting a good airtight container ensures that your marijuana does not get stale and remains as fresh as it was when you first had it. Sometimes there may be occasions where you don't smoke for a long time – and the weed just doesn't taste as good when you smoke it up later. Getting a good airtight container would totally solve this problem!
Furthermore, you just can't leave your packet of weed just lying around. You need some place where you can stash your stuff up. While weed has become legal in many places around the world, it is yet to become socially acceptable as a number of people get quite judgmental about weed smokers. Hence, having a container in which you can store your stuff is indeed quite an advantage for the stoners. Also there would be times where you are travelling but you want to carry your weed along with you. Having a container ensures that it remains safe and fresh, as well as moisture free! Protecting your stuff from moisture – which can damage a good smoking experience is another great motivation to buy a marijuana container.
Lastly, for those who enjoy the whole 'experience of smoking', having a weed container is indeed something that you should look forward to. It adds to the aesthetic value of the weed as well as gives you that air of being a true connoisseur of the green stuff! Also the feel of taking it out of a great-looking container is also quite incredible. Without further ado, let us take a closer look at some of the best containers that you should totally check out:
Best Weed Containers of 2019
Here are some of the best containers in which you can store your weed! These can be easily purchased off Amazon and have been tried and tested by thousands of people!
1. Herb Preserve Quarter Oz Ultraviolet Refillable Glass Stash
Sale
This is one of the best options that you have when it comes to glass stashes for storing your weed! Made by 'Herb Preserve', a company which is known for its products for stashing weed, this one costs just $14 and is a heck of a container. It offers everything that you need – including ultraviolet protection that ensures that your weed remains fresh for long.
This container comes with an airtight seal that ensures that the weed remains protected against water as well as air and does not go stale. This container is also smellproof, which helps you ensure that anyone who is not supposed to smell your weed doesn't end up smelling your weed. In terms of design, it is simple and elegant. It offers a crisp and clean look and is rather discreet.
It comes out in two design variants: a tall and thin 'Hand Rolled' variant as well as a short and wide 'Northern Lights' variant. Both of these are extremely handy and can be carried along with ease and can even be hidden when need be. Both the variants offer close to 100ml of storage space.
Pros
Pros
Airtight: Ensures that no water seeps through and your stuff remains safe
Ultraviolet Protection: This weed container ensures that the harmful UV rays of the sun do not penetrate through the glass, keeping the weed fresh.
Discreet: These don't really raise an alarm and blend in well with the other stuff.
Cons
Cons
Many users have reported that it is not as 'odor proof' as the company claims it to be and the smell does escape from the container.
2. Tightvac Airtight Vacuum Seal Portable Storage Container
Sale
Tightvac has quite the goodwill in the markets when it comes to creating containers. This is a great container for anyone who is worried about keeping their weed fresh. Tightvac specializes in airtight containers and here, you get 17 options depending on your size and design needs. All of these containers provide the same quality of storage but only their exterior differs.
The first thing that you see here is that it comes with a vacuum seal where you need to press a button to open the cap of the container. When you push down the cap on to the body of the container, you can feel all the air being vacuumed out and the stuff that you store inside the container remains fresh. However, one thing that the company is totally upfront about is that it might not be 100% smellproof when it comes to herbs. However, you can always make use of a ziplock bag and then store it in this to ensure it doesn't smell.
These are made of very strong plastic and can easily last you for years even with the occasional bumps and falls. The space in these containers is adequate for you to stuff your pipe, lighter, paper and stuff all at the same place and carry it around.
Pros
Pros
Durable: These are very durable containers to store weed.
Airtight: Tightvac's airtight and vacuum technology offers great solutions, especially for keeping stuff safe from air and moisture.
Spacious: There's enough space to store a lot of stuff!
Cons
Cons
3. Herb Guard – Half Oz Smell Proof Stash Jar with Humidity Pack
Priced in at just $19.99, the Herb Guard smell proof stash jar is one of the best weed containers in 2019. It allows people to store their stuff with ease and gives them the peace of mind that the smell won't leak out. It is a glass jar which comes with Ultraviolet Protection. It will ensure that the harmful UV rays of the sun are kept out, thanks to the black colour.
It comes along with a travel bag, a humidity pack, a compact scoop, as well as a set of labels which you can stick on the jar. Furthermore, the design of the glass, too, is pretty good and sleek – which makes sure it looks great anywhere it is placed and also blends in with the surroundings without raising suspicion about its content. In addition to all that, it is one of the most durable glass jars that you can find to store weed!
This jar from Herb Guard is also airtight and assures you that there will be no moisture or air related damage to the stuff that you store in it. It measures 4 inches in height and 3 inches in width and can hold contents up to 250ml. It offers a truly premium weed storage experience and is a highly recommended product.
Pros
Pros
Great design – looks sleek and modern
Durable – it is very durable and can easily survive bumps and falls
Smell Proof – One of the most smell-proof weed containers out there!
Cons
Cons
The lid of the jar is made of plastic which a number of people haven't been too happy about.
4. SimpleChoice Waterproof Aluminum Weed Container
Well here's something different. So far most containers for marijuana that you have seen appear to be dark and made of glass or plastic. This one is made of aluminum and comes in a silver colored variant. This is a really cool-looking container for those who like to carry around their weed in a classy fashion! It can hold contents up to 50ml with ease and costs $8.25 on Amazon. The jar is 3 inches tall and 1.25 inches wide – this is just small enough to make it easily pocketable and can be hidden as needed too.
What makes it pretty cool is the fact that when compared to the glass or plastic containers, this SimpleChoice Waterproof Aluminum container is much more durable. You can drop it all you want without worrying about breaking it! It is smell proof and odor proof as the lid of the container comes with a rubber-seal which ensures that it remains airtight and no water or air can enter the container once the seal is shut. The container also protects the stuff that you store in it from UV rays which might damage it. Given the price it comes at, it is a great option to store your weed. You can also get a set of 2 containers for $12.99
Pros
Pros
Very durable compared to glass or plastic containers
Smell proof and ensures that no odor leaks through
Airtight and helps prevent damage that might happen due to air or moisture
Cons
Cons
Some people have found the size a little too small
5. Deals-N-Sight Discreet Deodorant-Shaped Marijuana Container
Here comes the tricky one! While we strongly insist you to smoke only where smoking and/or possession of marijuana is legal, sometimes even in those places you need to hide your stuff – maybe from your family or from your co-workers due to the social stigma attached to it. This discreet deodorant shaped marijuana container is just the perfect thing for you then. It is shaped like a speed stick but inside there's enough space to store whatever you want! It comes with a secret storage compartment where you can stash your stuff up.
This one opens up from the bottom and allows you to quickly put some stuff inside. It is made out of a real deodorant container. There is even real deodorant on top to ensure it is very real-looking! It costs $18.10 and is a great option for those who want to hide their stuff in a really discreet way.
Pros
Pros
Very discreet and can be carried practically anywhere without much of a problem
Great for carrying small quantities of herb
Cons
Cons
Only meant for short-term storage
Not odor-proof
Has a very small storage space
6. Cookbook People Wooden Marijuana Molecule Weed Box
Up until now all the boxes and weed containers that you have seen are for those who like to keep their weed stashed up hidden and discreet. However, this box is for those who like to use it for the sheer purpose of storing and not for 'hiding' stuff. It comes in six variants, each with a different design on top – and pretty much everything inside it is the same. It is not just a box, it is a whole organizer where you can move around the little wooden chips to rearrange the storage space based on your need.
This box measures 12.5 inches in breadth, 7.5 inches in length and 3.5 inches in height giving you enough space to store all your weed-related stuff. Not only can you store your weed here, but you can also store your lighter, pipe and other smoking accessories such as your blunts and rolling papers in this box. This is made out of bamboo wood and also comes with a latch to ensure the lid remains firmly shut.
Pros
Pros
Looks great – one of the best looking boxes to store your stash
Ample space – if space is something you're struggling with, this is just perfect as you can create small compartments to sort and store your stuff
Perfect for those who like to store their stuff without making it too discreet
Cons
Cons
One of the biggest problems here is that it is not airtight and odor-proof. This means you can't really 'hide' stuff here as the smell will escape through and there's a good chance that air and moisture will come in contact with your stuff. We strongly recommend you to ziplock your weed before storing it here.
7. Cloudten Medium Smell Proof Case
Priced in at $24.99, the Cloudten smell proof case is among the best weed containers available in the markets! It is just the perfect size and offers all the features you would need in a weed container. It comes out with a set of three airtight bags which ensures that the stuff you store in it remains safe from air and moisture. Furthermore, this case comes with a rubber lining and is hence odor-proof and ensures that no smell escapes from it, which in turn ensures that there's no suspicion.
It is an 8-inch case which makes sure you can store not only your weed but also other accessories such as lighters, pipes, rolling papers, grinders and blunts. To ensure that things that you store in here are safe from bumps and jerks, it comes with impact-proof foam lining which helps absorb any shock. This is indeed a great choice for anyone looking forward to store their weed for a long time and also for those who want to travel.
Pros
Pros
Great Size: you can store your weed as well as other accessories needed
Odor-Proof and Airtight: no risk of damage via moisture or air, no risk of smell leaking through
Comes with three baggies in which you can store your stuff
Cons
Cons
While it comes with impact protection on the inside, the container in itself isn't so durable, as reported by a few people who have used it.
8. Ball Jar with Lid and Band
Sale
Now here's something for the people who like a little vintage touch to their storage unit. This comes from Ball, which is known for making great jars and storage devices and it offers a really old-school and unique look. It costs $12.95 and offers a 32 oz storage space. It comes with a screw-on lid and is made of glass. This is for those who don't mind showing off their weed in the open.
The jar is very sturdily built and can keep moisture and air out too. It comes in a light purple tint and is great for storing some herb! This jar is also simple to clean and is dishwasher friendly. It is pretty durable and can survive small bumps and falls.
Pros
Pros
Great for those who don't mind showing off their stash and appreciate the vintage look and feel
Sturdy and airtight – keeps moisture and air out once the lid is screwed on.
Cons
Cons
Not really discreet. It is transparent and easily noticeable. In fact, it stands out from the surroundings!
9. GREEN-DER Cool (Set of 2) Metal Smell-Proof Airtight and Waterproof Containers
Sale
This is a set of two small airtight jars for storing your weed. Made by Green Der, these are really good looking and also double-up as a keychain, ensuring your weed is always with you, wherever you are. One of the best features about these small weed containers is that they can easily keep the smell away. They cost just $14.90 and are small enough to be kept in your pocket!
Made of aluminum, they ensure that UV rays cannot enter the container and hence your weed remains as fresh as it was on the first day! The containers are really good-looking and can be a part of your day-to-day style statement instead of carrying around weed in baggies, you can carry them in these stylish looking jars. They are also airtight and make sure that there is no moisture or air related damage to the herb that is stored inside of them.
Lastly, these containers are really durable and can help you make sure that even in case of a bump or a fall, things remain intact. They are smell-proof and raise no suspicion due to the smell leaking out. These jars come in a gift box and can even be used as a gift! They come in variants of 'black and blue' and 'black and silver'.
Pros
Pros
Large enough to stuff a few grams but small enough to be pocketed and hidden when needed!
Airtight and UV-secure, ensuring that there is no damage to the herb due to air, moisture or UV rays.
Odor-Proof: doesn't raise any alarms due to the smell leaking out
Cons
Cons
Some users have stated that the logo on the outside shouldn't have been there as it is a dead give-away of what the contents might be!
10. Herb Preserve Pocket Size Glass Stash [3-Pack Set]
Last but not the least, another great option, especially if you are one of those people who wants to differentiate their stuff (for instance, if you are carrying three different strains of weed). These are weed containers made by Herb Preserve and come in a set of three, priced in at $24. Each of these containers offers 15 ml of storage space for your weed.
These are black-colored glass containers which come with UV ray protection. The harmful ultraviolet rays of the sun are known to affect the weed adversely. However, with these containers your weed remains fresh. These containers from Herb Preserve also come with an airtight seal which ensures that there is no air exchange and hence the weed remains fresh. It also keeps all water out and ensures there's no water-related damage.
Furthermore, what makes this really amazing is that you can sort different strains of weed with ease here. You can label each one of these containers to know which contains what and can smoke it up at your leisure. These containers are also smell-proof which ensures that only you know what's inside the jars!
Pros
Pros
Great for people carrying different varieties/strains of weed.
Protected against potential damage caused by UV Rays.
Airtight and hence keep air and water-related damage out and keep the weed fresh.
Cons
Cons
Not as smell-proof as the company claims it to be.
What To Look For Before You Buy a Weed Container?
Now that you know about some of the best containers to store your weed in, let us now take a closer look at the factors that are often involved in choosing a good container. These are the things you should keep in mind before you make a purchase decision!
Your Personality
The first and foremost thing that you need to keep in mind is what kind of box do you want and does it go with your personality? Are you a weed connoisseur? Or are you someone who is looking for a quick high? Do you want to tell the world that this is the box where I store weed or do you want to hide it from people and want it to be kept and stored in a very discreet way? You personality affects a lot of it.
Design
Another thing that some people tend to give a lot of importance to is the design of the weed container. Is it well decorated and comes with images or patterns that you like? Or is it something plain and simple which can be kept discreetly without raising any suspicions? There's a lot that goes into the design element and you need to totally check out the design before you buy your container.
Build and Material
The material that it is made out of is also quite important. Is the container made out of metal? Is it made of ceramic? Is it made of wood? There are so many factors that come to play here. One also needs to see if their jar is durable too. It needs to be a strongly built and good-looking jar. Containers made out of metal are usually long-lasting ones as metal is very durable. There are also glass and wood options which are less durable but are often more good-looking.
Is It Airtight?
A key factor that needs to be kept in mind before purchasing a weed container for yourself is – is this an airtight box? Is it going to keep the weed free from any contamination by the air? Getting an airtight box ensures that your weed remains as fresh as it was when you first smoked it. It might get stale otherwise. Furthermore, water tends to damage the weed and having an airtight container with a screw-on lid for your stuff ensures that it remains fresh and safe from water-related damage. It also keeps the smell out.
Size
Here's another tricky thing! The size of the box in which you are going to store your marijuana. Is it going to be a large box which you can also use for other purposes? Or is it going to be a small one which you can easily hide anywhere anytime? Do you want to be very discreet about where you store your weed or do you want to show it off? Depending on these factors you need to choose a weed container which suits your needs the best.
Color
While one might consider the color of the weed container to be less important, here's something that you need to know: the color of your container affects the UV protection! Getting a black container ensures that your weed is protected the most from ultraviolet rays which tend to make the weed stale and less potent. Furthermore a black box has a higher chance of blending with the surroundings too.
Is It Smell Proof?
Another very important factor that must be considered before you make a purchase for a weed container is that – is it smell-proof? Weed has a very strong and distinct odor which is easily identifiable even by people who don't smoke weed! Hence, the container that you are purchasing for stashing up your weed needs to be smell proof so that nobody can smell your weed.
Price
Last but certainly not the least of these things – the price plays an important role. You might not want to blow out a large sum of money on a weed container unless you're like a real connoisseur. Hence, it is always essential to keep an eye out for the price.
Everything You Need To Know About Storing Your Marijuana!
The first and the most basic question that a lot of people tend to ask is – how long does weed remain fresh when you store it. However, there is no certain answer to it as there are many factors that come into play. The temperature, the humidity, exposure to UV rays are among some of the factors which determine how long the weed will remain fresh. For best results, one should aim at storing their stuff in a place which is cool and dark and the container must be airtight.
The next set of questions that we get asked very frequently is about the smell of the weed. In order to ensure that your weed does not smell, get a container which is smell-proof. While there will be smell when the container is open, once you close it and screw the lid, there will be no smell! It is also best advised to keep the box away from places with heat in order to keep the smell to a minimum. In case it starts to smell, just use a little bit of air freshener to get rid of the smell. We suggest using a combination of an airtight container and a zipped/sealed bag to ensure there is no odor!
Conclusion
We hope this article helped you make an informed decision about choosing the best weed container for storing your weed! Do let us know if there is a container that you bought from this list and how it turned out to be – as well as if there's a container that you use but isn't featured on this list. We also strongly suggest you to consume weed responsibly and only in places where it is legal for you to smoke it. We all need a container to store our stuff and these were the best containers to store weed! Happy Smoking.