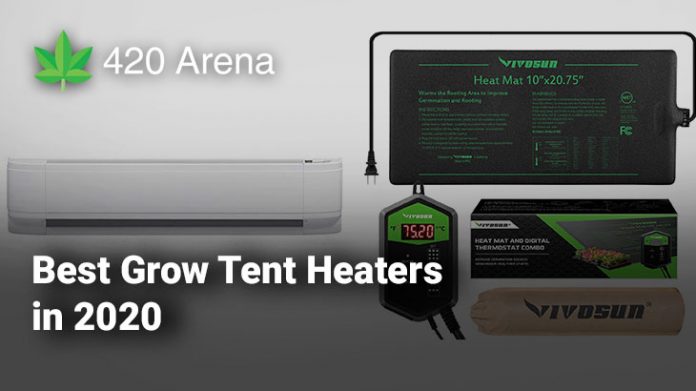 Growing marijuana is not a complex task. When you look at it for the first time, many beginners get intimidated by the amount of setup that they have to create before they start growing their weed – but once all the groundwork has been laid, it is a very simple activity! The plants grow by themselves, you just need to take care of their surroundings and their basic needs. Heat happens to be one such need and in this article, we shall take a closer look at some of the best grow tent heaters in 2020 that you can buy off the internet and begin using to help you grow better weed!
Let us take a closer look at what is the need for a heater in a grow tent, followed by some of the best grow tents in 2020, which will then be followed by a buyers guide which will ensure that you know just what to look for before you finally hand over your money to the seller! Without further ado, let us take a closer look:
Why Do You need Heaters in a Grow Tent?
Plants require heat to generate energy. Sunlight and heat are two important aspects for a plant to show healthy growth. Sunlight helps in the process of photosynthesis which allows the plants to convert light into energy while heat facilitates the growth of various chemicals inside the plant, such as chlorophyll and other pigments which are essential for the survival and the growth of plants. 
When you grow marijuana in grow tents, heat is an essential element. The only source of heat that you have there is a grow light which may or may not be sufficient depending on which phase of growth you are at! Moreover, for phases such as the seedling or germination stage, grow lights are not really the best option! In these cases, you require heaters or heated mats for the growth of your cannabis plants. Hence, grow room heaters are pretty important. Let us now take a closer look at some of the best grow tent heaters in 2020:
Best Grow Tent Heaters in 2020 – Reviews
1. DIMPLEX 1000W 30″ Wireles Heater
Sale
A 30 inch wireless linear shaped heater which is just perfect for all your heating needs inside a grow tent. Considered to be one of the best grow tent heaters in 2020, this product from Dimplex provides the users with a built-in electronic thermostat which supports heat proportioning that allows an improvement in the overall performance of the heater and also reduces the energy consumption of the device. 
Design-wise this is a superior device which comes with a shark-fin blade body and a steel tubular element which ensures two things – heat being transferred properly, as well as a quiet operation. This is a great benefit as the heater is rather silent. It is a wireless heater and comes with a radio frequency transmitter inside it that allows for wireless temperature control. The heater can be placed on the ground as well as mounted on a wall. Another major aspect in which the dimplex heater scores well is the installation part as it is pretty simple to set up and even first-time growers will also be able to manage things with relative ease. 
Pros
Pros
Small in size, great for smaller grow tents
1 Year warranty on the unit, 10 year warranty on the elements
Wireless control, built-in thermostat
Easy to set up
Cons
Cons
Not suitable for grow rooms or for large tents
Creates some amount of sound
Check Price & Reviews on Amazon
2. VIVOSUN 10″x20.75″ Seedling Heat Mat
Wherever there is a grower who wants to grow marijuana or any plant for that matter, there is also Vivosun along with its products. One of the most trustworthy names among the growers community, Vivosun has a diverse category of products for them! This one is a heater, but a very unique and specific kind of a heater – this is a heated grow mat which is a great tool for those looking forward to grow very early-stage seedlings. This heat mat ensures that the temperature remains about 10F to 20F higher than the ambient air temperature thereby creating just the perfect growth setting for seedlings.
It warms the rooting area and enables proper germination for the seedlings. Furthermore it is also designed keeping safety of the users in mind. This heat mat comes with a 'fortified' connection between the mat and the power cord and is also water-resistant, which is a great feature too, ensuring that users remain safe at all times. The temperatures on the grow mat can be set between 20C/68F to 42C/108F, which is a really wide range of temperature and can thereby be used in all sorts of weather conditions. 
In addition to this, setting this up is pretty simple and it is almost ready-to-use out of the box as it allows the users to simply plug it, set the temperature on the display using the Plus and Minus buttons and begin using it! This is one of the best grow tent heaters in 2020 especially for those who are growing their marijuana seedlings. It is also an energy efficient device as it consumes only 20 watts! 
Pros
Pros
Designed keeping safety in mind
Great for seedlings in very early stages
Very easy to use
Wide range of temperature setting
Cons
Cons
Short lifespan for some units
Only for seedling stage
Check Price & Reviews on Amazon
3. Honeywell HHF360V 360-Degree Fan Forced Surround Heater
Sale
Honeywell HHF360V 360-Degree Fan Forced Surround Heater
ENERGY EFFICIENT HEAT: Providing 360 all around warmth, this portable heater is ideal for small to mid sized rooms. The Low setting does not require as much...
EASY TO USE: Delivering enhanced safety features & easily controlled comfort, this heater features an adjustable thermostat as well as 2 heat settings, a 360...
Honeywell is perhaps one of the most trusted global brands when it comes to household electronics. The company makes a wide range of products and this 360-degree fan forced surround heater is one of them. This is one of the best grow tent heaters in 2020 but is something that people prefer to use even beyond the grow tents for their daily use! It is a small device and hence just the perfect choice for a grow tent. It provides a 360-degree all-round warmth and features various energy settings. If you happen to choose 'low', it consumes very little amount of electricity while delivering quite a great amount of heating. 
It is very easy to use and comes with a thermostat which is also very simple to operate. There are two heat settings, along with an overheat protection which ensures your safety. Moving the heater around is also easy because the handle is a 'cool touch' handle which means you can lift it and move it around without risking to burn your hand. It also comes with a tip-off protection that ensures that the heater does not fall down while providing 360-degree heat. There's also a built-in timer on the heater that allows you to turn the device off automatically.
The portability, the small size, along with the 360 degree supply of heat makes this a great choice for those growers who are looking forward to grow marijuana inside their grow tent. 
Pros
Pros
Small in size and can easily be moved around
360-degree heat
Very safe to use
Very easy to set up
Cons
Cons
Some users have found it a little too loud for their preference
Some users have reported problems related to overheating
Check Price & Reviews on Amazon
4. Lasko 5622 Convection Heater
For those looking for the best grow tent heaters in 2020, the Lasko 5622 convection heater is a great option. Growers who want a good quality baseboard heater need not look any further. What is another great advantage of this heater is that this a small and compact option which can easily be placed inside a grow tent. The heater measures 5.5 x 39.8 x 9 inches in size and is not a big or bulky device, making it an ideal choice to be placed inside a grow tent.
This grow tent heater does not even need to be installed. All it takes is simple plug and play operation making it very easy even for first-time growers to set up and operate. The heater comes with various modes of operation and at its highest, it consumes about 1500W of electricity. It weighs about 11 pounds and is not too heavy either and can be moved around with ease. Another great advantage of using the Lasko 5622 is that it offers a silent operation. Compared to some other heaters on this list, the noise levels here are really low. 
Pros
Pros
Very silent operation
Small and Portable
Easy to install and use
Good brand value
Cons
Cons
Some users have reported that the heat it produces is not sufficient enough
Check Price & Reviews on Amazon
4. De'Longhi Convector Panel Heater
This heater from De'Longhi is one of the best grow room heaters for those looking forward to buy the best grow tent heaters in 2020. The amount of heat that this heater produces is quite a lot and it is a great pick for those who want to use it either in large grow tents or for a grow room. One of the first things that stand out about this De'Longhi heater is that it has a very sleek and modern look. It can be installed on to a wall but can also be placed on the ground. 
This heater comes with an adjustable thermostat, along with three heat settings. It also comes with a thermal cut-off that ensures that the unit does not overheat. The heat comes out of the top, as well as the left and right of the heater. The De'Longhi heater also comes with a manually programmable timer which makes sure that the users can automate the use of their heater. There's also an ECO function on this heater that allows users to ensure that the heater saves energy. All in all, this is indeed among the best grow tent heaters in 2020 that you could get for your growing needs!
Pros
Pros
Sleek and modern design
Comes with plenty of functions great for the users needs
Can be used on ground as well as mounted to a wall
Energy efficient
Cons
Cons
Some users have reported that the heat isn't sufficient for large rooms
Check Price & Reviews on Amazon
Factors That You Need to Consider Before You Buy a Grow Tent Heater
Now that you know which are some of the best grow tent heaters in 2020 that you could purchase for your growing needs, let us now take a closer look at some of the factors that you need to consider before you buy a grow tent heater for yourself.
Size of Your Grow Tent/Grow Room:

This is one of the first things that need to be considered when you are looking forward to buy a grow tent heater. You need to know how big your grow tent or your grow room is and then buy a heater which will be the perfect fit for the room. Buying a large heater for a small room or a small heater for a large area will be detrimental to the growth of your plants.

Safety:

Another major, major, factor that you need to keep in mind is your own safety. Make sure you go through the reviews and buy a heater that is known to be safe to use. There have been reports of heaters, particularly those with excessive plastic in their bodies melting due to overheating and sometimes even catching fire. Make sure your heater is certified by all fire safety standards and that it has overheating protection built-in.

Portability:

Portability is another very important factor when it comes to selecting your ideal grow tent heater. The heater needs to be not only small but also portable. If you want to move it around it shouldn't be a task. It should be a simple pick and place sort of an activity which does not require too much of installation. 

Oscillation of the Heater:

Check if the heater provides oscillation. Heaters which have oscillation can distribute the heat all over the room/tent in a much better manner than compared to those which do not have it. 

Price: Last but certainly not the least, begin with a fixed budget in mind and make sure you get the best bang for your buck. Go through all the specs and reviews and see if this is indeed a great pick for you!
Conclusion
We hope this article helped you in gaining a better understanding about the best grow tent heaters in 2020 and how to select the best one for your needs. Getting hold of the best grow tent heaters ensures that you provide your plants with the best possible heat, which is essential for their growth. Heat empowers the plants in various cycles of their growth and particularly in the process of producing pigments which are great for their well-being. We hope that by the end of this article you were able to make an informed choice about the ideal grow tent heater for your needs. 
Happy Growing! 🙂