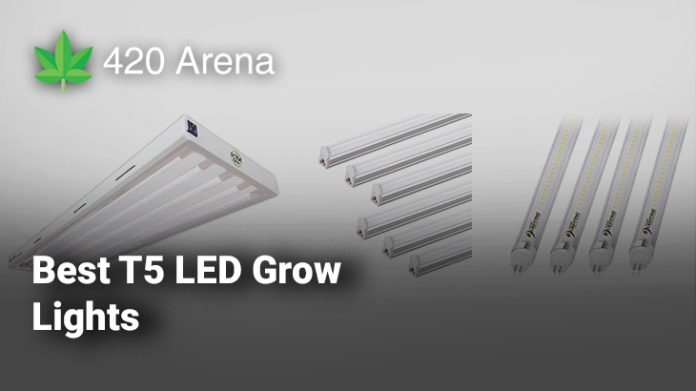 Anything that you do for the first time is going to seem quite challenging and the same is the case with growing marijuana. Growing your plants indoors can be even more challenging because that involves quite a setup as you need to recreate the outdoor environment indoors for the benefit of your plants. Over the course of this article, we shall be talking about one very specific aspect of growing plants – the 5 best T5 LED grow lights in 2020 that you can use to your benefit.
We shall be talking about why plants need grow lights and how they help them grow better indoors. Furthermore, we shall then talk about T5 LED grow lights and try and understand the difference between these lights vs regular fluorescent grow lights. After these basics are established, we shall proceed to look at the 5 best T5 LED grow lights in 2020 which we will be reviewing for you. 
Over the past few years, there have been way too many brands which have begun to manufacture T5 grow lights – hence it becomes important for growers to know which out of them are the really good ones that can be trusted. This is the reason why we have come out with our 5 best T5 LED grow light reviews which will help you understand each of these five best grow lights in great detail. We have talked about every aspect of these lights and provided pros and cons with them so that you would know exactly what to expect from these grow lights. 
Besides that, this article also provides you with a buyer's guide which is essentially a quick check-list for you to see how your chosen grow light measures up against other lights. Lastly, we also answer some FAQs which will help you get an all-round insight into the world of T5 LED grow lights. Let us now begin by answering the most basic of the questions –
Why Do Plants Need Grow Lights?
Before we address grow lights, you must know that all plants need light. This is basic biology that everyone is taught in primary school. Plants need light, which comes to them naturally in the form of sunlight, to grow bigger, taller, and stronger. Plants make use of the energy of the light to break down the sugars in their body and to provide 'food' to all their parts. Furthermore, this light also helps with the process of generation of chlorophyll which is important for plants. 
Now when you are growing your plants outdoors, all is well thanks to the sunlight. However, when you grow them indoors inside a grow room or a grow tent, you would need a grow light. The most important function of a grow light is to replicate the natural light of the sun. Sunlight is made out of lights of different wavelengths which is replicated in these grow lights to provide the best quality lighting to the indoor plants. Having a grow light is like having a mini sun in your grow tent. 
What are T5 LED Grow Lights?
In order to understand T5 LED grow lights, you first need to know that when "T5 Lights" are usually referred, people might be referring to Fluorescent Lights. However, T5 LED lights are different and the word points to a where specific kind of LED lights which fit in T5 ballasts and fixtures. To understand what T5 LED lights are, you will first need to understand what T5 lighting actually means –
Anytime you are talking about lighting systems and you hear 'T' lights, it is actually referring to the shape of the light. Here, T stands for Tube/Tubular shape. Now you would usually here lamps such as T3, T5, T8, and T12. This number that comes after the T that denotes the shape shows the diameter of the light in reference to an eighth of an inch. Sounds complex? Let us simplify it.
A T3 light basically has a diameter of ⅜ inches. Similarly, a T5 lamp has a diameter of ⅝ inches. Then comes the T8 lamps which are basically 1 inch in diameter (8/8). T5 lamps are about 40% smaller in size when you compare them with T8 lamps. Now when you look at T12 lamps, it means they measure 12/8 inches which is 1½ inches in diameter. The biggest difference lies in what is inside the tubes. 
If you get a standard T5 fluorescent light, the lighting inside the tube is fluorescent lighting while if you get a T5 LED grow light, the lighting inside the tube is LED light. This distinction is important for the growers to understand. Here, all your fixtures feature T5 setup but the light that is inside them is an LED grow light. This is beneficial for growers as they can use the existing setup while getting LED lighting, which is usually considered better than fluorescent lighting. 
The 5 Best LED Grow Lights in 2020 Reviewed
Here's a closer and detailed look at five of the best T5 LED grow lights that you can buy off the markets right now:
No products found.
No products found.
This is a set of four lamps of four feet, each of them consumes 24W of lighting. These T5 LED lights from Active Grow are great for growers because they can easily fit with almost every T5 fixture and are essentially a plug-and-play grow light which makes it easy for the growers as they don't have to put in too much effort setting it up. With each of them consuming only about 24W, your total consumption is actually under 100W (or slightly above that in some cases). However, this is a drop of at least 45% if you compare it with regular fluorescent tubes which means this grow light saves you a lot of power costs!
These tubes can last you for about 30,000 hours of a lifetime which is significantly more than what a fluorescent light would otherwise offer you. Another reason as to why this is one of the best T5 LED grow lights in 2020 is that it comes with an impressive warranty of three years where all your problems would be addressed and fixed. 
Pros
Pros
Good spectral range in this full-spectrum T5 LED grow light

Consumes very little power

Very bright offers output of 55umol/sec

Can last you for very long (30,000 hours as claimed by the manufacturer) 

3-year warranty period
Cons
Cons
Some ballasts might not fit well
Check Price & Reviews on Amazon
No products found.
Priced in at only $39.99, this is quite an impressive six-pack set from Barrina, these are very bright lights made out of aluminum and PC. Thanks to the material, they are quite sturdy and durable while not being heavy at the same time. These are among the best T5 LED grow lights that you can buy in the markets because they are very simple to operate. They snap right into almost any ballast and are easy to operate. The overall output that you get here is that of 2200 lumens per light which is pretty bright!
The color at which these LED lights operate stands in at 6500K. Each of these LED lights consumes about 20w of power, consuming a total of about 120w in all. Another good thing about these lights are that they are linkable and you can further expand this from six lights to eight if you wish to provide a larger coverage or more brightness into the fold. Each of these lights comes with their seperate power cords but can be hooked on to one another as well. 
Pros
Pros
6500K color

Consumes only 120W of power

3-year unlimited warranty with quick replacement promise

Lights support daisy-chaining, could be hooked one to another
Cons
Cons
Great for lighting up spaces but not the best for growing plants due to limited spectrum
Check Price & Reviews on Amazon
No products found.
A pack of four LED grow lights from HTM lighting, these are among the best T5 LED grow lights in 2020 that we have reviewed. Priced in at a modest $52.49, these grow lights also come in a 12pack and a 24pack variant so that people with larger needs could also get them. There are two color variants as well – a 4000K natural white and another 5000K cool white variant. Similar to what we have seen in the two grow lights above this one, these ones are also very easy to set up and just snap right into the ballasts. One thing that stands out about these lights is that they are UL Listed [E480549], meaning that they are extremely safe to use.
The lights can last you for over 50,000 hours, which is truly impressive considering how many similar grow lights tend to last for about 30,000 hours on an average. These are 24W tubes which can replace the older 54W fluorescent ones with ease and can save you quite a lot of money in terms of saving power! Two variants also exist when it comes to the lens – frosted lens lighting and clear lens lighting. You could customize the number of tubes, the lens, the color – everything to match your needs the best! These lights have a five year warranty period which is almost unheard of when it comes to T5 LED grow lights!
Pros
Pros
Very long lifespan of 50,000 hours

Major focus on safety – come with all the proper listings

Can be customized to suit your needs

Consume very little power

5 years of warranty

Affordably priced
Cons
Cons
Check Price & Reviews on Amazon
No products found.
A set of 6 LED T5 grow lights from Monios, not only are these great looking lights, but also great performing! Made out of aluminium shades, the lights come with power cords for each one of them which can be plugged on to the power socket for a simple and easy-to-use plug and play growing experience. You get pink light from this grow light and it can be used to nurture plants through almost all phases of their growth – be it seedling, vegetation or even flowering. This is also a great grow light to use for succulents. Each of these lights comes with their own on/off switch and can be controlled just the way you want them to function!
Besides that, these are also linkable grow lights, meaning you could hook one on to another instead of hooking all of them individually to the plug points/power sources. Each of these consumes only about 20W of power, totalling to a consumption of just about 120W, which is a lot lesser when you compare against similar T5 fluorescent lights for growing plants. You get a 24 month warranty period and practically all the buyers are VERY happy with the customer service that they get when they use this grow light.
Pros
Pros
Pink lighting is more suitable for the growth of plants than other colors

Each light has an individual on/off switch

Lights can be linked on to one another

Simple plug and play operation

2-year warranty with amazing customer support
Cons
Cons
Some growers found the delivery to take some time
Check Price & Reviews on Amazon
No products found.
Our final product on this list of the 5 best T5 LED grow lights in 2020, this is one which punches way above its weight. While all the grow lights that we have seen above are at least 4ft in size, this is for a smaller setup. Not every grower wants a large setup or has a large area to cover. Hence, if you are a small-scale grower, this might be something you should lookup. These grow lights are also from Monios and they cost just $30, which is great for growers who don't want to invest too much. The best part about this light is the wide spectrum that you get – ranging from 380-800nm giving you practically the best kind of lighting for growing weed!
This grow light functions on a 2900K color temperature, which is not only great for your plants but is also easy on your eyes! With the aluminum shell, the heat dissipation aspect has been taken care of really well and you can easily use it with reflectors without the fears of the system heating up. There's a 12-month warranty that you get with this grow light. The light is also easy to set up and can be hung comfortably. 
Pros
Pros
Plug and play operations, easy to use

Perfect spectrum for growing marijuana

Color temperature is easy on the eyes

Very affordable lighting solution
Cons
Cons
Coverage too small for most growers

The warranty period is only 12 months
Check Price & Reviews on Amazon
Buyer's Guide to T5 LED Grow Lights
Here's a quick and short checklist against which you can test your lights to know if the product that you are buying is indeed the right fit for you. If your product does not stand good against all these parameters we suggest you to look for another T5 grow light.
1. Coverage: 
You must always know exactly how much area the grow lights you are buying can cover. First, you must know the area that your plants occupy and then you should see if your grow light can cover that much area (in both flowering and vegetative phases) – only then you should finally purchase the light.
2. Power Consumption:
When it comes to the most important metric before buying any grow light, power consumption surely ranks on top. You need to know what is the exact amount of power that the grow light is drawing from your power socket. Many growers would confuse this with the number that is written with the light – a 1000W grow light does not really consume 1000W from your power socket! Always check the details for the exact consumption details.
3. Brightness and Intensity of Light:
Measured in lumens, always look up for how bright the light is. Usually, the higher the luminosity the better it is for your plants. 
4. Cost and Warranty
While it doesn't even need to be mentioned, cost is indeed very important can be the make-or-break factor for many growers. Similarly, make sure you're getting the light that gives you the longest possible warranty period. 
T5 LED Light or T5 Fluorescent Light: Which is Better?
When it comes to comparing the performance of both these grow lights, while many growers prefer using the original T5 and Fluorescent grow lights combination, we have noticed that there is an increasing number of growers migrating to T5 LEDs. The simple reasons as to why this is happening are – first off, T5 LED lights to consume minimal energy. They might cost more than the fluorescent lights when you first purchase them, but over the long run they consume way less electricity and save you much more money than what you are spending on them.
Up next, LED lights don't really heat up and run on very cool temperatures, which is great for the overall health and growth of the plants. Lastly, these LED lights tend to last for a longer time when compared to older lighting systems. Hence more and more people are now preferring to use T5 LED lights over T5 fluorescent lights.
Frequently Asked Questions About T5 LED Grow Lights:
Here are the answers to some of the most common and frequently asked questions about T5 LED grow lights:
1. T5 vs T8 vs T12 Grow Lights: What is the Difference?
The numbers that follow the T all stand for the diameter on the base of 8. T5 lights are of a ⅝ inch diameter, T8 lights are 8/8 inches, i.e. 1 inch in diameter and the T12 lights are 12/8, which stands for 1½ inches in diameter. This is the only difference between the three lights. 
2. How much would a T5 LED grow light cost me?
The cost of these grow lights can vary from anywhere between $30 to $300 or even beyond that depending on how many lights are there in the kit and what is the length of the lights. The bigger the lights and the more in number they are, the higher the price is going to be. 
3. How do I know how much area my light would cover?
You should read up the details in the amazon page or in our reviews as we have provided a detailed idea about how much area each light covers. Nonetheless, always make sure that you are checking up the area that your light covers before you buy it.
Conclusion
We hope that this article on the 5 best T5 LED grow lights helps you figure out exactly that. Many growers might know quite a bit about the usual T5 lights but are almost always confused about the LED T5 grow lights. We hope that this article helps you figure out what these lights are, which are the best options you have in the markets and what all things do you need to look at before you decide on purchasing them! If there are still any questions about these kind of grow lights, then feel free to drop us an email or let us know in the comments below and we shall get back to you as soon as we can! Till then…
…Happy Growing! 🙂