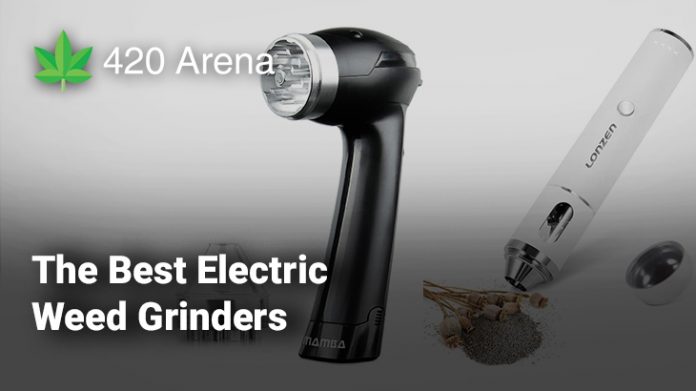 When it comes to smoking marijuana, stoners want to have the finest of experiences. For this, one needs to ensure that the weed that they are about to smoke has been properly grinded. A well-grinded herb is what makes for some of the best smoking experiences. Stoners who know how to grind their weed properly will be able to get a much refined version of the herb. For that, you need a grinder. Over the course of this article, we shall be taking a detailed look at the best electric weed grinders in 2020.
Here, we will observe the need for grinders for smoking marijuana, followed by that we shall look at traditional manual grinders vs electric weed grinders and understand the differences between the two. Post that, we look at the best weed grinders in 2020 that you can easily buy off Amazon. Next, we shall be looking at a buyer's guide for those who are planning to buy an electric grinder from our list. We shall then conclude, but after a quick look at some frequently asked questions about grinders. Let us now cut straight to the chase and understand what these grinders are and why do we need them:
The Need for Weed Grinders
Grinding your weed is quite a simple activity. Some people actually prefer doing it with their bare hands or using equipment such as keys/etc. While these do have a significant rate of success when it comes to grinding your weed, nothing gives you as good and as smooth an experience as compared to grinding your weed using an electric grinder. Marijuana, in its natural form, is basically a bud – and buds are quite sticky, even after days of being dried in the sun. Plus, they contain many other unwanted elements too. Grinding ensures all of that is eliminated and you get a refined smoking experience.
The finer your weed is grinded, the better will the smoke flow through it. The better will it heat up, and the more 'good weed' can you stuff into your joint. While the next alternative to using your hands or keys to grind marijuana is making use of a manual grinder – there's a small problem with that too. These manual grinders are often quite tough to operate, especially if your bud is sticky – and you will need to put in a lot of force into that. Electric grinders are very beneficial here as they would allow you to easily grind marijuana buds if you don't want to apply so much manual force. This makes them especially beneficial for stoners who might be suffering from ailments such as arthritis, fibromyalgia or hand tremors. However, they are also quite a good device for grinding your weed as they do a much finer job compared to manual grinders. 
Difference Between (Traditional) Manual Weed Grinders vs Electronic Weed Grinders
The first difference here is that of the effort that you have to put in. Manual grinders need a lot of energy and strength from your side – meaning that you need to really invest a lot of energy to screw, twist and rotate the grinder by yourself while using an electronic grinder is much simpler – simply fill in the weed and turn it on and it will do it all by itself without you needing to put in any extra energy. The next major difference here is that of price – electric weed grinders are likely to be expensive when compared to manual grinders, but they come in a large variety of price ranges so you can find some cheap options there too.
Next, you look at the material that they are made out of. Manual grinders can be made out of ceramic, metal, wood or plastic. However, when it comes to electric weed grinders, they are almost always made out of metal (and might feature a plastic body). Wood and ceramic usually do not find their way into these grinders. The big picture here is that the effort that you have to put in here is way lesser when compared to a manual grinder.
Top 5 Best Electric Weed Grinders in 2020
No products found.
No products found.
A good looking grinder which is really comfortable to hold as well as easy to operate, this is a device smaller than the smallest hair-dryer in size, and features a chamber where you can fit in 0.5 grams of marijuana at a go! This should be sufficient for the needs of most stoners and is a great option for those people who do not want to use a manual grinder. This is one of the best electric weed grinders in 2020 and considering that it offers a one-hand operation, this is just the perfect option for stoners who have muscular problems and cannot operate manual grinders.
Another statistic which is quite interesting when you compare it with manual grinders is that it is up to 20 times faster than a traditional manual grinder. The teeth on this grinder are sharp as well as thick making it possible for stoners to ensure that that the weed that they put inside this is being grinded in the finest manner possible. There's a very powerful motor on this electric weed grinder that offers a high torque. Lastly, this carries a 24-month warranty.
Pros
Pros
Battery Operated
24 Month Warranty
One-Hand Operation
Inexpensive
Comes with a Funnel attachment for easy packing for weed bowls
Cons
Cons
Check Price & Reviews on Amazon
No products found.
Perhaps the best option for stoners who are looking forward to buying the best electric weed grinder in 2020 which is also portable. This grinder is shaped like a pen and is a very small product which can be easily carried around. It is a rechargeable device and also comes with a herb-viewing window. Furthermore, another great thing about this electric weed grinder from Lonzen is that it comes with a chamber that supports grinding of up to 2 grams of weed at once – which is quite a lot! 
Again, like the grinder we saw above, it has a significant advantage over manual grinders as it does not require any muscular strength at all and can be easily used by people with muscular issues. The glass window allows you to watch your weed getting grinded. Also, for anyone who it matters, there are multiple colour options that you can buy it in – we personally prefer the black one as it raises the least attention. This is a great tool to gift to your stoner friends as well. Also, there's a 2 year warranty on the product.
Pros
Pros
Large bowl, supports 2 grams of weed
Easy to use, single-hand operation
Rechargeable
2 Year warranty
Safe to use – does not operate while the teeth are exposed
Cons
Cons
Glass window might break upon impact
Check Price & Reviews on Amazon
No products found.
Similar to the grinder we've seen just above this from Lonzen, this grinder from Transformania Toys is also another great option for those looking for pen-sized weed grinders. A lot of features in this grinder are similar to the one above, including a 2gram bowl, and a clear glass chamber where you can see your weed getting finley grinded by the device. This is one of the most affordable and classy options for those looking forward to buying the best electric weed grinders in 2020.
Here, you also get a great charge – about one hour of charging this electric grinder using a USB cable will give you close to 300 grinds! You don't even have to worry about buying new batteries as you can recharge it straight via USB cable. There's an additional dispensing hole which ensures that filling your pipe or your vape will be an easy process. Cleaning this grinder is also quite simple, which is an added plus point. Apart from grinding just marijuana, you can also use this (and almost all the other grinders on our list) for grinding coffee, spices and other similar herbs. 
Pros
Pros
Portable, can be carried around with ease
Easy to operate for those with muscular problems
Battery charges fast and gives 300 grinds in an hour's charge
Battery status indicators on the bottom
Comes with a glass window
Cons
Cons
You need to be cautious while cleaning or you might cut your finger
Check Price & Reviews on Amazon
No products found.
We've seen the smaller grinders up until now. It is now the time to look at the big boys. This one is not portable and is a somewhat larger-sized grinder which can be used to grind marijuana but can also be used to grind various other spices and herbs commonly found in your kitchen. This is a 'commercial scale' grinder and for someone who has a large need. Apart from maybe throwing a party or perhaps distributing weed for free because you feel like it, there's perhaps no reason for such a big need. However, this is a good option for those who also want to use it for other kitchen-based grinding activities.
The Waring Commercial WSG30 is one of the best electric weed grinders in 2020 and it features a motor which will help you grind your weed at a speed of an impressive 19,000 RPM. Cinnamon sticks, coffee, etc. can also be grinded here along with weed. There are three grinding bowls in this device and this costs just under $200 – a good option to have in your kitchen regardless of you smoking weed or not!
Pros
Pros
Comes with three storage jars
Very powerful motor
Commercial-grade grinder
Good tool to use in kitchen
Cons
Cons
Expensive
Too big for the use of most stoners
Check Price & Reviews on Amazon
No products found.
Last but not the least, the Chewy Grinder is another great option for stoners who want to buy a good pocket sized grinder to grind their weed. This is a very slim grinder, quite similar to a wallet in terms of its build. It comes with an interesting feature 'reverse grind' which makes sure that in case there's a sticky bud where the teeth of the grinder get stuck, you can use it to ensure that it unclogs. Again, a device which is great for one-handed operations for the benefit of those suffering from muscular ailments.
What truly makes Chewy one of the best electric weed grinders in 2020 is also the fact that it features a nozzle on top which will make sure that the weed that you have just grinded can be easily filled into the joint or the pipe or the vape. The chamber here can grind 3 grams of weed at a time.
Pros
Pros
Reverse grind helps ensure that the portions that have stuck can easily be removed
Shaped like a wallet and easy to carry around
Nozzle great for filling joints
Also features a compartment for storing the grinded weed
Cons
Cons
Cleaning can be a little complex
Check Price & Reviews on Amazon
Buyer's Guide for Electric Weed Grinders
Now that you know which are the best electric weed grinders in 2020 that you can buy to grind your marijuana, here are some factors that you need to keep in mind before you buy one for yourself:

Durability:

Durability is of key concern here as many stoners want a durable solution for their grinding needs. You need to make sure that your grinder can survive more than just a few bumps and falls and is made out of pretty durable stuff. This is usually not an issue with electric grinders as most of them are made out of metal and are pretty durable.



Battery Life:

You need to check what kind of a battery life your grinder offers – especially if you are looking forward to buying a portable grinder that runs on battery or needs to be charged. The longer the battery life the better it is for you.



Size:

Size of the grinders also matters – do you plan to set it up permanently at your home or do you plan to buy a portable electric weed grinder that you can carry around to grind your weed on the go?



Warranty:

Warranty is another important aspect. While most products are designed to last a long time, not all products are actually going to last as long as the manufacturers claim them to. Hence, it is essential to know how much of a warranty period you are getting on the grinder that you are choosing to buy.

Cost:

Cost of the grinder is last on our list but it is certainly not the least of the buyers' priorities. These grinders can cost anywhere between $20 to $200 and are more expensive than the manual grinders. We suggest you set a budget and stick to it.
Frequently Asked Questions about Weed Grinders
Here are some of the most common and frequently asked questions (FAQs) about weed grinders
1. Are electric grinders legal?
Yes, electric grinders are totally legal – for all one knows, you might be using them to grind coffee and cinnamon. However, if you are grinding weed inside it, that might land you in trouble in places where consumption or possession of weed is illegal. So better check with your local law enforcement agencies once before you start grinding weed!
2. Are manual grinders better than electric grinders?
It depends upon the perspective – manual grinders are way cheaper and grind the weed pretty much the same way. However, electric grinders are a one-time investment and can last for much longer than a manual grinder. Electric weed grinders are also great for those stoners who have muscular problems and might not be able to exert the force required to manually grind the weed. There's also the aspect of the quantity of weed and the quality in terms of the fineness that you get when using an electric grinder which is quite superior.
3. How to grind your weed without a grinder?
In case you don't have a grinder at all, some people tend to use objects such as keys, credit cards, etc. to grind their weed. There's also the option of using your hands to grind you weed which is the way millions of people around the world do it. However, using a grinder is always a better option.
Conclusion
Finally, to sum it up, we hope that by this point in this article you know which are some of the best electric weed grinders in 2020 that you can buy off the internet and that you know what to look for before you buy them. We have also tried to answer some other questions and FAQs about electric grinders. If you have any more questions or if you think that we might have missed out on something, drop us an email or let us know in the comments below and we shall get back to you soon. Till then….
`….Happy Smoking! 🙂