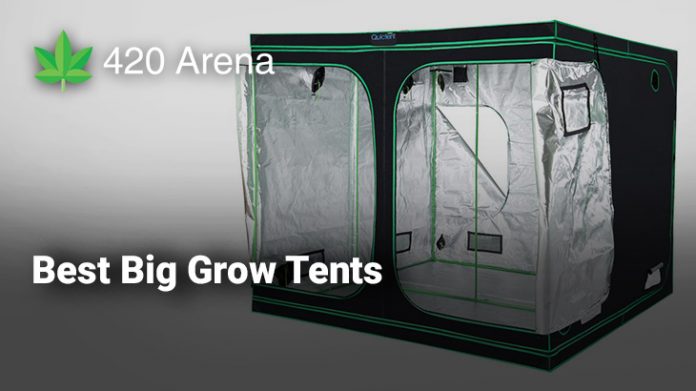 Grow tents are very important when it comes to growing marijuana indoors. Not just growing weed, but even while growing any plant, you need to ensure that you are getting a good quality grow tent. The primary function of a grow tent is to ensure that the efficiency of a grow light is used to its maximum possible extent, giving you higher yields and a good growing experience. Over the course of this article, we shall be taking a closer look at grow tents – what they are and why they are important, but more specifically, we shall be focusing on big grow tents (around 10 ft x 10 ft in size).
While small-scale growers can choose a number of options, those who are growing in bulk need large growing spaces and a big grow tent would be great for them. In this article we shall be taking a closer look at the 4 best big grow tents that you can buy off the internet right now to start off with growing marijuana indoors. Big grow tents allow large-scale growers to grow their plants with ease and have a lot of the plants kept under one single unit, making it easier for them to manage as well. 
What Are Grow Tents? Why are They Important?
Grow tents are basically a tent inside which you can grow your marijuana plant. However, these are not ordinary tents – these tents are lined with reflective layers on the inside and come with space to fit equipment that can provide essential elements needed for the plants to grow such as grow lights for light, inline fans for air and carbon filters to ensure that the smell remains contained. Grow tents are great for plants because when compared to an entire grow room, these are smaller, limited areas which makes it easier for growers to create an ideal condition for growth. This gives them a better control over their plants and also allows for higher yields. 
Grow tents also provide your plants with a protective covering which ensures that pests and insects do not affect your plants and that they can grow without facing much of a problem. Moreover, using a grow tent also ensures that growers can actually conceal their plants because while marijuana has been legalized across many parts of the US as well as the world, people continue to look down upon it and it still remains a social taboo. Hence, growing weed in a grow tent ensures it remains hidden from guests/visitors. Using a good quality carbon filter will also ensure that the smell doesn't leak out, keeping your weed plants a complete secret.
Sometimes you also need to get a grow tent based on your plant's needs. Plants in different cycles of their growth period need different kinds of lighting which needs to be hung from a different length. Hence, grow tents can help you differentiate your plants based on their growth phase as well. They are also useful for growers who are growing multiple strains of weed so that they can be grown separately and can be cared for.. 
Importance of Big Grow Tents
Looking specifically at big grow tents now, the idea here is that these will be great for growers who tend to grow large batches of marijuana. While small-scale growers who are growing just a couple of pots don't need to worry much because they can get hold of small-sized grow tents (2' x 2' or 4' x 4'), it is the large-scale growers who need to get hold of these big grow tents (10' x 10' and above) as these tents will ensure that growers are getting the most out of their plants. 
Often, big grow tents are also bought by growers who operate on a very large scale with every grow tent having a different strain of marijuana growing in it – these setups often involve the use of multiple big grow tents. Hence these large-sized grow tents are pretty important for growers. Let us now deep-dive into some of the best big grow tents for growing marijuana indoors that growers can buy off Amazon right now!
Best Big Grow Tents for Growing Marijuana Indoors
1. VIVOSUN 120″x120″x80″ Mylar Hydroponic Grow Tent
Perhaps no brand is as omnipresent when it comes to the world of growing marijuana indoors as VIVOSUN is. One of the biggest and the most trusted names in the market, the company makes a number of products including grow tents and their grow tents are some of the most popular choices in the markets. This one right here is the VIVOSUN 10 ft x 10 ft x 6.6 ft in size – providing the growers with a fairly large space for growing their marijuana indoors. 
This grow tent from VIVOSUN is great for growers who wish to get hold of a tent which has no light leakage! It is made out of an extra-thick canvas (600D) which is tear-proof as well as double-stitched, giving the growers a peace of mind that the grow lights that they are using will be used to their maximum possible efficiency as there is no scope for the light to leak out. Even the zipper has been designed in such a way that light does not leak out of there as well. The zipper is lined with a black light-proof seal. 
The metal poles that this grow tent comes with are sturdy enough to hold it stable as well as hold enough weight that is required to hang all the equipment on to it. There are 12 hanging bars which can support almost 220lbs of weight, ensuring  you can hang all your grow lights and carbon filters with ease. Talking of carbon filters, this grow tent comes with carbon filter belts included so that you can easily hang your filter on to them. The poles connect in a rather simple way and the installation is 'tool-free' as you can just push it in to set up the grow tent. 
There are multiple observation windows present in this grow tent which make it easy for you to take a quick look at what is going on inside your grow tent without actually having to unzip it entirely. All in all, this is one of the best big grow tents for growing marijuana indoors in 2020. VIVOSUN is one of the best brands that you can buy and this isn't the last time you're going to see a VIVOSUN product on our list! 
Pros
Pros
Trusted brand
Thick cloth ensures no light leaks
Easy installation, poles can carry 220lbs
Comes with observation windows and floor trays
Cons
Cons
No divider inside for veg and flower stages
Some users say that the floor piece could be a little thicker
Check Price & Reviews on Amazon
2. Hydro Crunch D940009000 Hydroponic Grow Tent 96″ x 96″ x 80″
Another popular option for those growers who are looking forward to buying the best big grow tents for growing marijuana indoors, this one comes from Hydro Crunch and allows the growers to grow a large-sized batch. This one measures 96" x 96" x 80" – translating to 8ft x 8ft x 6.6 ft – which is good enough for a medium to large-scale growing operation. One of the biggest benefits that you get out of using this grow tent is that it is fairly easy to assemble and even if you are a novice or a first-time grower, you won't really have a hard time setting the tent up. 
This big grow tent from Hydro Crunch offers growers with a reflective inner lining featuring a 100% reflective mylar layer. The grow tent makes use of the 300D Oxford cloth which ensures that there is no leakage of light (while many users have claimed that the 600D is a much better option, the 300D also does a decent job of minimizing light leaks). There are multiple vents in the grow tent which ensure that the fans and the filters can be placed in with ease. This grow tent is fully washable and quite durable and does not tear up easily. 
The duct ports for fans and filters are designed in a dual-layered manner to make sure that light does not leak out of there as well. The grow tent comes with a water-resistant floor tray which can be removed and washed in case there is any spillage and water and/or soil/leaves have fallen on to it. The zippers in this grow tent are also heavy-duty and double stitched to make sure that light leaks do not happen and that the zippers do not break off! 
In addition to all this, this big grow tent from Hydro Crunch also comes with two viewing windows on the main doors which makes sure that you do not need to open up the whole thing to take a look at how your plants are doing. This comes in black and green color combination and comes with a manual for easy setup. All in all a good choice for growers who want to buy a big grow tent for growing weed indoors.
Pros
Pros
Comes with observation windows and washable trays at the bottom
Good quality zippers
Vents are well covered to minimize light leak
Easy to set up
Cons
Cons
The cloth could have been better than 300D
Check Price & Reviews on Amazon
3. TopoLite 120″x120″x80″ Indoor Grow Tent
Topolite's 120" x 120" x 80" grow tent is a pretty big grow tent similar to the first tent on our list from VIVOSUN. The grow tent offers the growers with a very large area to grow their marijuana plants and makes sure that it provides ample space for large-scale growers. Topolite has been making grow tents for quite some time now and the company manufactures grow tents from as small a size as 2ft x 2ft all the way up to this one, which is their largest sized offering. The grow tent is pretty durable as well as easy to set up, making it a perfect choice for growers both novice and advanced.
This grow tent has been designed with extra care to ensure the maximum possible utilization of light. Not only does it make use of a very reflective 96% diamond mylar layer, but it also makes sure that the poles that are used to keep the tent standing are painted white in colour so that even they do not absorb any light. The zipper has also been designed to block light and the company has made sure that they are using a good quality zipper which doesn't break off easily. A lot of people who grow their marijuana in grow tents complain of low-quality zippers but not with this grow tent! 
The cloth which is used to make this grow tent is the 600D Oxford Cloth which makes sure that all the light is blocked from leaking out of the grow tent. This is also a heavy-duty fiber which is both tear-proof, as well as light-proof. There are vents located all over this grow tent – rectangular shaped vents which come with mesh to make sure that insects and pests do not get in but ventilation is provided. Circular vents with double lining are present in the grow tent to fit in fans. It is quite easy to set up this big grow tent because the installation is tool-free. 
One complaint that many users have with this grow tent is that it makes use of plastic connectors to hold the metal poles together.Usually, plastic connectors are considered to be low-quality and not so sturdy. However, the company claims that the connectors that they have used here are different and are of good quality and can hold the tent together quite well. 
Pros
Pros
Comes with 600D Oxford Cloth that blocks light leak
Comes with carbon filter belts
Good quality zippers
Very easy to set up
Cons
Cons
Plastic connectors are a big no-no in 2020
Check Price & Reviews on Amazon
4. VIVOSUN 96″x48″x72″ Indoor Grow Tent, Roof Cube Tent
VIVOSUN is back in the list! This one is a somewhat smaller grow tent compared to most other names here, but it still offers a decent length along with a unique design. Even in first look, this grow tent stands out as an exceptional model because of the striking design it offers. There's an angular roof on this grow tent and it has a much better space for hanging grow lights than compared to some other grow tents which are rectangular in shape. There are two doors and two observation windows on the tent's body, which make sure that the growers do not need to unzip the entire thing to take a look at how their plants are doing. 
To make things even more convenient for the growers, there is also a small pouch where you can keep your tools for easy access and for quick maintenance of the plants or the tent. The grow tent is light-proof and ensures that the lights do not leak out and are used efficiently for the growth of the marijuana plants. Moreover, it is made up of the 600D Oxford polyester cloth which is tear-proof as well as double-stitched. When you look inside the tent, there's a 98% reflective mylar layer which ensures that the light is bounced on to the marijuana plants.
VIVOSUN has established itself as a major and credible brand when it comes to growing plants. This grow tent is easy to set up and install and requires growers to simply push the metal poles into connectors to get it set up and ready. With the kind of roofed shape that this grow tent comes out with, it makes it easy for growers to grow weed in places such as attics or basements where space might be a problem. This tent is also waterproof which makes it safe for growers to keep it in places like attics and basements where water might seep through sometimes. 
This is one of the best big grow tents for those who want to use it in cramped spaces or want something that offers a different sort of a design. The grow tent comes with a 2-year warranty period for the buyers and is indeed a good choice from VIVOSUN.
Pros
Pros
Unique design ensures it can be kept in places which face space crunch
Thick material makes sure that minimal light leaks out
Trusted brand of VIVOSUN
Easy to set up
Waterproof
Cons
Cons
Not as big as some other grow tents on this list
Some growers have also faced issues relating to delivery and missing items
Check Price & Reviews on Amazon
Recommended: Best Cheap Grow Tents for Cannabis Growers in 2020
What to Look For in a Grow Tent?
Now that you know which the best big grow tents are, let us also take a closer look at what are some factors that you need to consider before you make a final decision about buying these grow tents: 
Size:

The size of your grow tent is really important. You need to know exactly how big a grow tent you need because having a small grow tent would mean that some of your plants will get left out and having a bigger grow tent would mean some light would be in excess. Hence, you need to know just the perfect length, width and height. Height is also important because plants tend to grow upto great heights and you need a proper grow tent which allows them to grow to their fullest potential. 

Ability to Contain Light:

The material using which the grow tent has been made needs to be considered before you buy it. 600D Oxford Polyester Cloth is the most commonly used fabric and it is a good option too. However, there are some grow tents which go for inferior quality cloths which often end up in light leaks. Make sure you are getting a double-stitched and tear-proof cloth. Also look for pinhole leaks around vents for inline fans and for leaks that might happen around zippers.



Durability:

Check how sturdy the poles around which the tent rests are. You need durable poles made of metal in order to ensure two things: firstly, that the tent remains sturdy and stable, and secondly, that you are able to hang grow lights and carbon filters and other grow tent accessories on to it without worrying that it might collapse. For a standard understanding of things, you must know that an average 4×4 grow tent can usually hold about 110lbs of weight and a 10×10 grow tent should ideally be able to hold upto 220lbs.

Zipper Strength:

Now this might sound silly but this is a primary concern for many buyers! Many growers have faced the agony of having a broken zipper or a malfunctioning zipper which takes quite an effort to be fixed! Having a heavy-duty industrial quality zipper is always beneficial and in 2020 most grow tents are taking care of this need. However, while looking forward to buying the best big grow tents for growing marijuana indoors, you must always check the user reviews for zipper quality!

Observation Window:

This is another essential feature which is now a part of most grow tents. Instead of opening up the whole damn thing and unzipping the grow tent and having light leak out, you can simply open up the observation window and take a quick look at how your plants are doing. Not all grow tents have these and make sure the ones that you are buying come with such windows built on them.
Recommended: Best Grow Tent Accessories in 2020 to Boost Your Yield
Let us now take a closer look at some of the frequently asked questions (FAQs) about growing marijuana inside big grow tents:
Frequently Asked Questions (FAQs) About Big Grow Tents
#1. What is a 'Big' Grow Tent? Is there a fixed size?
There is no 'fixed' size to define a big grow tent, but usually grow tents are classified in three sizes – small, medium and big. Small grow tents are about 2 x 2 ft and 4 x 4 ft in size. They can also come in combinations of 2 x 4 ft or 4 x 6ft. Then there are medium grow tents which are usually 6 x 6 ft or 8 x 8 ft or can have combinations such as 6 x 4 ft or 8 x 6 ft etc. Anything bigger than the medium grow tents is generally considered to be a big grow tent.  
#2. Where can I buy the Best Big Grow Tents?
While most stores that sell plant growing supplies will have grow tents, not all stores might have big-sized tents with them. You will need to contact your nearby stores and check with them. There's no specialized 'marijuana growing tent' because you can grow practically any plant in the same grow tent. Hence they are easy to purchase off regular stores. However, if you are specifically looking for a good quality big grow tent to grow mariuana, you might want to check out our list above where we have shared Amazon links to the four best options that you have. 
#3. Can plants of different stages be kept in the same grow tent?
Yes, plants of different stages can be kept in the same grow tent provided you create some kind of a partition inside the tent. This is because plants in different stages of growth have different requirements of light and heat. There are some grow tents which come with a 'nursery' section where you can keep plants which are very young. 
#4. Is it compulsory to use a grow tent for growing weed?
While it is not compulsory to make use of a grow tent for growing marijuana indoors, making use of a grow tent has a number of benefits such as maximization of your grow light's efficiency and it also keeps pests and insects away. This is why most growers who are growing marijuana indoors tend to use grow tents. 
Recommended: Best Grow Tent Fans in 2020: Best Inline Duct Fans for Growing Marijuana
Conclusion
We hope that this article on big grow tents helped you gain a better perspective on what these tents are, what to look for while buying them – and which are some of the best options you have when it comes to buying the best big grow tents. Large-scale growers have to depend on these big sized tents to ensure that they are getting the maximum possible yield and that their grow light is used to its maximum possible efficiency. We hope that this article helps you make an informed decision when it comes to buying a big grow tent. Do let us know if we missed something out or if there's something more that you'd like to know!
Happy Growing 🙂